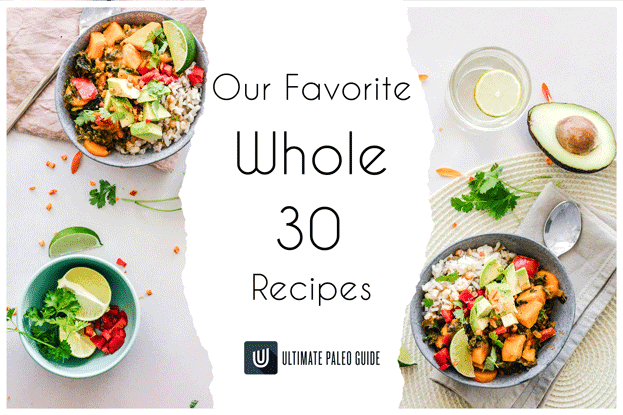 If you're a long-time paleo fan, you've probably heard of – or even done – Whole30. Whole30 is a diet program created by Melissa Hartwig and is essentially an elimination diet designed as a "reset." In this post, we talk all about our favorite Whole30 recipes on our blog.
What is Whole30?
The foods you can eat on the Whole30 aren't complicated. They are real, whole foods that promote health. What are "real foods?" Hartwig defines it as "…meat, seafood, and eggs; vegetables and fruit; natural fats; and herbs, spices, and seasonings. Eat foods with a simple or recognizable list of ingredients, or no ingredients at all because they're whole and unprocessed."
The foods that are eliminated are done so in a way that allows you to determine what might be allergenic to you. Once you start to reintroduce them into your diet after the 30 days, you are encouraged to pay attention. Take note of what foods trigger symptoms and what foods might be ok for you.
It sounds simple enough, but it takes dedication, planning, and compliance. And although Whole30 is close to paleo in terms of what foods you can eat, there are some key differences. For example, sugar of any kind – even paleo favorites like maple syrup – is off the table. Baked goods – even those with approved ingredients – are a no-go.
So, to help simplify a little bit of this for you, we've made a whole blog post outlining our favorite Whole30 compliant recipes from the archives. Keep scrolling for a bunch of Whole30 deliciousness.
How does it work?
For 30 days, you have a strict diet protocol to follow. The goal is to stay 100% compliant to reap the full benefits of the diet. There is no calorie counting, no weight taking, no measuring food. All you have to do is eat the foods that are approved and stay away from the ones that aren't.
We've included a simplified Whole30 food list below.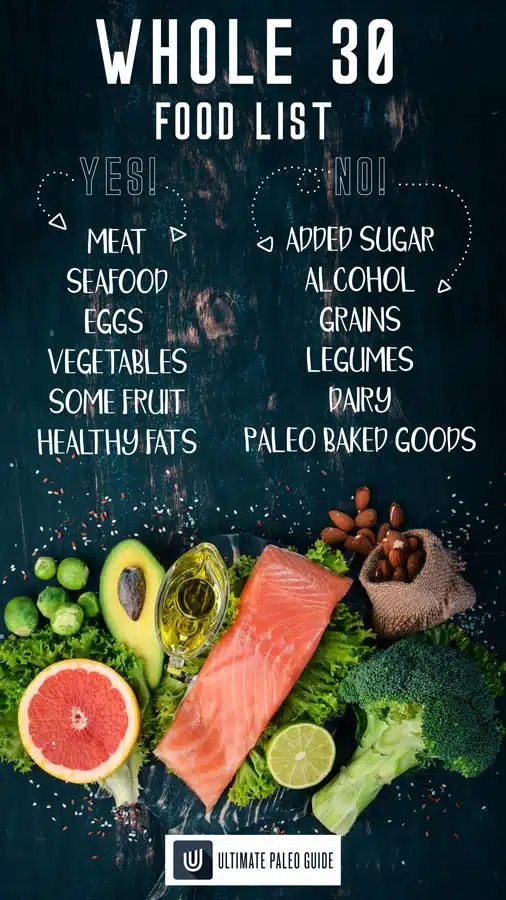 There are some caveats – ghee, 100% fruit juice, green beans, snow peas, sugar snap peas, vinegars, coconut aminos, and salt.
As long as you stay within these parameters, you're good to go.
Once you're done with the 30 days, you slowly reintroduce foods one at a time to see how your body reacts. While the Whole30 can be done at anytime, it's common for people to do it at the beginning of the new year or at periods in their life where they feel they need a reset.
So, if that's you right now, you're in luck.
Whole30 Breakfast Recipes
This particular version of a frittata features all those amazing vegetables that you'll find at your farmer's market in the springtime. Asparagus and radish make a deliciously fresh combination. Paired with eggs, it will keep you satisfied until lunch.
Hearty kale adds nutrients and color to this classic breakfast dish. Perfect for days where you need something to last you a while, but want something comforting and no frills.
While not overly sweet like some smoothies, this one is a nutrient powerhouse. If you want a little more sweetness than the apple provides, you could add a half of a banana.
This is the perfect way to use up veggies leftover from last night's dinner or to use up odds and ends from your farmer's market haul.
If you don't like the veggies we've suggested – don't worry! You can essentially put in any vegetables you like in this. That's the beauty of an omelet.
A quick cooked egg and no-cook protein combined with veggies makes a fast and nutritious breakfast. Feel free to sub salmon for the tuna to mix things up a bit.

Whole30 Lunch Recipes
MOVE OVER, CHIPOTLE! These steak burrito bowls will have you excited to skip your usual Chipotle run and dive into these at home instead.
Burrito bowls are in my regular dinner rotation weekly. They're so easy and a sneaky way to get in a lot of vegetables relatively easily. You can load the bowls down with whatever you're feeling that day – peppers, onions, mushrooms, tomatoes, jalapenos, cauliflower, etc.
This flavorful soup comes together in a flash. It's healthy, comforting, and perfect for a cold winter day when you want food fast.
These easy lettuce wraps require pretty much that same amount of effort as opening a can of tuna, but they are loaded with flavor, thanks in part to caper berries, tiny round berries that are pickled to be salty and briny. Perfect with tuna.
These easy no-cook appetizers come together fast, and they taste delicious. The tuna salad can be made ahead of time and everything can be put together right before you need it.
Mini avocados make perfect appetizers or snacks when stuffed with savory ingredients like salmon and veggies. If you're serving these at a party or gathering, make the filling ahead of time and fill the avocados when ready to serve.
Whole30 Dinner Recipes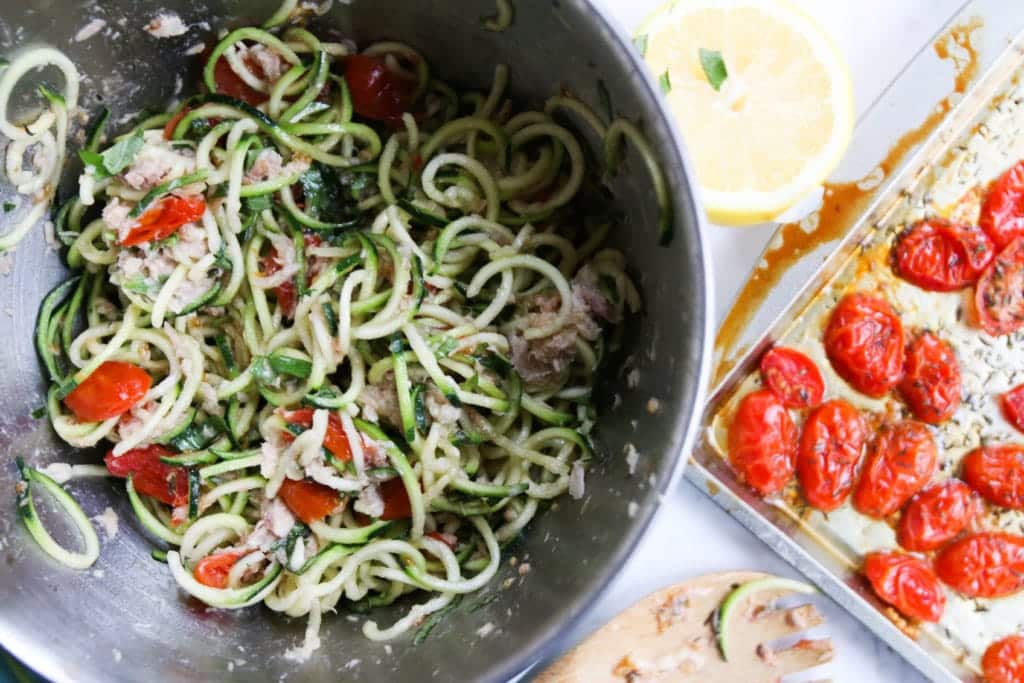 This is a perfect example of a summertime meal. It's light, it's fresh, it's full of seasonal flavor. This roasted tomato and tuna zoodle recipe will have you basking in all that amazing summertime deliciousness.
These fajitas – they probably couldn't be easier. All you have to do is cut your meat up into thin even strips. Cut your veggies up the same way. Throw it all on a pan with some spices and cook for about 15 minutes (or until your meat is done – this time may vary depending upon how hot your oven gets.)

A quick and easy bowl filled with tender beef, caramelized Brussels sprouts and cauliflower rice makes the perfect healthy lunch option.
A few sliced almonds add crunch and nutrients, and make it extra satisfying and filling.
I love salmon because it's so easy to cook. You can bake it, grill it, cook it in the skillet. Whatever you choose, you really can't go wrong.
We're baking for this recipe. This salmon is a perfect weeknight meal if you want something upscale, but not difficult.
It requires few ingredients and no special skills. Serve it with steamed veggies and a salad for complete healthy meal.
These delicious stuffed chicken breasts will seem like something complicated and time consuming, but in reality, couldn't be simpler. Serve with cauliflower rice or your favorite vegetable.

Download Your FREE Paleo Starter Kit Today!
3-Day Paleo Diet Meal Plan
Comprehensive Paleo Diet Shopping List
5 of Our Favorite Paleo Diet Recipes