Oodles of Zoodles
If there is one thing that has caused more controversy than student loan payments, politics and celebrities combined, it has to be: carbohydrates.
Read our guide to the Keto Diet
Whether you like it or not, many believe that carbs are the enemy and if you don't agree with them, it could lead to you being ostracized from certain social circles. I remember the days when I could eat white bread without feeling any sense of judgment, but now it seems like if you eat anything that isn't made of coconut flour or flaxseed, you are unworthy to be a member of the #fitfam.
While it is true that too much white flour in your diet might not be the best for your health, it is not going to kill you. When customizing your diet, it is important to remember that everything functions best in moderation.
So now you may be thinking that you want to keep pasta in your diet, but also limit it without starving yourself. What should you do?
Well, thank the food gods because now we have something called a spiralizer.
What is a spiralizer?
Due to the trending belief that simple carbs should be consumed in moderation, spiralizers have been invented to create faux noodles from fresh veggies.
Have zucchinis? Well, now you can have zoodles.
Beets? Boodles.
Sweet potatoes? Sweet patoodles. I can go on and on.
The point is that you can modify your favorite dishes to include vegetables and in turn, more nutrients, vitamins or simply a healthy ingredient.
Spiralizers cut up your vegetables in a matter of seconds, which makes prepping for cooking quicker and also easier.
Why should I have one?
Spiralizers allow you to turn a variety of vegetables into spaghetti, fettuccini and ribbon noodles, thus giving you a lot of room for creativity when adjusting your favorite recipes.
With a spiralizer, you can make an assortment of dishes including: pasta, casseroles, salad, soup and even pizza recipes. Prepping with a spiralizer is quick and saves you the time and stress of slicing and dicing vegetables on a cutting board.
So what do I buy?
After looking at the top-rated spiralizers on Amazon based on user reviews, we have come up with three spiralizers that can help you prep your next lunch or dinner.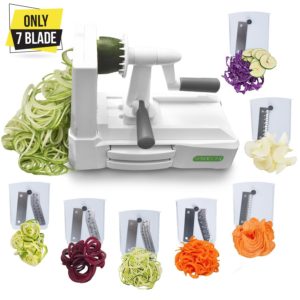 At 87% of 5-stars from 1,446 reviews, Spiralizer offers our top-rated item with 7 stainless steel blades for all your spiralizing needs.
Multiple customers loved how easy the removable blades were to use to make any vegetable noodle they could imagine. They also found that it was easy to clean the spiralizer and had no issues when doing so.
A few other users found that this spiralizer was easy to store, but some had an issue with storing the device along with the 7 blades away in a cabinet. Countless users praised this product and how easy it was to make their favorite dishes while on the keto diet or when simply trying to incorporate more vegetables into their meals.
Clearly this spiralizer from Spiralizer is ahead of the game.
If you are liking the looks of the 7-blade spiralizer from Spiralizer, then join the 80% of 10,799 users that rated the 5-blade spiralizer with 5- stars. Like the 7-blade device, this device is easy to clean, useful and can help you create virtually any dish that you can imagine.
The blades are strong enough to cut sweet potatoes and squash, which pleased many customers. The blades can also be stored underneath the product, which made it easy for the whole unit to be stored safely away in a kitchen cabinet.
Many customers found that this was the perfect addition to their kitchen lineup and that it served them well. Evidently, it's in the name with Spiralizers products that they will do what they are expected to do.
I had to include this product in the review since I own this exact spiralizer. 77% of the 565 reviewers believed that this product deserved a 5-star rating.
Users were pleased with the sharp blades and how easy they were to switch out and clean after being used. A few users were very happy with how well the device performed and also how effective the suction cup on the bottom of the spiralizer was.
Some users wished that there was a receptacle to catch the vegetables after they went through the device, but this didn't affect the outcome.
Despite this, countless users found that the OXO spiralizer did exactly what they wanted it to do, which left them happy customers.
Our honorable mention was the original SpiraLife spiralizer with 70% of the 2,501 users rating it at 5 stars. This device only comes with one blade, but it gets the job done. Whereas the other spiralizers had no problem cutting harder vegetables, this device didn't appear to perform as well. Despite this, many users were aware of the simple functions of this item and found that it got the job done. This product is perfect for making zoodles from zucchini, but if you want to make sweet potato noodles, it's best to go with another spiralizer.
Final Thoughts
From zoodles to boodles, you can turn most of your favorite vegetables into faux noodles with a spiralizer. Additionally, when it comes to your favorite pasta dishes, you don't have to sacrifice the original flavor by eliminating regular noodles, yet you can introduce new flavors with your vegetable noodles.
Whether you prefer fettuccini, spaghetti or ribbon noodles, a spiralizer makes all options a possibility. With a spiralizer, you can make anything from soups to salads, which makes it the perfect addition to your kitchen lineup.
Most may believe that carbs are the enemy when it comes to reaching dietary goals, but fact is that moderation is key. Simply adding more vegetables to your favorite dishes can instantly make your meals healthier.
When trying to revamp your traditional recipes with healthier ingredients it may require some adjustments, which means a spiralizer is your best option when trying to do just that.
Why should I listen to you guys?
More than ever, people are focused on their health and well-being. And, because of this increased interest, that means there are tons of products on the market to help achieve that goal. From kitchen gadgets that make cooking easier, to reusable water bottles, sleep aids, and workout gear, the sheer number of options can be overwhelming.
That's why we wanted to do the hard work for you. We've committed to trying out some of the most popular health and wellness products on Amazon. Here's what happens:
We scour Amazon for the best rated or most reviewed products in health and wellness categories: whether that's something for the kitchen, supplements, or lifestyle products. Then, we read through the reviews and summarize them all for you. We provide takeaway points for each product – being as unbiased as possible.
Next, we write up our thoughts based on others experiences with the product, and any feedback we may have. And we publish it here for you. You'll find the links to the same exact Amazon products we tried in these articles.
That's it – easy! And if you have a product you'd like us to try before you buy, let us know.
Additional Reviews
Best Himalayan Pink Salt Lamps
Download Your FREE Paleo Starter Kit Today!
3-Day Paleo Diet Meal Plan
Comprehensive Paleo Diet Shopping List
5 of Our Favorite Paleo Diet Recipes