Plant Power
Whether you like to shop at Crate & Barrel, or Bed Bath & Beyond, there is one thing that both stores always feature as home decor: plants.
Besides adding a green color scheme to your living room, plants go beyond the decorative aesthetic and actually help us in subtle ways.
Research has shown that plants allow us to feel more at ease and less stressed while also improving our air quality. From living room to home office, simply adding a plant can greatly benefit one's environment and mood. Whereas most think that plants are best kept in a pot in the corner, they can also be presented in a variety of other ways.
Benefits of Plants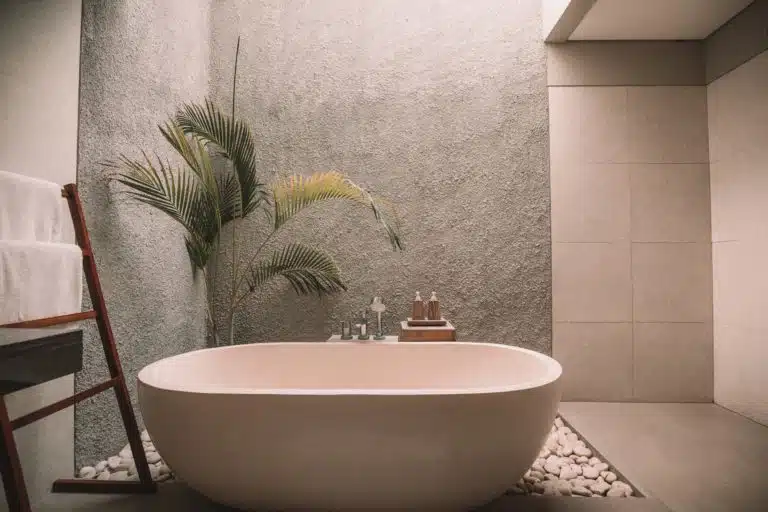 If you are looking for a functional decoration, then a plant is what you need. Plants are known to help purify air through reducing carbon dioxide, which improves our health and potentially lowers our risk for illnesses.
Also, plants are known to increase humidity, thus reducing the amount of dry air that can irritate one's senses.
Lastly, plants have been shown to reduce airborne dust levels and while keeping air temperatures down.
Other studies explored the notion that plants are able to reduce background noise levels through absorbing, diffracting or reflecting background noise, thus creating a more tranquil space.
Finally, plants subconsciously make you feel more relaxed and studies have shown that groups that had plant in their environment were happier than groups that did not.
Through this, plants should be considered when decorating a space in your home or apartment not only because they are aesthetically pleasing.       
Where Plants Should Go
Before you seek out the best plant holder, it is important to understand the needs of plants to decide where you would like them to be displayed.
Keep in mind that light, humidity, and temperature play an important role when trying to decide where to place your plant. Plants need to be in a space that receives constant quality light, necessary temperature and humidity levels in order to thrive.
Kitchens are a great place to have plants since the constant temperature and higher humidity offer favorable conditions.
Additionally, herb plants can be placed on a windowsill while blossoming plants can be placed in hanging planters around to decorate a kitchen or a living room with ideal conditions.
Finally, bathrooms with appropriate amounts of natural light can be considered a good place to have a plant like a fern.        
What Do I Buy?
Plant holders range from suspending your plants from the ceiling to being nicely displayed on your walls. Choosing the right plant holder simply depends on the type of plant you have and your taste.
After looking at the top-rated plant holders on Amazon based on user reviews, we have come up with four plant holders that could potentially showcase your plants.  
Of 453 reviews, 85% of customers loved these plant holders from Mkono and gave them 5 stars.
Users were pleased with how well these holders supported the weight of the plants and said that these did best with planters that were 6-8" in diameter.
One user said they had a plant 10" in diameter and had no problem with that either. Furthermore, the length of the rope is 41" so some customers said that they used chains to lower the plants as well.
The length of the holder was the only issue customers had with the product, but the majority had no problem using extensions. Users also praised the off-white cream color of the holders and also loved how they were crocheted, which gave off a "boho" look in their homes.
One customer explained that through the summer, the holders held up very well and that there was barely any fraying and no discoloration.
Through this, it is clear why these holders from Mkono are an "Amazon's Choice" item.    
With 84% of users giving these holders from Accmor a 5 star rating, it comes at no surprise that they are pleased with their product. The hangers are made from cotton rope and measure in length at 3.3 feet total.
A timeless and classic look is created with these hangers, which are able to blend seamlessly with their surroundings and match with wall and ceiling colors.
These hangers are best suited for balcony gardens, offices, and other places in a home due to their modern and unique design.
Users loved how 4 holders came in one pack and found that most plant pots fit in these holders. One user commented on how they almost bought cord themselves to make holders, but were glad they purchased Accor's plant holders for a fraction of the price and effort.
Another customer liked how these plant holders could keep their plants out of their cat's reach, but found that the "tails" on the end of the holders just begged the cats to play with them.
Multiple users found that the cotton cord looked a lot better than plastic and found that they were not fraying even after months of use.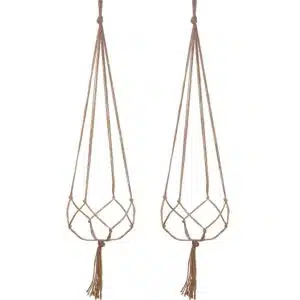 Aside from "boho" and "hippie" style plant holders, eBoot offers plant holders with a touch of a rustic look with their 4 pack of plant holders.
Of 137 reviews, 60% of users gave these holders 5 stars due to their "hipster" vibe and dark and austere style. At almost 4 feet in length, these holders are able to support most plants with varying sizes in pot diameter. Users found these holders to be sturdy and durable, yet found some fraying at the end of the holders, but did not affect overall functionality.
Multiple users commented that the hangers had a particular smell to them, but believed that the functionality of the product didn't make it as much of an issue. Customers liked these holders, but wished that they were able to have more in a pack since they were so well-priced.
One user commented that they felt these hangers worked best for larger plants since smaller ones would be swallowed by the scale of the hanger. Overall, users liked the simple look of these hemp plant holders from eBoot and said they would purchase the product again.
If you have a Pinterest board and love rose gold, then these wall hangers from LANMU are for you. 57% of the 76 ratings gave these holders 5 stars and were very happy with their purchase. The plant holders are small and are best for tiny plants like succulents or fake plants, which makes them a nice accent for any room decor. The majority of the users found that air plants or artificial plants worked best with these hangers. Customers found these holders to be quite stylish and that they created a "chic-look". A few customers were upset with the delivery of the product, but received immediate feedback from LANMU when such issues occurred. Customers found the price point to be a bit over their budget, but were overall happy with the hangers once they were incorporated into their decor. The majority of the users loved how "classy" these hangers looked and said they would purchase from LANMU again.
Final Thoughts
Plants evidently are not only beautiful, but also functional in helping us lead healthier lives. Whether purifying the air, or simply making you feel at home, plants are a nice subtle addition to any room decor. Whether you purchase smaller plants or larger plants, there are multiple plant holders that offer different features to accommodate to your decorating needs.    
Why should I listen to you?
More than ever, people are focused on their health and well-being. And, because of this increased interest, that means there are tons of products on the market to help achieve that goal. From kitchen gadgets that make cooking easier, to reusable water bottles, sleep aids, and workout gear, the sheer number of options can be overwhelming.
That's why we wanted to do the hard work for you. We've committed to trying out some of the most popular health and wellness products on Amazon. Here's what happens:
We scour Amazon for the best rated or most reviewed products in health and wellness categories: whether that's something for the kitchen, supplements, or lifestyle products. Then, we order and try them. We give each product a spin – being as unbiased as possible.
Next, we write up our thoughts, our experiences with the product, and any feedback we may have. And we publish it here for you. You'll find the links to the same exact Amazon products we tried in these articles.
That's it – easy! And if you have a product you'd like us to try before you buy, let us know.   
Additional Reviews
Best Blackout Curtains on Amazon
The Best Blue Light Blockers on Amazon
Best Himalayan Pink Salt Lamps on Amazon
Download Your FREE Paleo Starter Kit Today!
3-Day Paleo Diet Meal Plan
Comprehensive Paleo Diet Shopping List
5 of Our Favorite Paleo Diet Recipes