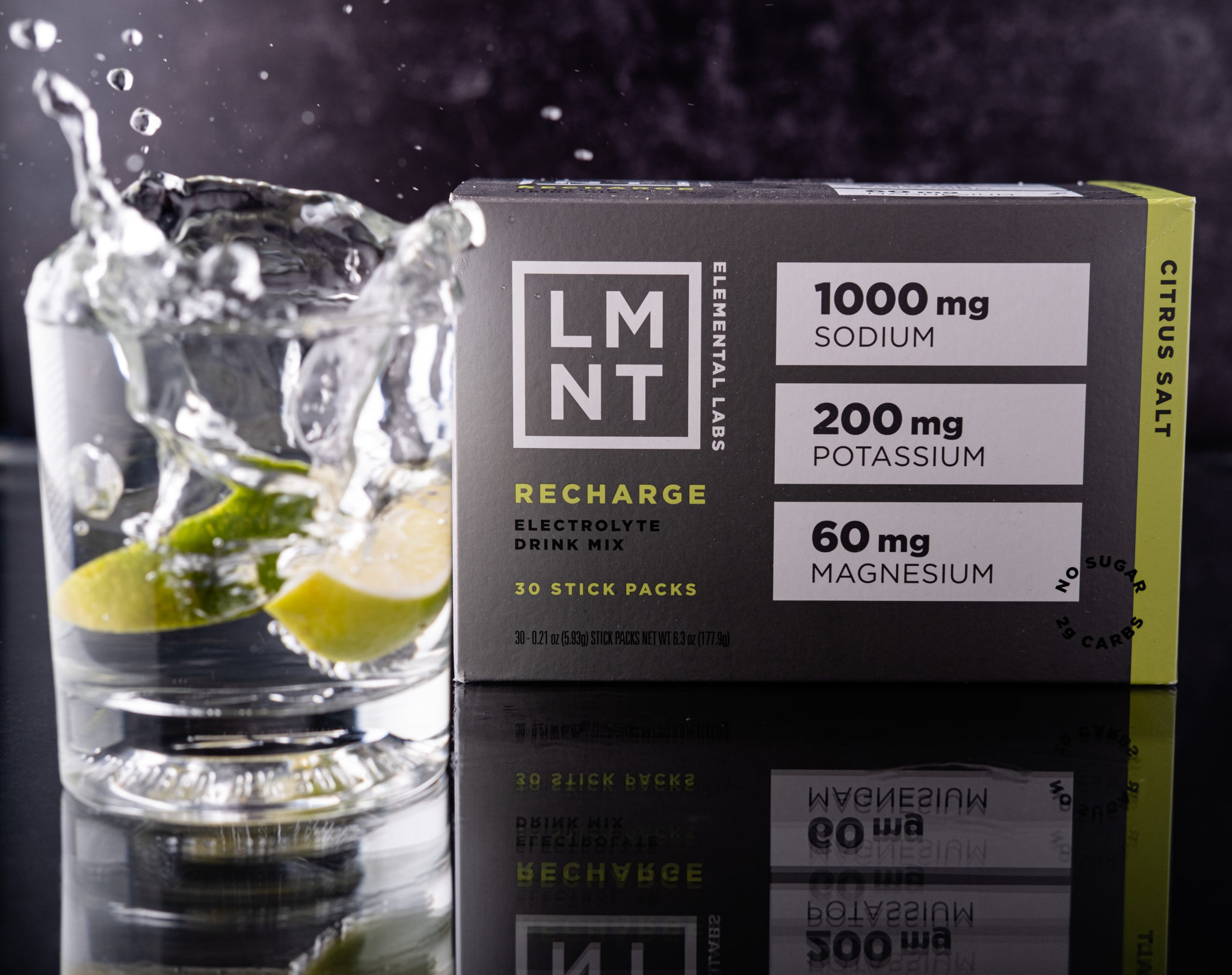 I'm going to tell you all about why I love LMNT electrolytes. But first, let me take you back a couple of decades…
I grew up as a sports-obsessed kid of the 90's. That means that Gatorade was the drink of my childhood and teen years as most of my free hours were spent at various practices or sporting events. My go-to flavor was the light purple Frost flavor. I had to Google what it was called because it's been so long since I've had it – Riptide Rush. I can still taste it when I think about it.
Get a Free Sampler Pack of all of LMNT's Flavors Here – Just Pay Shipping
Ahh, nostalgia.
But after I Googled what that flavor was actually called, I then Googled the ingredients. I can guarantee you that I was not concerned with the ingredients when I was slamming these back in my teens.
Let me tell you, the news is not great. Here are the ingredients:
Water, Sugar, Dextrose, Citric Acid, Natural Flavor, Salt, Sodium Citrate, Monopotassium Phosphate, Modified Food Starch, Glycerol Ester Of Rosin, Red 40, Blue 1.
Check out this study if you want to know more about artificial food dyes. As good as Riptide Rush may taste to my teen tastebuds, it's not worth the ingredients in my opinion.
So, what's a person to do when you want to stay hydrated without all the junky ingredients? Let me introduce you to LMNT electrolytes.
All about electrolytes
Imagine a healthy version of Gatorade. That's LMNT. But even better. With more thought and intention put into the ingredients so you don't have to worry about what's going into your body in your attempts to stay hydrated.
Electrolytes are important for all of us. But do you know why? These are essential minerals that your body needs in certain amounts to function its best. Electrolytes are so named because they help conduct electricity through water in the body. These are substances you're probably familiar with such as sodium, potassium, magnesium, and calcium – to name a few.
When we sweat, we lose these minerals through those little droplets that drench our skin so it's important to replenish so we don't become depleted. I would make a guess that almost everyone already knows this little fact.
LMNT Electrolytes + low carb diets
But here's something that you may not know…
If you're reading this article, chances are you follow some sort of low carbohydrate diet whether that be paleo, keto, AIP, or something along those lines. For low carb followers, electrolytes are important too.
Our low carb friends might be familiar with something called the keto flu. This is when you first switch from a "conventional" diet to one that is lower in carbs. A bunch of not-so-fun flu-like symptoms might pop up for you.
One possible explanation of this could be linked to electrolytes. Specifically, a deficiency in them. Our friends at LMNT put it best:
"First, when you make the switch to a low-carb diet, you are probably eliminating processed foods from your diet, which contain high amounts of sodium. Second, low-carb diets are diuretic in nature, meaning the kidneys excrete electrolytes at a higher rate. This is normal and not something to be worried about, but it is important to replace these electrolytes."
So, if you're following a low carb diet and you're not feeling your best, I'd suggest adding in some electrolytes to see if that helps. Also, make sure you're drinking plenty of water, getting enough sleep, and eating enough fat (avocados are great!)
Get a Free Sampler Pack of all of LMNT's Flavors Here – Just Pay Shipping
Why we love LMNT Electrolytes
If you're a fan of the site, you probably already know this about us…we like to keep things simple. No BS. Nothing unnecessary. Simple is best.
We love LMNT electrolytes for exactly this reason. They keep their product simple – it's everything you need in an electrolyte drink mix and nothing you don't.
The LMNT Electrolyte Flavors – Ranked
If we have to rank LMNT flavors – and we do – that's our job after all – here's the order (and we're sticking to it).
Watermelon
Grapefruit (when available)
Raspberry
Lime
Mint chocolate (when available)
Orange
Unflavored
Chocolate
Lemon Jalapeno
Mango Habanero
But if you're expecting this product to taste like Gatorade, you'll be sorely disappointed. LMNT comes in a variety of flavors – and they're all salty.
Personally, when I first tried this, I was like "HOLY SALT." There's 1000mg in a packet to be exact. I should have known what I was getting myself into.
Some LMNT Electrolytes Pro Tips
That being said, be sure to mix it with enough water. I just used a small glass when I first tried it, which I think was my problem. When I tried it again, and used the correct amount, it was much better. And now, I've started to crave it – especially after sweaty workouts or hot summer days here in the high desert where I live.
Another tip – the colder the better. I get my water as cold as possible and throw a few ice cubes in there. It's so refreshing. And I can rest easy knowing that there are no ingredients in there that don't support my health and well-being.
My favorite flavor is Raspberry Salt – followed by the Orange Salt. But, on nights when I'm feeling that I need something a little bit stronger, I use the Citrus Salt to make a homemade margarita! This has come in handy especially in quarantine when my favorite margarita place isn't open.
Skip the grossly sweetened margarita mix and sub in the Citrus Salt LMNT pack. All you need is:
1.5 – 3 ounces of your preferred tequila
1 packet of LMNT Citrus Salt
Seltzer water
Ice
Combine ice and tequila in a glass. Add in water. Stir in the Citrus Salt electrolytes. Voila!
How to Buy LMNT Electrolytes
If you want to buy LMNT – you can likely find it at your local gym – or you can head over to their online store and pick them up.
It's $45 for a box of 30 – so about $1.50/drink. If you get the "value bundle" you can buy 3 boxes at once and get a 4th for free (so that knocks the cost down to ~$1/drink). Pretty solid!
However it's tough to know which flavor you want to commit to – and it can be tough to just go all in and buy a 30 pack of something you're not sure you like.
That's why LMNT is offering free sampler packs of all their flavors – all you have to do is pay shipping and you can try all the flavors for yourself and figure out which one you like the best before you buy!
Now that's a pretty smart deal – you can just use the link below and get the sampler pack – all you have to do is pay shipping!
Get a Free Sampler Pack of all of LMNT's Flavors Here – Just Pay Shipping
No matter how you choose to drink your LMNT electrolytes, I have a feeling you're going to love it. Check out the product page here. And if you want the Variety Pack (I recommend it so you have whatever flavor you may be craving!), you can find that here.
If you like this article, check out these others:
Download Your FREE Paleo Starter Kit Today!
3-Day Paleo Diet Meal Plan
Comprehensive Paleo Diet Shopping List
5 of Our Favorite Paleo Diet Recipes