Mixin' It Up
Every time I leave the gym, I face one of the most difficult questions that requires me to make a decision in matter of seconds: Should I buy a protein shake?
While I do carry my blender bottle with me, it is just so hard to choose protein powder and water over a protein shake complete with bananas and peanut butter. You can say that the gym has made me a bit "bougie" in this sense.
Deciding whether or not to buy a post-workout smoothie is such a difficult decision because I am well aware that with all the money I have spent on them in the past, I could have made them for myself at a fraction of the price.
But how do you choose the right blender? Well, depending on your needs or what you cook, there is actually a perfect blender for every one who likes to mix it up in the kitchen.
Why you need a blender in your life
If you have had the pleasure of eating a smoothie bowl or have ever made your own salad dressing, then you know a blender is a kitchen necessity. Blenders are a handy device when it comes to customizing and creating meals.
With a blender, you can make smoothies, shakes, soups, dressings, mayos, dips and even nut butters.
Now, you may be wondering why you would even want to take the time out of your day to make these items since you can easily buy them at the supermarket. Yes, you can buy these from a store, but that also means you have no control over the ingredients that go into these products and that you might be eating more processed foods than you should.
When prepping food at home, you have full control over the nutritional content of your meals and you can also make enough items to last you as long as you need.
Not only do blenders make your dishes healthier, but they also save you a considerable amount of time when making more versatile dishes.
Let's face it, when I have the option of eating a banana with almond butter or an almond butter banana protein smoothie, I am going to choose the latter.
So what do I buy?
After looking at the top-rated blenders on Amazon based on user reviews, we have come up with three blenders that could potentially be making your next protein smoothie.
Of 526 reviews, 71% of users found this blender from Cleanblend a perfect alternative to a Vitamix blender, which is known to be on the pricier side.
The Cleanblend blender comes with a 3 HP, 1800 Watt motor along with a stainless steel blade and bearing.
One user who had a Vitamix blender for 14 years said that when comparing the two blenders, the Cleanblend blender was significantly lighter but also equipped with similar constructional elements, thus ensuring quality performance.
The Cleanblend blender measures at 18x15x13 inches and weighs in at 12 pounds, which allows it be stored in most kitchen cabinets. Another user found the controls to be similar and much like a rotary power knob.
Multiple customers found that the Cleanblend blender had no problem pulverizing ice and that is was perfect for making smoothies and protein shakes. Additionally, a few customers commented that they were pleased that they found a blender that was able to perform as well as a Vitamix blender for a fraction of the price.
One user had an issue with the plastic piece which spins during the blending process, but Cleanblend was prompt to resolve the issue, which left the customer very happy after leaving a 5-star review.
From soups to ice cream. the Cleanblend blender can make it all, which makes it the perfect choice for someone who is looking for a quality blender that will last a while.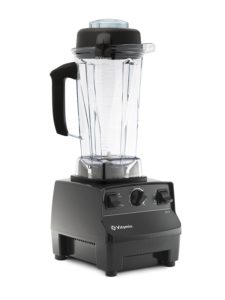 With 837 reviews and 81% of users rating 5 stars, it is clear to see why the Vitamix is the king of blenders. Vitamix's 5200 blender proves to be a favorite among many.
Unlike other Vitamix blenders, the 5200 costs less and comes with a 2.0 HP motor, but it can still efficiently crush the toughest ingredients. Additionally, if you need to prepare a hot soup, the blades can rotate at speeds high enough to create friction, thus heating up the ingredients as they blend.
One con about the 5200 is that it is considerably louder than other blenders, which users took note of in their reviews. The blades measure at 3-inches in diameter and are made of stainless steel.
Furthermore, the blender comes with a  64-ounce container perfect for medium and large batches of food. The blender is very durable and the container is made with BPA-Free Eastman Tritan Copolyester, which keeps it safe and strong. The blender measures at 20.5-inches in height, which makes it a little tougher to store in some kitchen cabinets.
Despite this, one user explained that they wouldn't know what to do without their Vitamix blender since it actually met their autistic son's smell, texture, and taste test when it came to foods, which allowed him to meet his nutritional needs. Through this, it is clear that Vitamix can please the pickiest of eaters.
65% of 608 reviews found the KitchenAid blender worth the 5-star rating due to its high performance and affordability when compared to other blenders.
The KitchenAid blender is equipped with a 5-speed motor, a 56-ounce BPA-Free pitcher, stainless steel blades and a steel reinforced coupler. This blender also measures at 9×8.5×16.3 inches while weighing in at 10 pounds, thus making it kitchen cabinet- friendly.
Multiple users found that this blender worked best with blending frozen fruits and fibrous vegetables, which made it great for every day use.
A few users praised how it was a lightweight blender that was very easy to clean. Other users were very pleased with their "budget blender" and has few issues with the product. A couple users found that the motor wasn't strong enough to suit their needs, which meant that upgrading to another blender would probably be best for them.
Regardless, if you are in the market for an affordable, yet durable blender, then the KitchenAid blender is just what you need.
Our list of blenders wouldn't be complete without the Nutri Ninja blender from Shark Ninja, which had 72% of 1,287 reviews rating it at 5 stars.
With a 900 Watt motor, you can easily make your favorite shakes and smoothies for a fraction of the cost of a full-performance blender. This product is best suited for minimal use and for those who only need a single-serving of the meal that they make.
Users found the bullet blender to be a little louder than they expected, but that it was still able to perform well.
Overall, users found that this blender is best for smoothies and shakes and that it was easy to clean. Truly, this is a blender that would be perfect for a college student or someone living alone.
Final Thoughts
Whether you prefer a post-workout smoothie or simply want to make your own nut butters, a blender can be a simple addition to your kitchen lineup to make these desires a reality.
Blenders not only allow you prepare a variety of food items customized to your dietary and nutritional needs, which means you can still have dips and salad dressings without the guilt.
Furthermore, blenders can also help you save money since you can make your own customized food items in bulk without spending more money at a speciality grocery store. From Vitamin blenders to bullet blenders, you can find anything that can suit your needs while also staying in range of your budget.
Why should I listen to you guys?
More than ever, people are focused on their health and well-being. And, because of this increased interest, that means there are tons of products on the market to help achieve that goal. From kitchen gadgets that make cooking easier, to reusable water bottles, sleep aids, and workout gear, the sheer number of options can be overwhelming.
That's why we wanted to do the hard work for you. We've committed to trying out some of the most popular health and wellness products on Amazon. Here's what happens:
We scour Amazon for the best rated or most reviewed products in health and wellness categories: whether that's something for the kitchen, supplements, or lifestyle products. Then, we read through the reviews and summarize them all for you. We provide takeaway points for each product – being as unbiased as possible.
Next, we write up our thoughts based on others experiences with the product, and any feedback we may have. And we publish it here for you. You'll find the links to the same exact Amazon products we tried in these articles.
That's it – easy! And if you have a product you'd like us to try before you buy, let us know.
 Additional Reviews
Download Your FREE Paleo Starter Kit Today!
3-Day Paleo Diet Meal Plan
Comprehensive Paleo Diet Shopping List
5 of Our Favorite Paleo Diet Recipes