Don't Ruin the Counter!
Have you ever found yourself in a kitchen without a cutting board? I have… and believe me, it's not pretty. Not only can going "sans" cutting board potentially ruin your countertops, but it can also be dangerous.
Without a proper grip on the surface that you're cutting on, there is a bigger chance of you slipping and cutting something other than carrots. So instead of damaging your countertops or fingertips, buying a quality cutting board is easier and definitely more favorable.
Finding the best cutting board can sometimes be difficult since you want to find something that is functional, yet aesthetically pleasing since it'll be sitting on your countertop.
Nevertheless, choosing the perfect cutting board is a feasible task and we are here to guide you every step of the way.
What are the different kinds of cutting boards?
Cutting boards range from wood, plastic and even sometimes glass. While I wouldn't recommend buying a glass cutting board, it is recommended that a kitchen has at least two cutting boards: one for raw meat and another for vegetables.
The most popular cutting boards are made from plastic and wood.
The main benefit of using a plastic cutting board is that it is very easy to clean and can be run in the dishwasher. Unfortunately, plastic cutting boards are prone to scarring and these deep gouges in the board can house bacteria, which can be difficult to remove. Nevertheless, when plastic cutting boards are replaced after two years of use, they remain a perfect choice thanks to their durability, affordability and ease of cleaning.
The second group of cutting boards made of wood, come from a variety of species ranging from bamboo to maple. Wood cutting boards are heavier and won't dull knives as quickly as plastic cutting boards.
Although, wood cutting boards require more maintenance than plastic ones since they need to be washed and dried carefully and also oiled regularly.
Another type of cutting board that you can buy is a bamboo cutting board. Bamboo cutting boards are unlike wood cutting boards because bamboo is actually a grass. Like wood, bamboo is porous but it is harder than wood.
Many people prefer wood cutting boards because they are lightweight, affordable, and attractive. The only problem with bamboo cutting boards is that they are known to wear down your knives quicker.
Which should I pick?
Choosing a cutting board depends entirely on your personal preference along with how much you want to take care of your knives and the cutting board itself. Plastic cutting boards are simple to clean and are lightweight. Wood cutting boards are undeniably beautiful and also are easier on your knives. Finally, bamboo cutting boards are attractive and also an eco-conscious choice since bamboo is a highly renewable resource. There are many options to choose from and you can always mix and match depending on your culinary and food preparation needs.
So what do I buy?
After looking at the top-rated cutting boards on Amazon based on user reviews, we have come up with three cutting boards that can help you prep your next lunch or dinner.
Our top pick from OXO is the Good Grips Prep Cutting board, which measures in at 7.25"x10.5", 10.5"x14.5" or 14.5"x21". This double-sided plastic cutting board features non-slip edges, tapered handles and is made from durable, non-porous, odor-resistant polypropylene.
68% of the 1,817 users rated this cutting board at 5 stars since they loved how easy it was to clean and they were very pleased with the non-slip grips on both sides of the board.
Customers also found that this cutting board was easy on the knives and that it was heavy enough to stay in place, yet light enough to easily move around.
Some users worried about plastic pieces getting into their food when they cut too deep and some had issues cleaning the cutting board in the dishwasher.
Regardless, this plastic cutting board can be cleaned with cleaning agents such as bleach, unlike wood or bamboo cutting boards, and is also lightweight and easy to use, thus making it our top choice.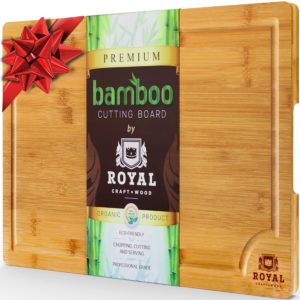 Royal Craft Wood comes in at second with their extra large cutting board that weighs 3.2 pounds and measures at 17.0"x12"x0.8".
Of 578 reviews, 81% of users found that this cutting board deserved a 5-star rating. Customers were very pleased with how easy the bamboo was on their knives when compared to plastic cutting boards.
Additionally, users were happy with the size of the board and the groove around the perimeter since it reduced liquid mess drastically. Multiple customers stated that this cutting board was perfect for large meal preps, whether it be for prepping for the week or a Thanksgiving dinner.
Furthermore, customers claimed that they thought bamboo was a better option when compared to wood since it is eco-friendly. The only issue with the bamboo cutting board was that is requires a considerable amount of care.
Despite needing to prime and refresh the board along with drying it immediately after washing, the Royal Craft Wood's bamboo cutting board is a winner in our books.
Virginia Boy's Kitchen's wood cutting board is next on our list and with 74% of 346 reviews giving it 5-stars. This walnut wood cutting board measures at 12"x11"x0.8" and weighs 3.35 pounds.
Users were very happy with this size since it was so helpful when carving turkeys or even using it as a charcuterie board. The main complaint from customers was the lack of directions concerning cutting board care, which made for a learning curve to maintain this cutting board.
However, users found that once oil was applied to the board, the wood was stunning. A few customers said that they used a season and a conditioner from Howard's, so if you plan on purchasing this board, that could be the best oil for you.
If you are a novice cook or are on a tight budget, then Cooler Kitchen has some affordable plastic cutting boards for you. This set of 4 plastic cutting mats come in different sizes, which makes it easier when prepping a variety of items in the kitchen.
The mats have a textured waffle grip bottom, which helps keep the mat in place when using them. Additionally, these mats are dishwasher safe and they can curl and roll, which makes storing them a breeze.
72% of 1,269 users found that these mats were deserving of 5-stars, since they were so easy to use. The one complaint was that some of the mats started splintering after several months of use.
Therefore, these mats are best to be used sparingly, or by someone who cooks occasionally.
Final Thoughts
Buying a cutting board can be as challenging as buying a new set of kitchen knives. Luckily, there is a way to choose which is best for you. Plastic cutting boards are lightweight and easy to clean. Bamboo cutting boards don't only look great, but they also are eco-friendly. Finally, wood cutting boards are stunning when maintained with oil and they are great when used as charcuterie boards. Depending on your kitchen needs, there is a cutting board out there waiting for you.
Why should I listen to you guys?
More than ever, people are focused on their health and well-being. And, because of this increased interest, that means there are tons of products on the market to help achieve that goal. From kitchen gadgets that make cooking easier, to reusable water bottles, sleep aids, and workout gear, the sheer number of options can be overwhelming.
That's why we wanted to do the hard work for you. We've committed to trying out some of the most popular health and wellness products on Amazon. Here's what happens:
We scour Amazon for the best rated or most reviewed products in health and wellness categories: whether that's something for the kitchen, supplements, or lifestyle products. Then, we read through the reviews and summarize them all for you. We provide takeaway points for each product – being as unbiased as possible.
Next, we write up our thoughts based on others experiences with the product, and any feedback we may have. And we publish it here for you. You'll find the links to the same exact Amazon products we tried in these articles.
That's it – easy! And if you have a product you'd like us to try before you buy, let us know.
Additional Reviews
Best French Press Coffee Makers
Download Your FREE Paleo Starter Kit Today!
3-Day Paleo Diet Meal Plan
Comprehensive Paleo Diet Shopping List
5 of Our Favorite Paleo Diet Recipes