Updated June 12th, 2022


This is your ultimate guide to paleo meal plans – what that means, how to do it, and our secret to making it as simple as possible.
And as a bonus – we've even included a free 7 day sample paleo meal plan just for you.
I'm not going to sugar-coat it – meal planning is absolutely essential to your success on the paleo diet.
"He who fails to plan is planning to fail." – Winston Churchill
Not only does meal planning take time – but you have other stuff to do! Cooking & eating healthy is hard enough without planning it all yourself as well. You have better things to do – whether it's your job, taking care of your family or spending time on what you enjoy.
That's why we created Ultimate Meal Plans – a done-for-you meal planning service that makes staying paleo & healthy oh, so simple.
Want to try a week of Ultimate Meal Plans? Get a Free 7 Day Sample Meal Plan here.
What Is Meal Planning on the Paleo Diet?
Meal planning is when you sit down and decide what meals you'll prep for the week. This requires some thought, research, and list-making.
Meal prepping is the act of preparing food in advance so that it makes eating easier through the week.
This can include shopping for ingredients, preparing the food, and portioning it out for the week ahead. Depending on the person doing it, it can happen in an infinite amount of ways.
Without meal planning, meal prep would be almost impossible. Meal planning should be the first step in your prep routine.
You should take into account how your week is scheduled out, and determine what meals and the type of meals you'll need to get through the week. From there, you can grab a glass of wine, build your own planning template to make sure your new health journey is a success.
3 Reasons You Should Have a Paleo Meal Plan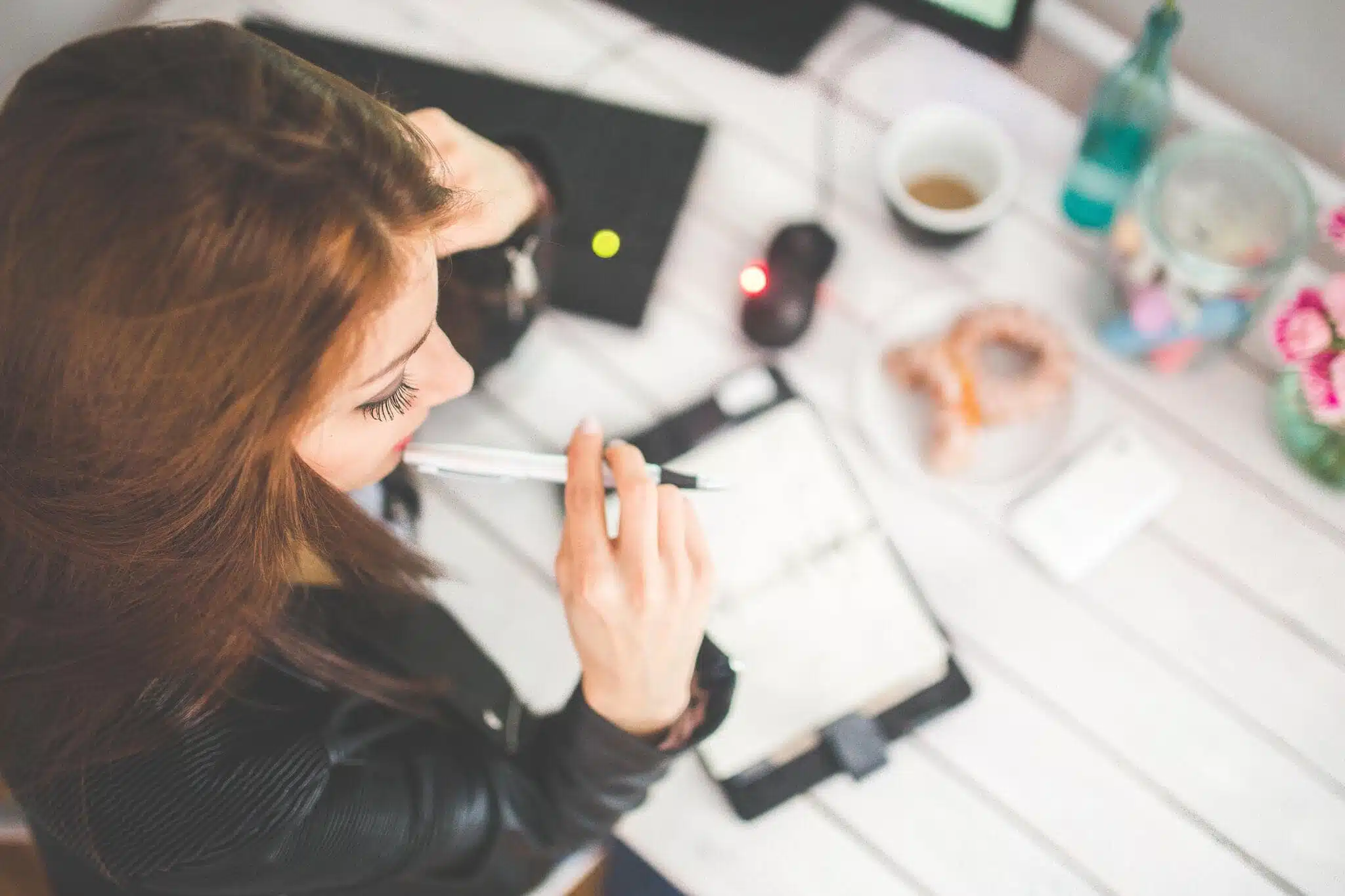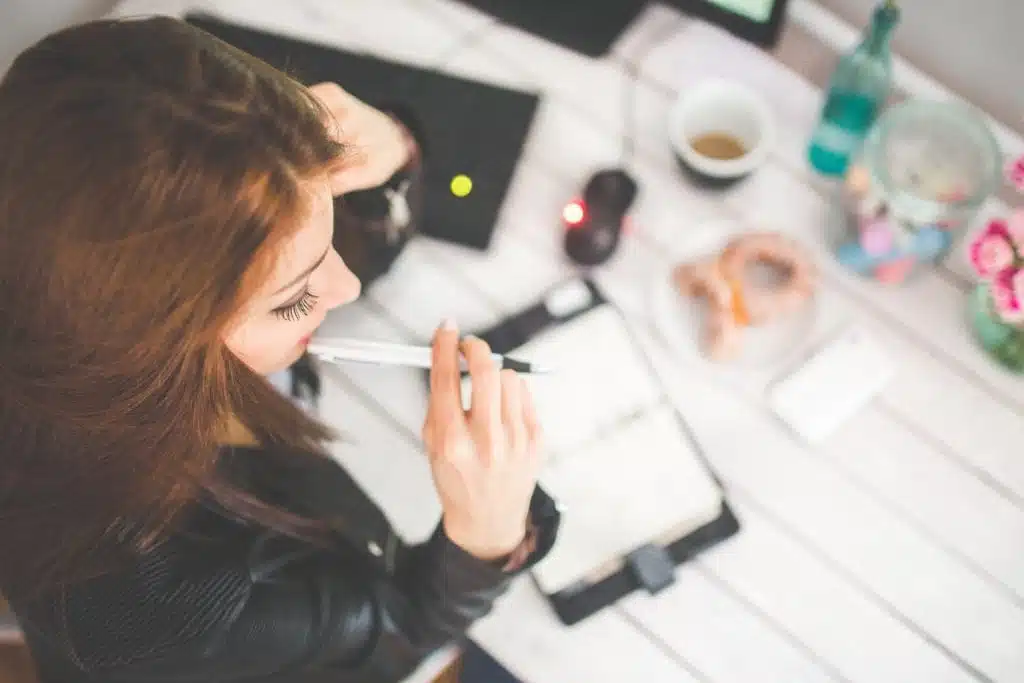 So let's cut to the chase. Here's why meal planning is going to change your life.
Paleo Meal Planning Makes Life Easier
Most obviously, you should meal plan and prep because it makes eating throughout the week much easier. Whether you're making entire meals or just preparing your ingredients to be easier to incorporate into meals, any sort of pre-preparation makes a difference.
Paleo Meal Planning Saves You Time, Money, and Sanity
Meal prep will save you money. No joke, when you're prepared with meals and a plan, there's less chance that you'll find yourself running to the closest restaurant on your lunch break because you don't have anything to eat.
It will save you time. You know those nights that you get home from a hard day and the last thing you want to do is cook? Good news – when you meal plan, you've already got meals in your fridge ready to go. Hallelujah.
It will save you mental capacity. Decision fatigue is a real thing. We have so many decisions to make throughout the day, and the more decisions we have to make, the more chance there is that we make poor ones as the day continues. Science has explored this and it's really quite interesting.
When you prepare, that's one less choice you have to make through the day. It not only saves you from throwing your hands in the air and splurging on junk food, but it also allows you to reserve your willpower and spend your precious mental energy on making other decisions.
Paleo Meal Planning Sets Yourself Up For Success
Meal prepping sets you up for success. By doing it, you're making a tangible commitment to yourself. Unlike just telling yourself that you'll eat healthy this week, you're taking an actionable step to get yourself there. Every time you open your fridge or pack your lunch with your prepped food, you can see that commitment staring you in the face.
Try a 2 week free paleo meal plan trial here.
Paleo Meal Plans: The Secret To Paleo Success
We realize that meal planning is hard. We're all busy and at some point, something has to give.
We don't want the thing to go to be your health. That's how Ultimate Meal Plans was born.
Ultimate Meal Plans was created by (and for) busy people JUST LIKE YOU. We want to take one less thing off your plate. Let us do your meal planning for you so that you have more time and mental capacity to enjoy other things in your life.
When you sign up for Ultimate Meal Plans, every Saturday, you'll get a brand new weekly paleo meal plan, recipes for every meal of the week, and a shopping list of every single ingredient you'll need.
Seriously – you'll have everything you need at your fingertips. You can even online grocery shop.
We aim to give you everything you need to start and stick to a Paleo lifestyle.
Why Use Paleo Meal Plans from Ultimate Meal Plans?
There are a lot of paleo meal planning services out there. What sets Ultimate Meal Plans apart from the rest?
15/5 Rule
I'd argue it's the 15/5 rule that all of our recipes follow. Each recipe sets you up for simple success – it contains no more than 5 ingredients and takes no longer than 15 minutes to whip up.
No complicated recipes or a mile-long grocery list is needed for you to succeed at paleo. This plan ensures that you keep it simple.
Shopping List + One Click Shopping
Each week, you'll get a comprehensive shopping list that will make going to the store as easy as possible. Not only that, but you also have the opportunity to shop right from your browser with our online integration with online grocery retailers like Thrive Market and Amazon Fresh.
Support
Not only that but you are supported every step of the way. When you sign up, you'll get access to our private Facebook community where you can connect with people who are following the same plan. You'll also be guided by our in-house nutritionist, Chelsea, who is available to answer any question you may have.
Paleo Meal Plan Success Stories
Here's what real people have to say about it…
"My favorite feature of Ultimate Meal Plans is the simplicity. Every week I am sent easy recipes and do not have to worry about putting together a healthy meal plan." ~ Kelsey
"I like the shopping list that is built to support the whole week's menu. The layout of the weekly menu is great as I just print it and put it in a binder in the kitchen." ~ Scott
"The Ultimate Meal Plans have had a tremendous impact on my life. I started the journey mid January weighing in at 203 lbs. Since I have become Paleo and following these plans, I am now weighing in at 155 lbs. I feel great, have more energy and am sleeping peacefully through the night! My husband has also noticed the difference and couldn't be more proud of me. #paleorocks" ~ Teresa
"It makes it so much easier to have the meal plans all completed, saves me time and money." ~ Michelle
A Free 7 Day Paleo Meal Plan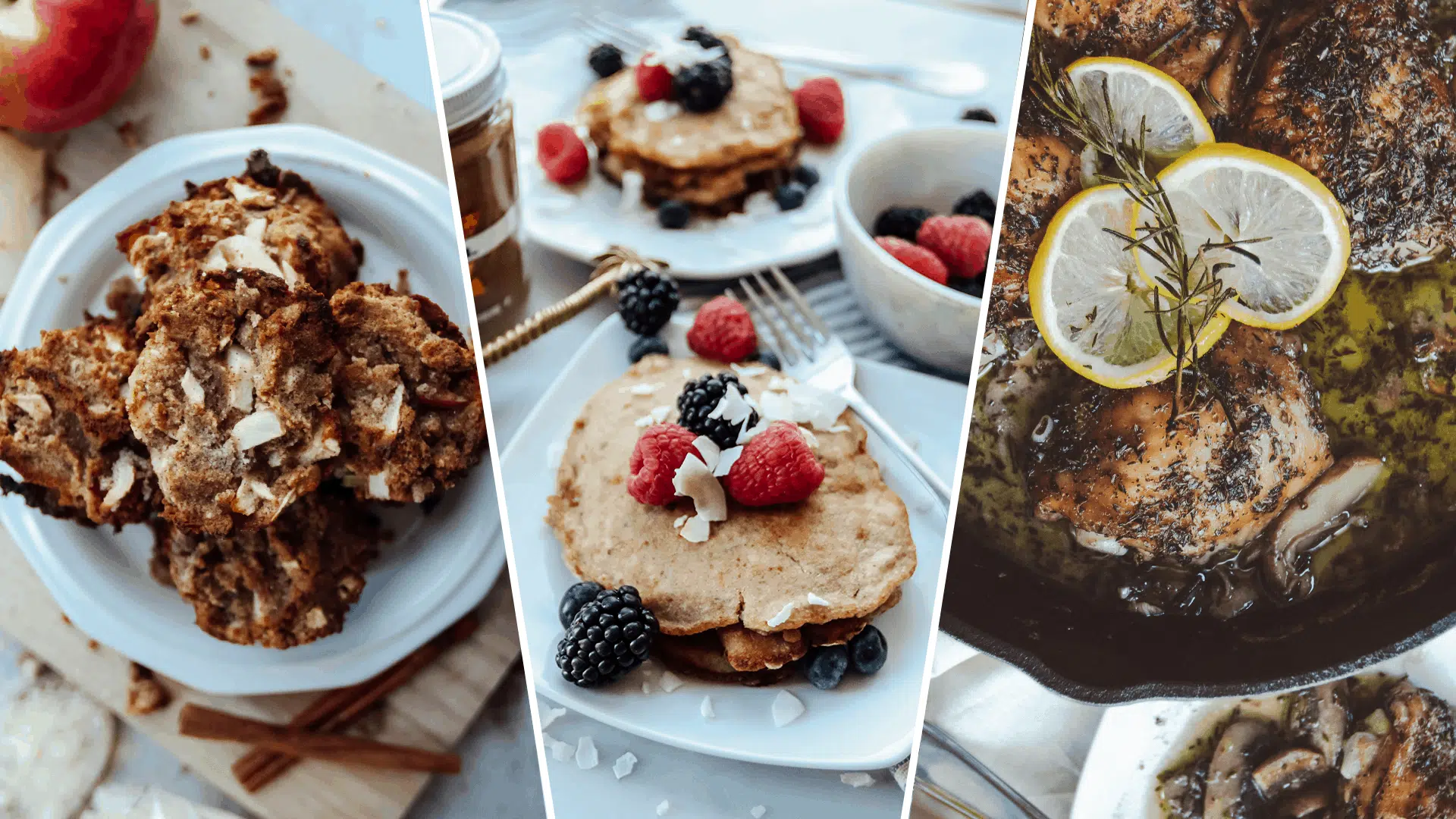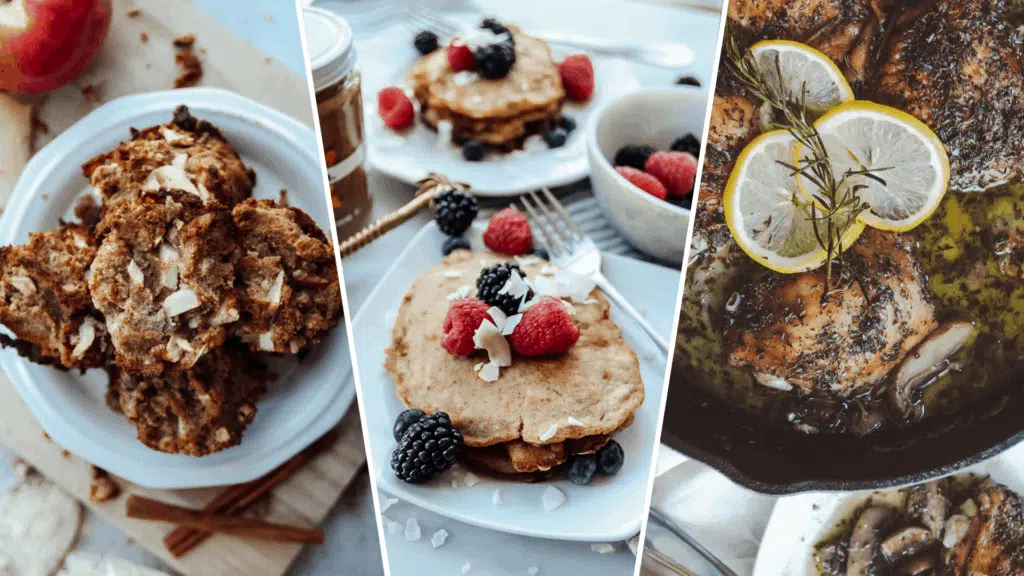 Do you want to see what a sample week of paleo eating looks like? Well, you're in luck. Below, we've outlined a sample week of all paleo goodness. Most of the recipes come right from our paleo recipe archives. Enjoy!
Paleo Meal Plan Day 1:
Breakfast – Paleo omelet
Lunch – Salmon Kale Salad
Snack – Apple slices with almond butter
Dinner – Slow cooker pulled pork
Paleo Meal Plan Day 2:
Breakfast – Paleo banana bread
Lunch – Blanched/sautéed veggies (pre-made and reheated)
Snack – Can of tuna + smashed avocado
Dinner – Steak Burrito Bowls
Paleo Meal Plan Day 3:
Breakfast – Banana pancakes
Lunch – Soup (reheated or in a thermos)
Snack – Cinnamon Honey Paleo Granola
Dinner – Instant Pot Italian Chicken Breasts
Paleo Meal Plan Day 4:
Breakfast – Paleo Blueberry Muffins
Lunch – BLT wrap with lettuce instead of bread wrap
Snack – Hard boiled eggs
Dinner – Fajitas
Paleo Meal Plan Day 5:
Breakfast – Steak, Kale, and Eggs
Lunch – Cold cut meats and veggies (snack-like but filling)
Snack – Avocado
Dinner – Slow Cooker Bison Pot Roast
Paleo Meal Plan Day 6:
Breakfast – Eggs and sweet potato hash browns
Lunch – Sandwich with bell pepper slices instead of bread
Snack – Almonds
Dinner – Crunchy Beef and Brussels Sprouts
Paleo Meal Plan Day 7:
Breakfast – Egg/veggie/meat scramble
Lunch – Dinner leftovers
Snack – Berries + Almond Butter
Dinner – Sheet Pan Chicken Fajitas
Change your life with Paleo Meal Plans?
Meal planning is the most important thing you can do to stay paleo – even when things get hard.
There's a reason hundreds of people trust Ultimate Meal Plans to make them delicious & healthy meal plans every week. It's our #1 favorite meal planning service, so give it a try!
Get a Free 14 Day Sample Meal Plan from Ultimate Meal Plans
Download Your FREE Paleo Starter Kit Today!
3-Day Paleo Diet Meal Plan
Comprehensive Paleo Diet Shopping List
5 of Our Favorite Paleo Diet Recipes