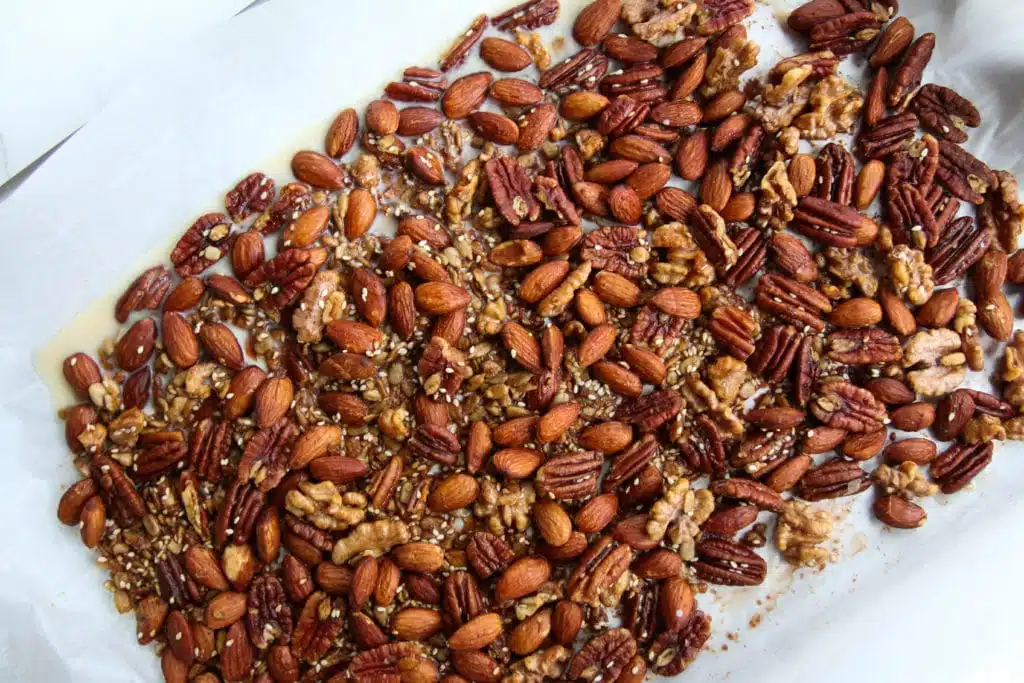 Your granola days aren't over! In fact, they might just be getting started with this cinnamon honey paleo granola.
This recipe has my mouth watering just thinking of it. The traditional granolas most people think of are definitely not considered paleo with additions such as oats and sugar.
This one eliminates both of those things – using nuts such as pecans, walnuts, almonds, sesame seeds, coconut oil, and honey. The cinnamon is a deliciously spicy complement to all of these things.
How this works – you're going to mix all of your "dry" ingredients (minus the raisins) in a big bowl. Give it a good toss to make sure everything is mixed and coated evenly.
You'll take your "wet" ingredients in a small saucepan and get them melty over low heat until it's a nice, smooth consistency. Pour this over your nut mixture and spread on a baking sheet.
Bake for about 40 minutes – be sure to stir it about halfway through the baking time. As always, be sure to keep an eye on your creation! All ovens vary a bit so yours might cook faster or slower. Keep your eyes (and nose!) alert. You don't want this to burn!
Once it's nice and toasty, break the granola into small pieces or use a food processor for a couple pulses to break down the size of the nuts.
Then you simply enjoy! You can eat it as is or on top of some coconut yogurt, a green smoothie, or with some almond milk.
Store in an airtight container – we recommend a glass jar!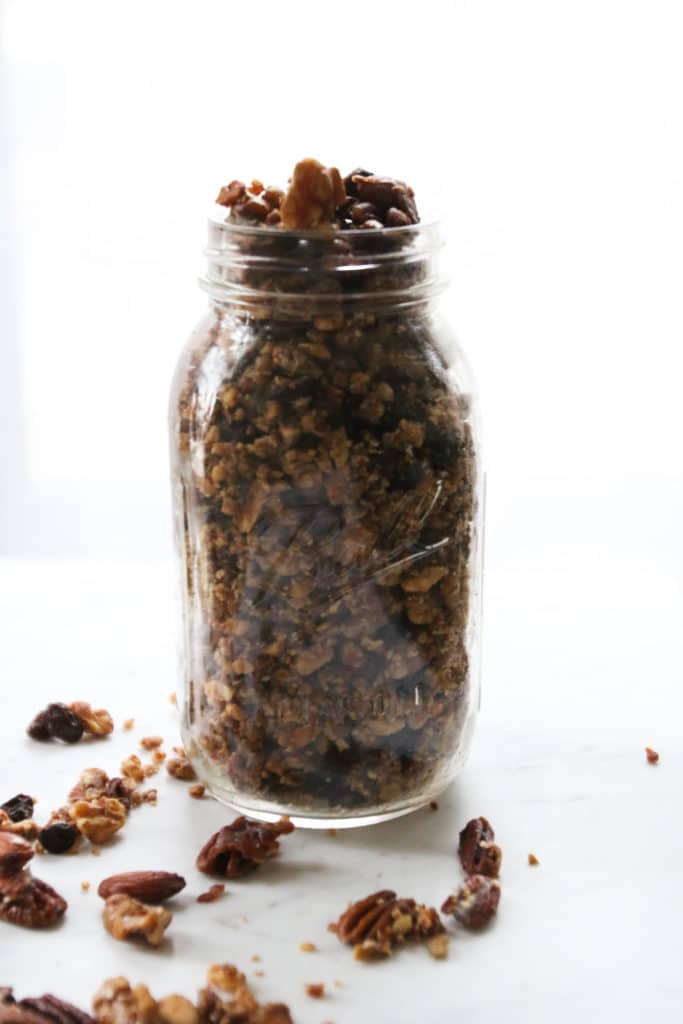 Cinnamon Honey Granola
Ingredients
1

cup

almonds

1

cup

pecans

.5

cup

walnuts

.25

cup

sunflower seeds

2

tbsp

sesame seeds

1

tsp

cinnamon

1

tsp

sea salt

.25

cup

honey

.25

cup

coconut oil

1

tsp

vanilla extract

.25

cup

raisins or cranberries
Instructions
Preheat oven to 300 degrees F. Line a large baking sheet with parchment paper.

Put the nuts, seeds, cinnamon, and salt in a large bowl.

In a small saucepan, combine the honey, coconut oil, and vanilla. Heat on low until melted and smooth. Pour over the nuts and stir to coat.

Transfer mixture to baking sheet and bake for 40 minutes, stirring halfway through.

Remove from oven and let cool completely. Break into small pieces or pulse in a food processor for a finer texture.

Store leftovers in an airtight container.
Download Your FREE Paleo Starter Kit Today!
3-Day Paleo Diet Meal Plan
Comprehensive Paleo Diet Shopping List
5 of Our Favorite Paleo Diet Recipes