Just Take It Slow!
Have you ever found yourself caught up with so many tasks, that cooking was out of the question?
I've run into this issue far too many times, which has led me to resorting to a spoonful of peanut butter for dinner or even quickly buying something from a gas station or McDonalds.
Not only is this unhealthy, but these kinds of habits can put a dent in your wallet.
So, how do we solve this problem? Well, one solution would be to get a slow cooker.
What is a slow cooker?
Slow cookers have a ceramic pot that sits inside a heating unit. Food is heated from the bottom or  around the sides of the pot. The pot can be oval or round and these slow cookers come in a variety of sizes.
When thinking of a slow cooker, you might wonder how something that is "slow" can get you meals quickly without a fuss. The beauty of a slow cooker is that it can cook your food, while you are away. That means, you can add all your prepped ingredients to the slow cooker, go complete all your errands, and by the time you are done, you will have a nice and healthy, home-cooked meal waiting for you.
Slow cookers are easy to use and have simple heating and timing functions, which makes it easy for any kitchen newbie to master chicken and dumplings. Furthermore, slow cookers are very easy to clean since the pot is all that needs to be washed and there is also the option of adding cooker liners, which makes cleanup even faster.
Why should I have one?
The nice thing about a slow cooker is that it is so much more than chicken soup and chili. Slow cookers are a perfect addition to the kitchen since they can make a wide range of dishes ranging from breakfast casserole to pizza.
Yep, pizza.
(Try this slow cooker paprika chicken recipe from the archives.)
Another handy fact about slow cookers is that you can make your own jams and butter while adding your own twist to it. This means you can make your own healthy version of apple butter without having to buy an expensive one from the store.
These devices are capable of making any meal from breakfast to dinner while also making large amounts of it, which means you can have leftovers for days. Due to this, you not only save yourself the time, but also the money from buying foods elsewhere throughout the week.
So what do I buy?
After looking at the top-rated slow cookers on Amazon based on user reviews, we have come up with three slow cookers that can help you prep your next lunch or dinner.
Our top pick from Instant Pot features a 6 quart cooker that can be used as a pressure cooker, slow cooker, rice cooker, yogurt maker, egg cooker, sauté, steamer, warmer, and sterilizer.
This best seller has 80% of 3,068 reviews giving it 5 stars, which leads us to believe this is the real deal. Another popular feature of this machine was the safety adaptations that have been made to ensure that previous errors with slow cookers have been eliminated.
Furthermore, this cooker weighs in at 11.83 pounds and measures at 13.4"x12.2"x12.5", which allows it to be stored safely in most kitchen cabinets. Customers were very pleased with the large LCD screen and digital display, along with the preset buttons.
Users also pointed out how the delay start and keep warm function gave a wide window for them to prepare meals, which was very helpful. The main complaint from a couple customers was that after a couple months of use, there were some issues with the lid sealing properly.
Despite this, there were no dangerous effects and they were still able to produce their own delicious foods as a result.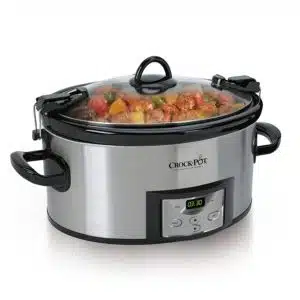 Our next slow cooker comes from Crock-Pot and contrary to popular belief, a slow cooker is not always called a "Crock-Pot" since it is the name of a brand!
This 6 quart slow cooker had 65% of 4,812 reviews giving it 5 stars and raved about the ease of use and portability of this slow cooker. The Crock-Pot weighs 16.18 pounds and measures at 9.4"x15.1"x14.8".
Furthermore, the Crock-Pot has countdown programmable technology, which allows you to program the cook time anywhere from 30 minutes up to 20 hours on either the high or low temperature settings.
Additionally, when the time is up, the cooker automatically shifts to the warm setting, which keeps your food at an ideal temperature until you are ready to eat.
Customers wished that this slow cooker had a delay start feature, but they were still please with the overall performance of the Crock-Pot.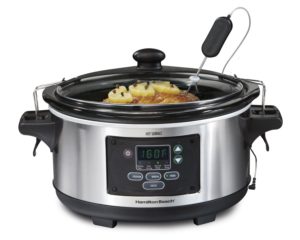 Our runner-up is a 14.75 pound 6 quart slow cooker that comes from Hamilton Beach and measures at 10.2"x16"x16.1". 65% or 1,559 customers were very happy with this product and rated it as 5-stars. The best feature of this slow cooker is the ability to cook at any temperature for any amount of time. This allows for a wide range of recipes to be made within any time frame you choose.
Additionally, the slow cooker is also able to cook a 6 pound chicken or a 4 pound roast and it even comes with a probe that you can use to check the temperature of the meat periodically. This slow cooker does not have a delay start feature, but users were still pleased with the performance and price point of the Hamilton Beach slow cooker.
A few customers had issues with the pot cracking, but Hamilton Beach was quick to respond. It is important to remember to research appropriate cooking times when using a slow cooker to ensure that nothing gets broken or burned in the process.
Overall, customers were happy with their purchase and were surprised with how easy it was to use.
Final Thoughts
From brownies to noodles, you can have it all with the help of a slow cooker. When choosing a slow cooker, it is important to take note of the functions and capabilities of the device.
Also, even though slow cookers can cook food for long periods of time, it is probably best to not leave it on for hours on end unless necessary. A slow cooker can greatly improve your eating habits and save you money in the long run.
Finally, slow cookers are easy to use and even easier to clean up. I think I am going to have to opt for a bowl of chili over a spoonful of peanut butter next time I find myself in a panic looking for food in the kitchen. That means I should probably buy one of these things.
Why should I listen to you guys?
More than ever, people are focused on their health and well-being. And, because of this increased interest, that means there are tons of products on the market to help achieve that goal. From kitchen gadgets that make cooking easier, to reusable water bottles, sleep aids, and workout gear, the sheer number of options can be overwhelming.
That's why we wanted to do the hard work for you. We've committed to trying out some of the most popular health and wellness products on Amazon. Here's what happens:
We scour Amazon for the best rated or most reviewed products in health and wellness categories: whether that's something for the kitchen, supplements, or lifestyle products. Then, we read through the reviews and summarize them all for you. We provide takeaway points for each product – being as unbiased as possible.
Next, we write up our thoughts based on others experiences with the product, and any feedback we may have. And we publish it here for you. You'll find the links to the same exact Amazon products we tried in these articles.
That's it – easy! And if you have a product you'd like us to try before you buy, let us know.
Additional Reviews
Download Your FREE Paleo Starter Kit Today!
3-Day Paleo Diet Meal Plan
Comprehensive Paleo Diet Shopping List
5 of Our Favorite Paleo Diet Recipes