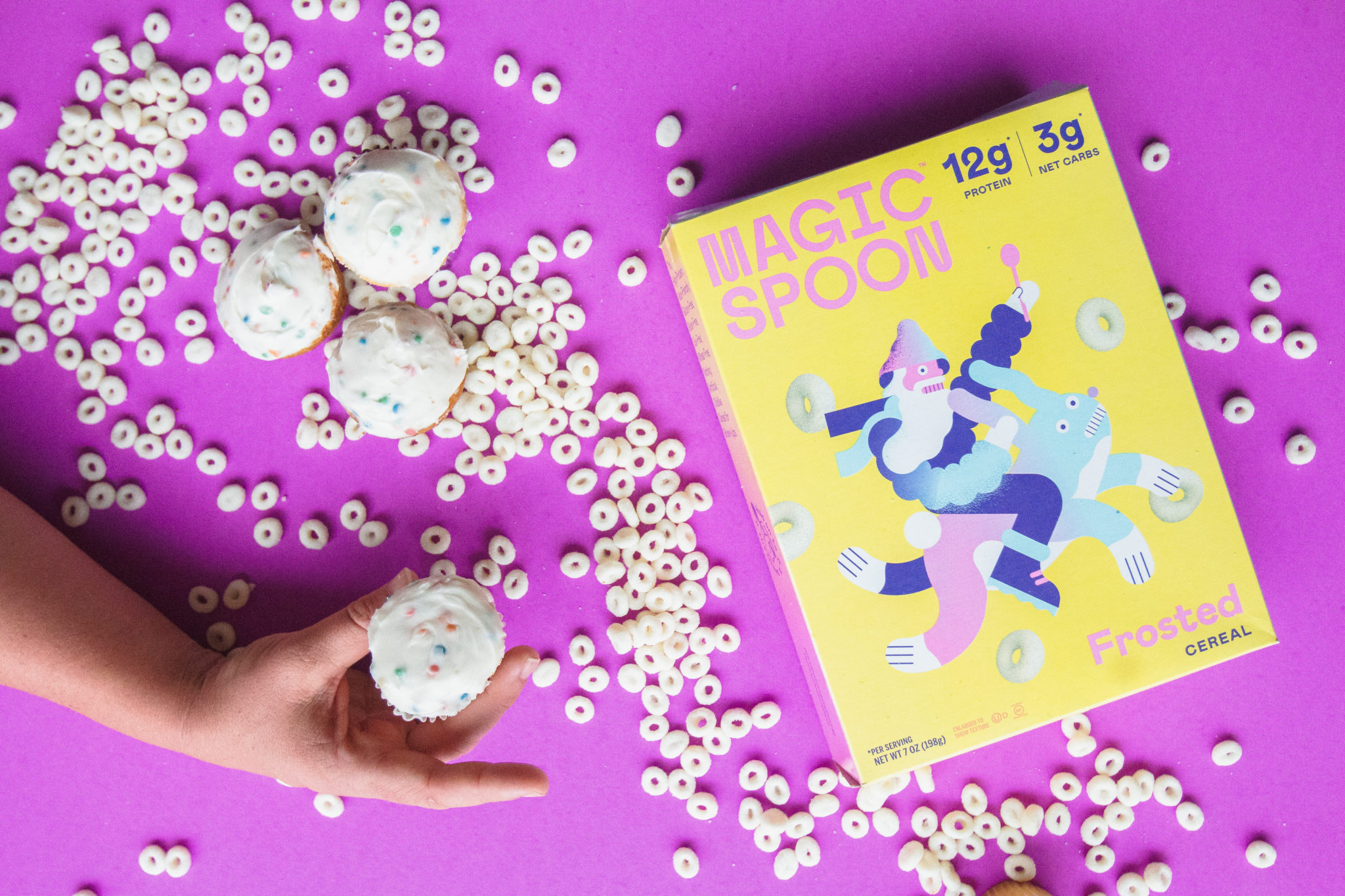 If you're looking for a keto cereal, look no further than Magic Spoon. It doesn't matter if you're paleo, keto, low carb, or you just EAT FOOD, this cereal is delicious no matter what diet you follow. Not only that, but it is protein-packed so you can start your day on the right foot.
For me, the cereals of my childhood to bring up major nostalgia. My favorites were Froot Loops, Frosted Flakes, and Cinnamon Toast Crunch. There was nothing quite like grabbing a big bowl of cereal on a Saturday morning and tuning in to my favorite cartoons like Recess or Doug.
But we all grow up eventually, and you start to choose "better" cereals – like Fiber One, Grape-Nuts, or even oatmeal. These cereals do the trick for a while.
Then, you get a little older. This is when you may start to experiment with different diets. The keto diet or general low-carb diet are both extremely popular. Adhering to these diets means that a lot of your favorite carb-heavy foods are no longer a go-to.
These types of diets have been extremely successful for lots of people. But sooner or later, you may get that craving for some comfort. Something familiar from your childhood even…like a big bowl of cereal.
Meet Magic Spoon: Your New Favorite Cereal
Magic Spoon Information:
Price: $39 for 4 boxes
Carbs: 3g net carbs
Protein: 12g
Flavors: 8
Magic Spoon is about to be your solution the age old question – can I eat cereal and still be healthy? A low carb cereal with fun flavors, Magic Spoon is the adult version of your tried-and-true favorites from childhood.
This keto cereal is gluten-free and grain-free. Using sweeteners like monk fruit, stevia, and allulose, this cereal is most definitely friendly for diet-followers.
That being said, it is protein-packed to start your morning off right. In one serving, you'll get 11 grams of protein – 5 times what you might get in a serving of Froot Loops.
Magic Spoon Flavors
The packaging for Magic Spoon is not the only AWESOME thing about this brand. The variety of flavors is also spot on. The entire list of magic spoon flavors includes:
Fruity
Peanut Butter
Camp Classics
Maple Waffle
Frosted
Cocoa
Cinnamon Roll
Blueberry Muffin
My favorite is the cinnamon. It's like the classic Cinnamon Toast Crunch – but actually way better. And better for you. The Frosted flavor comes in a close second.
I actually wasn't *too* hype on the fruity flavor. It was a little much for me – but I've always been that way about cereals. I like the more mild flavors. I haven't had the chance to try the Nutty flavor yet, but I'm going to guess that I'll really like that one as well.
How Magic Spoon Stacks Up To The Competition
Magic spoon stands out against the competition in a few ways.
Magic Spoon Is Actually Keto Friendly
First – it's keto cereal that's actually keto. Lots of brands claim to be keto-friendly and then have 15g of carbs and could wreck your diet single-handedly. Not good.
Magic Spoon is Grain-Free & Gluten Free
Second, it's grain free and gluten free – if you're on an aip diet or have food sensitivities – that's a great bonus.
Magic Spoon Tastes Amazing
Now, it's pretty often that you'll have a taste of some new "healthy" food and it's just that – it tastes like a bad healthy version of your favorite food.
Not magic spoon. This stuff tastes like the real deal with flavors you love – so you're not having to sacrifice taste for healthiness – which is pretty rare in this space.
Magic Spoon Is Super Fun
This isn't health related (or maybe it is), but magic spoon brings the fun back into cereal and makes it feel like you're a kid again.
Instead of worrying about counting carbs and getting into ketosis – you can just enjoy your favorite foods – this time with healthier options!
Alternatives to Magic Spoon
There are other competitors in the keto cereal and protein cereal space. Some of them are better than others. Here's a quick roundup.
The second best alternative: Catalina Crunch
Maybe the second largest player in the keto cereal space besides Magic Spoon – Catalina Crunch is a solid alternative. Note: they use pea protein in their product – so if you're not a fan – steer clear!
The granola alternative: Purely Elizabeth
We don't really consider this "cereal" but plenty of people take granola as cereal. We think Purely Elizabeth does a great option if you're looking for something "granola-y" but that's where we would leave it.
The alternative we don't recommend: Wonderworks Food
We don't like this option for several reasons – but mainly the taste. It's widely available and cheaper than some options out there, but it's just not worth it to us (in our opinion).
We're glad there's more and more players joining the healthy cereal space – but not all of them are worth your time or your taste buds.
Where To Buy Magic Spoon
Now, I'm sure you know how this works. Because Magic Spoon is made with superior ingredients – and it's "healthier" for you – it's going to be a little more expensive. You can get four boxes of Magic Spoon for $39. A little pricier than your box of Cheerios, but a worthy treat if you ask me!
So, if you're ready to take the leap on the low carb cereal train, you're probably wondering where you can snag a box – or four. You can find Magic Spoon online. Follow this link and use the code UPG at checkout to get free shipping on your order!
And then, please let me know which flavor is your favorite. I promise there will be absolutely NO JUDGMENT if you fill a big bowl with your flavor of choice and curl up on the couch for some Saturday morning cartoons. I'd almost be upset if you didn't!
If you like this article, check out these others:
Download Your FREE Paleo Starter Kit Today!
3-Day Paleo Diet Meal Plan
Comprehensive Paleo Diet Shopping List
5 of Our Favorite Paleo Diet Recipes