Does good keto ice cream actually exist? If you've asked yourself this question, this is the article for you!
If you are familiar with the keto diet, then you know that it promotes eating foods that are high in healthy fats and proteins, but low in carbohydrates.
Unfortunately, for those who love ice cream and that want to try the keto diet, traditional desserts such as ice cream are not recommended. Before you assume that all of your desserts have to be in the form of fresh fruits sprinkled with a 1/8 teaspoon of sugar, we have great news.
In the past couple of years, ice cream brands have adapted to the growing popularity of the keto diet to meet the needs of consumers. As a result, keto ice cream has been invented!    
What is the keto diet?
In order to understand which ice cream qualifies as keto, it is important to understand the science behind the diet. When looking at the keto diet, many people may think that they need to simply consume more fats than carbs, which means more butter and no bread.
Contrary to this belief, the keto diet promotes eating meals that are high in fat, moderate in protein and low in carbs. The purpose of the diet is for the body to enter a metabolic state called ketosis, where the body produces ketones. When in ketosis, the body switches its fuel to run on ketones instead of glucose, which makes it easier to access fat stores to burn them off.
While the keto diet does promote the concept of eating more fat and protein than carbs, one needs to be aware that not all proteins, fats and carbs are the same, which affects the types of ingredients that go into meal preparation.
For example, one may think that a breakfast complete with bacon and butter is a great example of a keto breakfast due to being high in fat and protein.
However, the keto diet encourages one to still eat heathy fats, proteins and veggies while consuming a limited amount of processed meats.
Therefore, a better example of a keto breakfast would have something such as: eggs, avocado and cucumbers with 75-80% of calories from fat, 15-20% from protein and 5-10% from carbs.
If you would like to learn more about the keto diet, check out our guide here!
Which ice cream is keto and which is not? 
As stated previously, the average keto diet allots 5-10% of macronutrients to be that of carbohydrates, which in a 2000 kcal diet is about 20 to 50 grams a day.
When looking at ice cream as a snack, it proves to be too high in carbohydrates, which may lead some to believe that sorbet would be a better option when on the keto diet.
However, fruits generally contain a high amount of carbohydrates and it is important to keep an eye on the macronutrient count on fruit when choosing in a dessert.
Since fruit is high in carbohydrate count, one should keep this in mind when choosing an ice cream flavor. For those who are interested in learning about the best fruits when choosing an ice cream flavor, check out our Guide to Low Carb Fruits article here!
Furthermore, for those who need a complete overview of all the foods that qualify as keto, take a look at our official list here!  
Since low-carb fruits aren't the only option when choosing a keto-friendly dessert, it may seem impossible for ice cream to be the best choice.
Luckily, ice cream made with zero-calorie natural sweeteners such as Splenda, Monk Fruit, Stevia or Erythritol makes this a possibility.
However, it is also important to note the serving size recommendation for each brand to stay on track with the keto diet. To make sure that you are eating the correct serving size of ice cream, use our keto calculator here! 
Our 3 favorite brands
Halo Top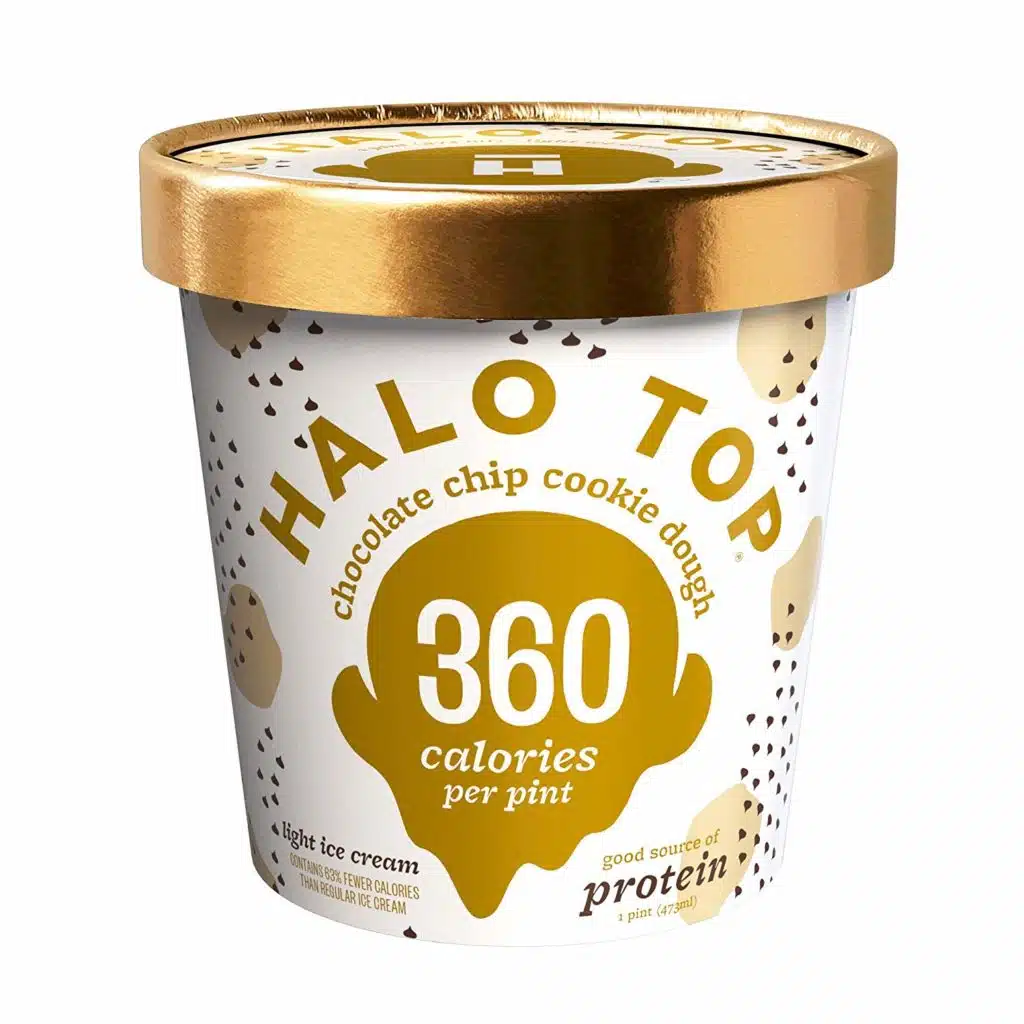 Truly, Halo Top has created a name for itself in the past couple of years through food and fitness bloggers raving about the birthday cake, strawberry flavors and dairy-free ice cream options it offers.
Halo Top is made with organic Stevia and Erythritol, and has 6 grams of carbohydrates per half-cup serving.   
Edy's
Edy's is a classic ice cream brand that many have fallen in love with over the years thanks to their popular slow churned ice cream. Edy's makes their keto ice cream from Splenda, while maintaining the rich and creamy taste thanks to the high-fat milk used in production.
Edy's ranked highest in carbohydrate count with 17 grams per half-cup serving, which could count as a day's worth of carbohydrates.  
Enlightened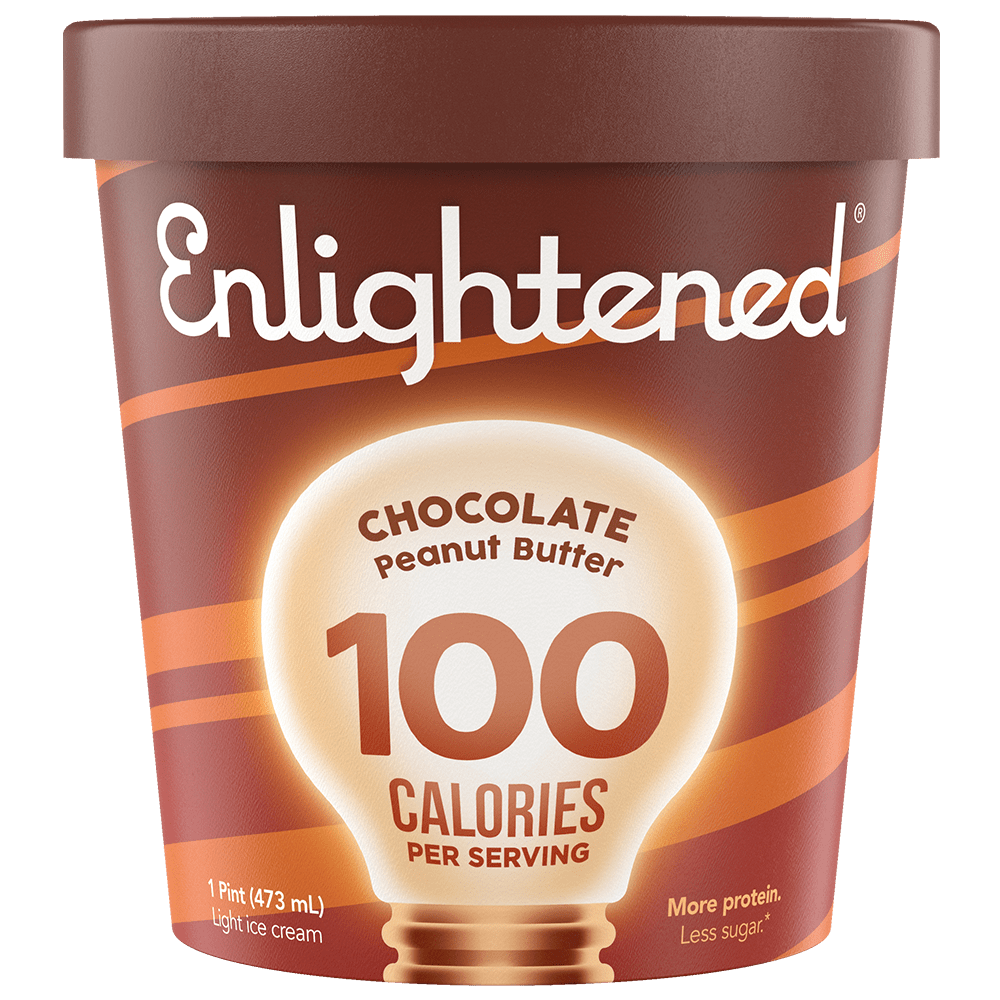 Our final favorite brand is the Enlightened keto ice cream, which ranges from 4-8 grams of carbohydrates per one half cup serving. This ice cream is made with monk fruit, a natural sweetener, which allows many delicious flavors such as: Red Velvet and Butter Pecan to be a possibility.
Overall
Starting a new diet can be stressful when saying goodbye to your favorite meals and snacks. While on the keto diet, it is important to understand the diet in order to stay on track.
When in ketosis, one much be aware of the percentage of carbohydrates they are consuming so there are no disruptions. Choosing ice cream as a go-to snack may not seem like a possibility due to the high carbohydrate count it carries.
Fortunately, ice cream companies have adapted to fit the needs of those following the keto diet so no one has to sacrifice their favorite comfort snack. Whether you prefer birthday cake or red velvet, there is a keto ice cream option for you and it's got your name on it. 
Download Your FREE Paleo Starter Kit Today!
3-Day Paleo Diet Meal Plan
Comprehensive Paleo Diet Shopping List
5 of Our Favorite Paleo Diet Recipes