Watch Your Fingers!
Whether you regularly cook up meals or simply chop something up here and there, all can agree that having a sharp and dependable knife is essential for any kitchen. Until you find yourself without a reliable knife and are left with a something that can barely cut Play-Doh, you will not know the importance of having a quality chef's knife.
When choosing a chef's knife, it can be challenging due to the variety of factors to consider including: blade material, balance, comfort and blade shape.
Thankfully, we are going to break it down for you so you don't feel like you're making a decision as big as buying a new car.
What is a chef's knife?
A chef's knife is arguably the most-used knife in the kitchen since it is with which you'll use to chop, dice, slice, smash and peel. If you were on a deserted island, this is the knife that you would want to have with you.
A chef's knife is the name used to describe the European- style version while "gyutou" is the Japanese-style of the knife. Chef's knives are unlike typical kitchen knives since they can cut through bone but also finely dice parsley.
Additionally, chef's knives should be treated differently and only be washed by hand when compared to regular knives. Due to the curved blade of a chef's knife, it makes it perfect for rocking back and forth across a cutting board when cutting vegetables.
A chef's knife also has a long, sharp edge, which also makes it great for chopping or slicing meats. These knives are ideal for long meal preparation due to the comfortable handle and the simple rocking motion that you utilize with a chef's knife.
Chef's knives are within their own category when it comes to the knife game, so keep this in mind when looking at what's available.
Why should I have one?
From chopping onions to dicing cilantro, a chef's knife is your most faithful companion when in the kitchen. While these knives may be pricey, they are an investment worth making.
These knives are equipped with high-carbon steel, which ensures quality cuts and makes resharpening less frequent. While purchasing an inexpensive knife is feasible and only requires resharpening from time to time, it important to consider how often you will need to do so.
Overall, many agree that more expensive knives are a better purchase since they don't quickly lose their edge, when compared to their cheaper competition.
So what do I buy?
After looking at the top-rated chef's knives on Amazon based on user reviews, we have come up with three chef's knives that can help you prep your next lunch or dinner.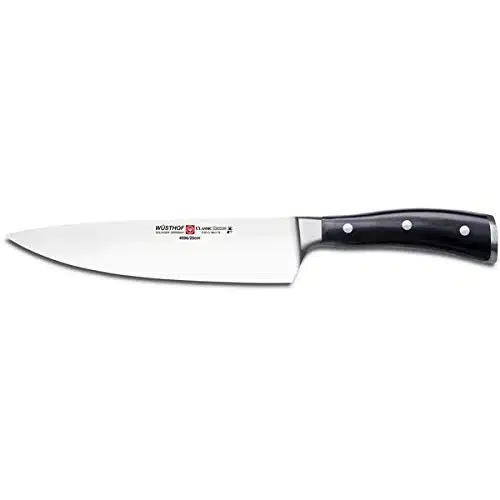 This chef's knife from Wusthof comes in as our top contender with 88% of the 323 reviews giving it 5 stars.
This versatile 8-inch knife is ideal for slicing, dicing and mincing all types of food and is made from high-carbon German stainless steel complete with laser-controlled and tested cutting edge.
Furthermore, this chef's knife features double bolsters to provide balance and heft thus making cutting effortless while allowing full tang to extend through the handle. Additionally, this knife has a triple-riveted handle with contoured design, which makes your grip secure and comfortable.
Users found that the 14 degree cutting edge of the knife made it easier for them to cut through foods when compared to knives with a 20 degree cutting edge.
When looking at user reviews, multiple customers found that this knife was the perfect addition to their kitchen and that they could get the majority of their prepping tasks complete with it.
One user found the handle to not only be "cool", but that it also "fits a hand like a glove". Other customers saw that the 8 inch blade was a perfect size; not too big for herbs and not too small for larger cuts of meat.
The only issue was that one user found that the knife was rather sharp at the bottom of the half bolster where it meets the heel, not on the cutting edge. They able to have it ground down but wished that it had been done at the factory itself.
Despite this issue, the majority of customers were overjoyed with their purchase and many stated that they could never go back to cheap knives or Cutco knives ever again.
If you are looking for a more budget friendly Wusthof chef's knife, then the Pro Cook's Knife would be best for you. Like the Classic Ikon Cook's Knife, this blade is made from the same high-carbon stainless steel.
The difference lies in the handle, which is a poly, ergonomic handle, which may be easier to grip with wet hands in a professional's kitchen.
Regardless of your choice, Wusthof doesn't disappoint and you will be satisfied with either purchase.

Our runner-up from Mac Knife is the Professional Series Hollow Edge 8-inch Chef's Knife that has 86% of the 245 reviews giving it 5 stars.
This Japanese knife has a 2.5 mm blade that is rust-resistant and made out of high-carbon Molybdenum steel, which is known to have better edge-retention when compared to other knives. The handle is made from Pakka wood and the knife should only be hand-washed.
Mac Knife also has a chef series which comes with another 8-inch chef's knife and when comparing the two knives the Chef Series weighs about an ounce less since it doesn't come equipped with a bolster that the MTH-80 has.
Customers found the MTH-80 capable of any task in their kitchen and even claimed it was the "lightsaber" for your kitchen. Users were very pleased with not only how sharp the knife was, but also how light it was.
Multiple users commented how thin the blade was compared to German chef's knives and while the majority of users loved this feature, some found that it made the blade seemingly too delicate.
Regardless, this knife is capable of cutting through a squash with minimal effort, which makes it a favorite in the kitchen.
If you are looking for a more budget friendly Mac chef's knife, then the Chef Series Hollow Edge Chef's Knife would be best for you. Like the MTH-80, this blade is made from the same high quality steel and the knife also comes made from Pakka wood.
The difference lies in the weight of the knife and the fact that the professional series has a bolster where the blade and the handle meet, thus affecting the balance and the feel to the knife.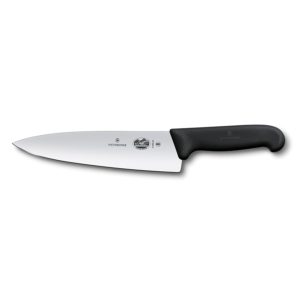 If you are on a tight budget or just need a nice introduction to the world of fine kitchen equipment, then the Victorinox Fibrox Pro Chef's Knife is for you.
This Amazon Best Seller, has a 5-star rating from 84% of the 6,076 users that polled in after using it. This 8-inch knife features high-carbon stainless steel and a Thermoplastic elastomers (TPE) handle so this knife should be hand washed.
Users commented that when compared to their Wusthof, the Victorinox didn't have the best edge retention thus showing that this knife's price reflects it's performance.
Despite this, the knife has been featured on America's Test Kitchen and multiple online sources, stating it as being perfect for a beginner.
Final Thoughts
From dicing to slicing, a chef's knife has got your covered for all different methods of food cuts. A chef's knife is unlike your typical knife thanks to the high-carbon steel blade and its shape, which allows easy use and mobility.
Whether you are mastering the julienne cut or a chiffonade, a chef's knife is your best companion to get the job done. A chef's knife is known to be one of the sharpest in the game that doesn't need sharpening as frequent as your typical kitchen knife.
Having a sharp knife in the kitchen is essential and also makes your life easier. If you haven't considered adding a chef's knife to your kitchen lineup, then I strongly suggest you reconsider.
Why should I listen to you guys?
More than ever, people are focused on their health and well-being. And, because of this increased interest, that means there are tons of products on the market to help achieve that goal. From kitchen gadgets that make cooking easier, to reusable water bottles, sleep aids, and workout gear, the sheer number of options can be overwhelming.
That's why we wanted to do the hard work for you. We've committed to trying out some of the most popular health and wellness products on Amazon. Here's what happens:
We scour Amazon for the best rated or most reviewed products in health and wellness categories: whether that's something for the kitchen, supplements, or lifestyle products. Then, we read through the reviews and summarize them all for you. We provide takeaway points for each product – being as unbiased as possible.
Next, we write up our thoughts based on others experiences with the product, and any feedback we may have. And we publish it here for you. You'll find the links to the same exact Amazon products we tried in these articles.
That's it – easy! And if you have a product you'd like us to try before you buy, let us know.
Additional Reviews
Download Your FREE Paleo Starter Kit Today!
3-Day Paleo Diet Meal Plan
Comprehensive Paleo Diet Shopping List
5 of Our Favorite Paleo Diet Recipes