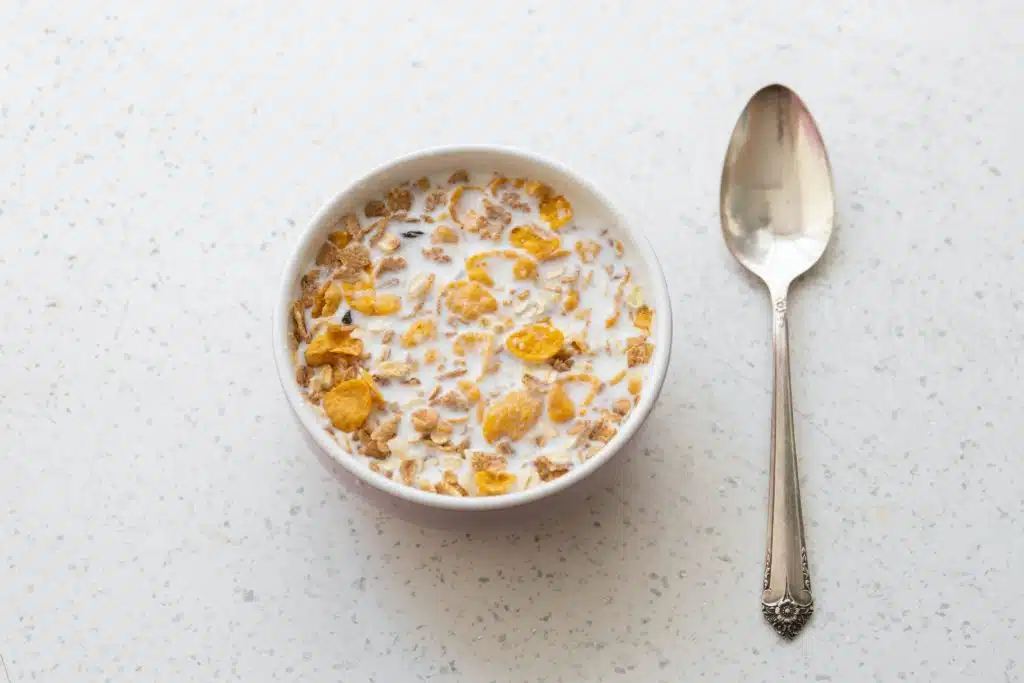 The keto diet has been, and continues to be, wildly successful for many people across the globe. While the health benefits are widely reported and varied, one major complaint with this style of eating is that many people's favorite foods are not included. Traditional pizza, ice cream, and donuts won't be found on a keto-friendly food list…until recently. With the popularity of the keto diet, companies have found a way to respond to consumer's demands and have developed keto-friendly products. This trend most definitely includes keto cereal, which is what we are going to talk more about today.
The ketogenic, or keto for short, diet is a high-fat, moderate-protein, low-carbohydrate style of eating. The purpose of the keto diet is to switch the body's main fuel supply from burning carbohydrates as energy to fat. This process is called ketosis. Therefore, many people start this diet to help them lose weight. Other reported health benefits of this diet include increased energy, more stable blood sugar levels, lowered levels of cholesterol, and more.
If Lucky Charms, Froot Loops, or Cocoa Puffs regularly make it into your breakfast or late-night snack rotation, adapting to the keto diet might be quite difficult at first. Even the more commonly perceived "healthier" versions of cereal – like the Kashi or Nature Path's brands – would bring your body out of ketosis. But now, you can actually find keto-friendly spins on your favorite cereals quite easily on your local grocery store shelves. This fact may lower the bar of entry for many people who want to try the keto diet but are afraid or intimidated to make the switch away from their regularly-eaten types of foods.
The Best Keto Cereal – Ranked
Below, we outline some current keto cereal brands that you can find on the market. These vary widely in flavor, texture, and price, but if you are a self-proclaimed cereal lover, we are sure that you will find one that will work for you.
(Disclaimer: all prices denoted below are accurate at the time of publishing. They may have changed by the time you read this.)
Magic Spoon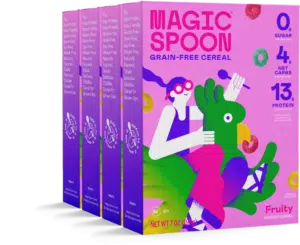 If you love the nostalgia or flavors of the cereal from your childhood, this will be the cereal for you. Magic Spoon offers eight flavors: Fruity, Cocoa, Peanut Butter, Maple Waffle, Blueberry, Frosted, Cookies and Cream, and Cinnamon. There really is a flavor for every kind of taste bud.
Not only are the flavors abundant, but this cereal is also free from gluten and grains. It can also be considered a high-protein cereal option with 13 grams of complete protein per serving. It is definitely a good option if you are trying to chase muscle gains. With only four grams of net carbs per serving, it's considered low carb which helps your body to stay in ketosis.
While Magic Spoon is gluten-free and low carb, it is not dairy free. If you are lactose intolerant or following a dairy-free style of eating, this cereal won't be for you. In fact, the first ingredient on the ingredient list is a milk protein blend – hence why it is so high in protein.
I would be remiss if I didn't mention the packaging. If bright colors, fun characters, and bold font are your thing, your eye will be immediately drawn to Magic Spoon. The box shouts "FUN!!" All in all, we recommend Magic Spoon for anyone who wants a cereal option that will transport them back to childhood. We won't blame you if you want to eat this cereal while watching Saturday morning cartoons on the couch. In fact, we encourage it.
If you are ready to buy your own Magic Spoon box, you have a few different options. They do offer a variety case which includes four boxes of their most popular flavors — fruity, frosted, cocoa, and peanut butter. You can find this online for $39 which comes out to around $1.95 per bowl. You can also order individual flavors if you want to skip out on the variety. The price stays the same per case, so you'll end up with four boxes of whatever flavor you prefer.
Magic Spoon Details
Carbs: 4g
Price: $39 for 4 boxes
Catalina Crunch
If the branding for Magic Spoon is speaking to the inner child in all of us, the Catalina Crunch brand seems to want to appeal to the mature, slightly hipster, adult with a flair for the nostalgic. Catalina Crunch is, of course, quite crunchy and satisfying. The keto-friendly flavors are varied as well. The brand offers the following varieties: Chocolate Peanut Butter, Dark Chocolate, Fruity, Cinnamon Toast, Maple Waffle, Honey Graham, Chocolate Banana, and Mint Chocolate Chip. On the website, you can order these as a variety pack with many flavors or as individual flavors with 4 pouches making up a case.
Catalina Crunch is made from a Non-GMO blend of plant-based proteins and fibers. Their selling point is the crunchiness of their product. Using an extra-long baking method ensures that this cereal comes out as crunchy as can be. Each serving contains 11 grams of plant-based protein, nine grams of fiber, and five grams of net carbs.
For a variety pack, Catalina Crunch rings in at $89 for eight pouches — which will last you about 60 days. It can also be purchased in a pack of six (for $69), pack of 4 (for $49). Individual flavors can also be purchased in the same pack size for the same price.
Catalina Crunch can be ordered online as well as at retailers like Whole Foods, Natural Grocers, and Safeway. Use the store locator on their website to find the closest store near you. 
Catalina Crunch Details
Carbs: 5g
Price: $39 for 4 bags
Check out Catalina Crunch here. 
Purely Elizabeth Keto Granola Clusters
Some people consider granola the queen of all cereals. Others, quite frankly, wouldn't even put it in the same category as the more traditional cereals. The Purely Elizabeth Keto Granola Clusters would definitely appeal to the former. For all my cereal purists, please scroll on to the next section. But if you love a crunchy and delicious granola, these are for you.
Purely Elizabeth Ancient Grain Granola comes in flavors such as Apple Walnut, Banana Nut Butter, Chocolate Hazelnut, Cinnamon Peanut Butter, Coconut Cashew, and Vanilla Almond Butter. These grain-free clusters are made up of different seeds, nuts, coconut, nut butter, coconut sugar, and more depending on each individual flavor. These clusters are keto and paleo certified, so you know you are staying compliant to your diet of choice when you buy this brand.
A serving size comes in at ⅓ of a cup and contains nine grams of net carbs, 12 grams of fat, and five grams of protein. You can most definitely eat these keto clusters in a bowl with your favorite keto milk, on top of a bowl of yogurt, or pop them in your mouth for a quick snack.
If you are sold on Purely Elizabeth and would like it in your cabinets as soon as possible, you have some options. You can order your desired flavor and amount from their website. Purely Elizabeth cereals are also widely available in major retailers like Walmart, Safeway, and Target. A pouch of the keto granola clusters rings in at $6.99. They also offer a three-pack bundle for $19.50.
Purely Elizabeth Keto Granola
Carbs: 1 net carb
Price: $7.49
Check out Purely Elizabeth Keto Granola Clusters here.
HighKey Protein Keto Cereal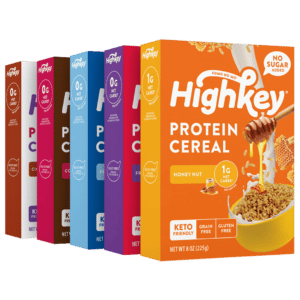 HighKey Protein Cereal solves the problem of wanting a high protein breakfast but not wanting to eat another egg. Similar to Magic Spoon, this is another protein-packed option with flavors similar to your favorite childhood cereals. With options ranging from Frosted to Fruity, Honey Nut, Cocoa, and Cinnamon, there's something for everyone.
The protein in this keto cereal comes from the use of milk protein isolate. Using sweeteners like erythritol or monk fruit extract, there is sweetness without the blood sugar spike. A serving of HighKey cereal comes in at ½ cup with 10 grams of protein, eight grams of net carbs, and five grams of fat.
This is a gluten-free and grain-free cereal option with low sugar and low carbs. The flavors can be bought individually or as a variety pack. If you are looking for a cereal with a shape closer to that of a rice krispy, this will be your choice. As for prices, one box of HighKey cereal will cost you $11.79. If you would rather buy in bulk, you can get a variety pack of the five flavors for $58.95. This cereal can be found online and in stores like Safeway, Target, and Kroger.
High Key Protein Cereal Details
Carbs: 0 net carbs
Price: $21
Check out HighKey Protein Cereal here.
Which Keto Cereal Will You Choose?
In times such as now, when the keto diet is all the rage, keto cereals are relatively easy to find both online and on your local grocery store shelves. That being said, they are pricier than your standard box of cereal. No matter if you want cereal reminiscent of Honey Nut Cheerios or a crunchier, granola-like cereal, there is an option for everyone. Leave us a comment down below and let us know if you'll try a keto cereal. If you have, which is your favorite? 
Other Great Reviews
Download Your FREE Paleo Starter Kit Today!
3-Day Paleo Diet Meal Plan
Comprehensive Paleo Diet Shopping List
5 of Our Favorite Paleo Diet Recipes