There is no doubt that the keto diet is *the* diet of 2019. It seems like everyone and their mom has tried it. And if you're one of those people with a sweet tooth, you probably (quickly) realized that your usual sweet, sugary treats are off the table. But I'm here to tell you that keto desserts are possible. We want to show you how.
Are Keto Desserts Possible?
Let's be honest. The lack of sugar in anyone's diet is a good thing. Sugar just isn't that great for anyone. Like at all.
But that doesn't mean we have to abandon all sweets completely. There are ways to continue to enjoy treats without throwing yourself completely out of ketosis. You've just got to know where to look for them and what you need to make them happen.
The Keto Diet
The purpose of the keto diet is prompt your body to enter ketosis. Ketosis is a metabolic state in which the body becomes better at burning fat for energy instead of carbohydrates.
You do this by eating a diet that is high in dietary fat, low in carbohydrates, and moderate in protein.
Usually, ketosis requires that we don't eat more than 25-35 grams of carbs per day. That means it's pretty important for us to be tracking what we eat and checking the ketones in our blood to ensure that we are actually in ketosis to reap the benefits.
Keto Desserts
So, for us be indulge in keto desserts, we need to make sure the carb count is pretty low. These ones included in this post are all going to be under 10g carbs/serving. (We're counting net carbs – so total carbs – fiber = net carbs).
You just need to ensure that you're staying within your carb range for the day if you're going to eat these.
Cool? Cool. Without further ado, here are some of our very favorite keto-friendly desserts.
It's like a healthy, low carb twist on a Reese's cup. This recipe uses raw cacao powder, almond butter, a touch of honey for sweetness, vanilla extract, and, of course, coconut oil.
It will give you six cups – one individual cup clocking in about 5g carbs. So if you need a little snack to curb your sweet tooth, this will do it.
You can keep the extras in the freezer and pull one out when you need it.
To make these flavor bomb roasted almonds, just round up the following ingredients – almonds, honey, sea salt, chili powder, cinnamon, cayenne, water, and extra virgin oil.
This recipe will make 6 servings. One serving boasts 10g net carbs. Ready in just fifteen minutes, these almonds make for a great snack or a little sweet dessert after a meal.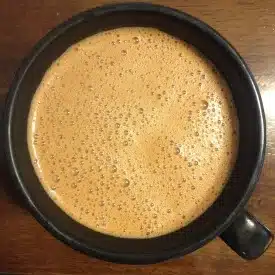 Are you in the mood for a caffeinated chocolatey boost? This mocha recipe will do the trick.
Made with 4 cups of coffee, a square of dark chocolate, some grass-fed butter, and a dash or two of cinnamon, this mocha recipe is great when you feel like sipping something just subtly sweet.
It's mostly fat too, so it will help curb any hunger you might have.
Ok, this isn't a recipe. It's a product. But I promise you, that you will not be disappointed. Especially if you're a brownie lover like myself.
You would never be able to guess that these brownies are low carb and keto-friendly. They taste just as delicious as the Betty Crocker ones from my childhood – and they are just as warm and gooey when they come from the oven. With 17g of total carbs, and 15g of fiber, these brownies only have 2g worth of net carbs.
No going out of ketosis with these.
And – as a treat for you – we've teamed up with Diabetic Kitchen to offer you an awesome discount. Use the code NEWFRIENDS at check out, and you'll save 10% on you order. There's also FREE shipping on any order over $25.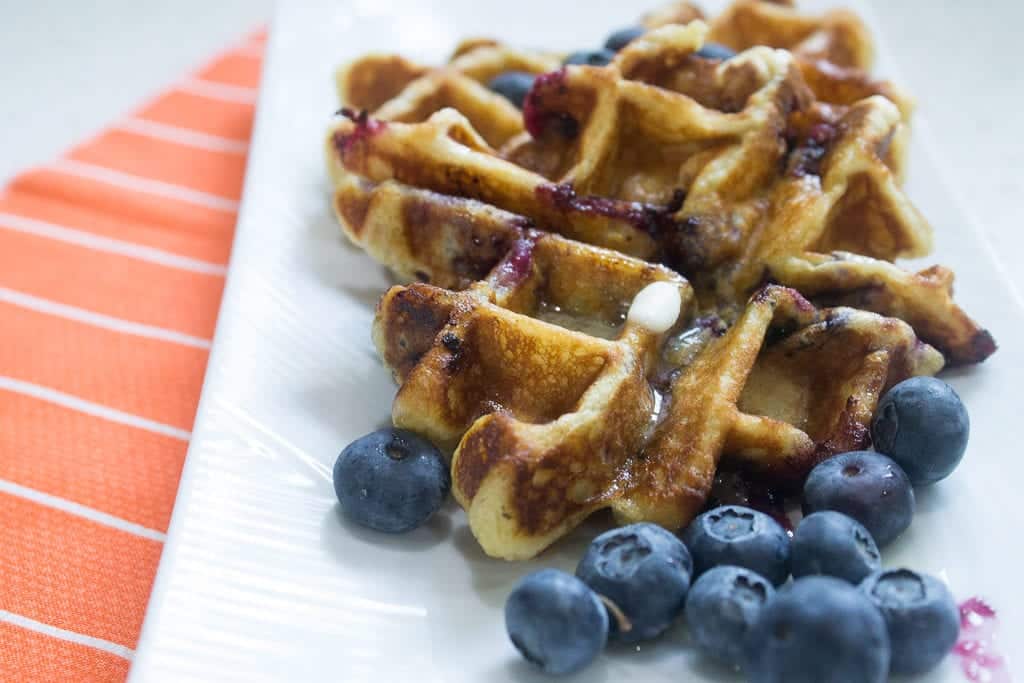 These blueberry waffles are easy to prepare, and loaded with fiber and antioxidants. You can reduce the carbs by leaving out the blueberries, but for a sometimes treat, these are absolutely delicious.
If you've never had psyllium husk, you can find it in health food or specialty stores where you buy keto products. 
Clocking in at just about 10g net carbs, these are most definitely keto-allowed. You can have these for breakfast obviously. But they also make a bomb dessert too.
Find More Keto Desserts
These are some of my favorite desserts from our site. But there are tons of other great sites out there with all the keto-friendly desserts you can imagine.
Here are some of our faves:
All Day I Dream About Food Archive
Bulletproof Archive
Wholesome Yum Cream Cheese Cookies
Joy Filled Eats Sopapilla Cheesecake Bar
Do you have a favorite keto dessert? Share it with us below!
For more keto recipes, check out our keto archive.
If you want to make the jump to the keto diet, we have a meal plans service that will help you do just that. Sign up and you'll get meal plans delivered straight to your inbox every week. These include delicious recipes, a shopping list, and the ability to add all the groceries you need to an online shopping service so they'll show up at your door. Don't miss out.
Download Your FREE Paleo Starter Kit Today!
3-Day Paleo Diet Meal Plan
Comprehensive Paleo Diet Shopping List
5 of Our Favorite Paleo Diet Recipes