My Favorite Instant Pot Resources
If you've been keeping up with the blog lately, you might already know that I recently fell in love with The Instant Pot.
If you missed my review of The Instant Pot, you can catch that here.
It's made my meal prep almost effortless. It's made my weeknight dinners come together in a snap. I honestly can't imagine my kitchen without it nowadays.
Because I'm kind of late to the game on this one, we don't have any Instant Pot recipes here on our site (yet!). I promise that they are coming soon.
But in the meantime, I figured there are a lot of you out there who might have been gifted an Instant Pot over the holidays or bought one during the end of year sales. And it might be helpful to have a guide to some of my favorite Instant Pot resources out there.
Because there's A LOT you can do with this appliance.
So here you have it – my go-to Instant Pot resources to make your time in the kitchen efficient, delicious, and fun.
Instant Pot Cookbooks
Paleo Cooking with Your Instant Pot
Jennifer, of Predominantly Paleo, developed this book with the simple mission to make Paleo cooking with the Instant Pot EASY. Not only are the recipes delicious (try the honey sriracha chicken wings), but the book is easy to follow and the pictures are gorgeous.
Ready or Not!: 150+ Make-Ahead, Make-Over, and Make-Now Recipes by Nom Nom Paleo
If you've been reading this blog for a while, you'll also know that I love Michelle of Nom Nom Paleo. And this cookbook is no exception to that feeling. While this book isn't exclusively an Instant Pot cookbook, many of the recipes can be made using the Instant Pot. Honestly, I'd recommend this book for anyone's kitchen. It's a great resource.
The "I Love my Instant Pot" Paleo Recipe Book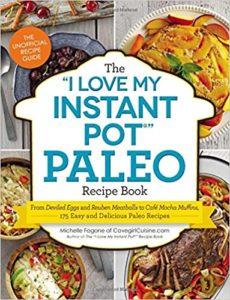 This book has 175 super easy Paleo recipes that can whipped up in the Instant Pot. Developed by Michelle of Cavegirl Cuisine, the pictures in this book are beautiful and the recipes will hit on anything you may be craving. For only $12 on Amazon, grabbing this book is a smart move.
Online Resources
Here we are again – but when something is the best, it's the best. Michelle has so many free Instant Pot recipes on her blog. My favorite? The Thai Beef Stew, hands down. I haven't yet made the Chicken Pho but that's on my list next – especially for these rainy winter days in Portland.
The Real Food RDs have 30 Whole 30-friendly (so, also Paleo…) recipes on their blog. If you're a fan of curries, the sweet potato curry is great. They have recipes incorporating chicken, beef, and pork, so you can choose whichever protein you may be craving for the day.
My Heart Beets has listed out 100+ flavorful, out-of-the-box Instant Pot recipes on her site. She has them listed out by title and sectioned off between protein type, Paleo vegetarian, or sweets and drinks. I like this because it's easy to scroll through and see what's appealing.
This is always a great go-to for a variety of recipes. Pinterest also allows you to make separate "boards" so you can separate your Instant Pot recipes however you like – by meal type, ingredients, etc.
These are my favorite go-to resources when it comes to the Instant Pot. But like I said, I'm still kind of a newbie to this game. So if I've left out any resources that you love, let me know. I'm always adding to my arsenal.
Happy Instant Pot-ting (yes, I just made that a verb…), friends!
Download Your FREE Paleo Starter Kit Today!
3-Day Paleo Diet Meal Plan
Comprehensive Paleo Diet Shopping List
5 of Our Favorite Paleo Diet Recipes