Paleo Mayo: Make it Yourself
Let's be honest – some things are just worth buying at the store.
Just because we prefer to cook most of our food and keep standard American diet foods (aka – packaged/processed/refined) out of our diet doesn't mean that we have to shun all modern day conveniences.
I would much rather buy an Epic bar at the store than make my own jerky. I don't have the time, resources, or desire to make my own. That's just me. I'm sure you have your preferences too – and that is perfectly fine!
I always like to remind people – there is NO perfect way to do Paleo. Make it work for you.
Paleo mayonnaise, though, doesn't fall in this category for me. This stuff is SO EASY to make at home with just a few ingredients and tools. Not to mention, it's going to save you a load of money. And, I love when I get to control the quality of every ingredient that goes into making it. For these reasons, I make my mayo at home 99.9% of the time.
Disclaimer: Paleo mayo does contain raw egg, and there is a risk for contracting food-borne illness if you do not use pasteurized eggs. Again, I'm comfortable with taking this risk, but if you're not, you may want to buy your Paleo mayo from the store. Check out the link at the bottom of this article of our brand recommendation!
So, what do you need to know before you embark on this kitchen adventure?
Tools for the Perfect Paleo Mayo
First, you'll need some tools. A food processor, blender, or immersion blender is a lifesaver. You can definitely do it the old-fashioned way and whisk it by hand, but it will take much longer and you'll get a killer forearm workout from all the whisking.
Paleo Mayo Ingredients
There are a bunch of different ways to make Paleo mayonnaise. Each recipe has the same foundational ingredients though: an oil, egg, an acid, and salt.
The oil you choose to use is incredibly important. Most Paleo experts recommend one of the following: EXTRA LIGHT olive oil (this is important – for the sake of taste, make sure you're using extra light), avocado oil, or macadamia nut oil.
You can choose from a variety of acids as well. Choices include (but are not limited to) white vinegar, lemon juice, lime juice, or apple cider vinegar.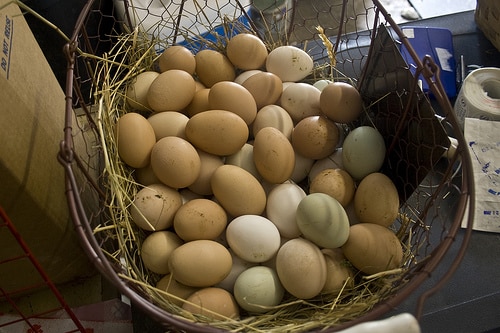 I always recommend eating pastured-raised eggs. This is not required, but the benefits of eating pasture-raised chicken eggs are numerous. Some people recommend washing the egg before cracking it just to cut down on the risk of food-borne illness.
A Key Tip
Before you set off to make this, there's one last important key: make sure all of your ingredients are at room temperature.
Now that you know the tricks of the trade, you're ready to go!
Check out our archived Paleo mayonnaise recipe to try this on your own.
Store your mayo in an airtight container in the refrigerator. Use it on top of salads, with tuna, egg, or chicken, on bunless burgers…the choices are nearly endless.
And – if you'd rather buy your mayo, we recommend Primal Kitchen's Avocado Oil Mayo. Use this link and get delicious mayo shipped right to your door!
Download Your FREE Paleo Starter Kit Today!
3-Day Paleo Diet Meal Plan
Comprehensive Paleo Diet Shopping List
5 of Our Favorite Paleo Diet Recipes