What goes around comes around – this saying is true in many aspects of life, and the nutrition world is no exception.
Bone broth (also called stock) has been around for ages. Chances are your grandmother's grandmother used this magical elixir in her kitchen daily. The power of its healing properties has long been revered.
In the past couple of years, though, it seems like everyone has jumped back aboard the bone broth train. There are even bone broth bars (like Brodo in NYC and Broth Bar in Portland) popping up in cities across the U.S. And there is definitely some validity to the movement.
There's a reason why chicken soup is considered the go-to food when you're sick, after all.
Bone Broth Benefits
Here on Ultimate Paleo Guide, we've covered the benefits of bone broth in depth (here and here) and we've given you a super easy crockpot recipe to make your own at home. Check out these articles if you want to learn why you should incorporate this drink into your diet occasionally.
And while it is incredibly easy to make your own broth at home, we love trying and supporting brands that make nourishing, high-quality products available to the masses.
This is exactly why I was excited to try Kettle & Fire's organic beef bone broth.
Kettle & Fire Bone Broth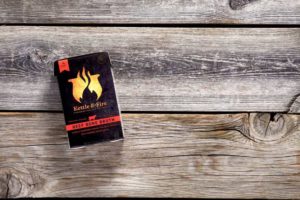 Kettle & Fire was founded by Justin and Nick – brothers with one mission for their company: to help people improve their health and their lives.
That right there is something I can get behind. But I love this broth for more reasons that just that.
The Bones Matter
First off, the broth is only as good as the bones. And luckily for drinkers of Kettle & Fire, they only use the best bones. This means that all bones used to make their broth come from cows that have been grass-fed, pastured-raised and are free from hormone and antibiotic treatment.
Not only that, they are selective about the types of bones used. Only knuckle, patella, femur, neck and feet bones are used for their broth. Why these bones specifically? This is because these bones contain the highest amounts of white and red stem-cell marrow AND collagen – the constituents that make bone broth so nourishing in the first place.
Cooking Method
When it comes to making quality bone broth, you need time – and lots of it. Kettle & Fire's broth is slow-simmered with organic vegetables and herbs (carrots, onions, celery, bay leaves, parsley, and thyme) over a course of 24 hours.
For many people, the time required to make bone broth is the biggest hold-up, so Kettle & Fire is a great alternative when you want high-quality bone broth without spending the time it takes to make it.
Eco-Friendly
Another reason why I recommend this brand is because of their focus on creating a product that is packaged with the Earth in mind. As stated on their website, many existing bone broth manufacturers package their product in styrofoam. This is not the case for Kettle & Fire. Their broth packaging is 100% recyclable and is sourced from responsible forest management.
The Taste
Let's be honest…if you haven't drank bone broth before, the thought of it can be a little bit unappetizing. I have made my own in the past, and became a big fan of its savory flavor. I'll admit, though, that I was a little hesitant to drink a pre-packaged broth.
To my surprise, Kettle & Fire's broth was delicious. I heated a cup of it in a small saucepan on the stove until it was warmed all the way through. I sprinkled a pinch of sea salt and ground some black pepper into it and that is all it needed. The flavor was rich, savory, and smooth. I stopped myself at a cup, but I could have easily drank another!
The Downside
The main downside I see with Kettle & Fire is the price. One- 16.9 oz container of beef bone broth is $11.99 + shipping cost (which, for me, was $7.99). It's worth mentioning that Kettle & Fire also offers a subscription service. If you sign up for this, you get bone broth delivered straight to your door every month. When buying the broth this way, you receive 25% off your order as well!
When comparing this price to the price it would cost you to make beef bone broth on your own, though, it is admittedly substantially higher for the amount you get.
That being said, if you want to incorporate bone broth into your diet, but don't have the resources or time to make it, I'd highly recommend purchasing from Kettle & Fire. Everything – from their packaging to their customer service and their product – is top of the line.
Use this link to purchase your own Kettle & Fire Organic Beef Bone Broth.
Download Your FREE Paleo Starter Kit Today!
3-Day Paleo Diet Meal Plan
Comprehensive Paleo Diet Shopping List
5 of Our Favorite Paleo Diet Recipes