What Are Adaptogens?
An adaptogen is a form of nutritional, non-chemical supplement that is intended to assist the body to adapt to common external stressors ranging from anxiety to certain hormonal disorders.
Adaptogens consist of any form of supplement that is part of a family of natural substances, such as herbs like ginseng. To put it simply – adaptogens consist of all forms of herbal medicines! (Source)
The Rich History of Adaptogens
Herbal medicine has a rich history spanning over thousands of years, used by ancient societies in countries across the globe, such as Russia, Japan, Korea, and eventually Europe and the United States.
Advocates of herbal medicine base their philosophy on keeping the body as healthy as possible by preventing illness through beneficial herbs and herb-based supplements, rather than modern medicine which treats diseases and conditions as they manifest.
Many common modern pharmaceuticals used today and medications have roots in herbal medicine and herbs through isolating active ingredients in herbs that are scientifically proven to have healing properties.
For example, ephedra is an herb that has been used in traditional Chinese herbal medicine for centuries. Ephedrine, the active ingredient in ephedra, is used in medications today to treat common respiratory conditions such as asthma. (Source)
In many parts of the world, adaptogens (or traditional herbal medicine) is a preferred method of treating illness, injury and disease as opposed to modern pharmaceuticals. In developing countries such as Chile, India and Columbia over 50 percent of the population uses herbal remedies – in China, more than 40 percent of health care received consists of traditional medicine. (Source)
Although herbal medicine may be dismissed by skeptics as having no scientific medicinal value, various clinical trials have established that adaptogens do have remarkable effects when it comes to combating fatigue, depression, and stress. Adaptogens also promote brain activity and stimulate the central nervous system – all positive effects!
Interest in herbal medicine in the Western world originated in Russia at that start of the 20th century, when Russian scientists Komarov and Arsenyev began researching the effects of schisandra chinensis (or magnolia berries) after learning that certain hunter-gatherer tribes in the far eastern regions  used the berries to manage their hunger, exhaustion and thirst during hunts.
By the 1950's, Russian toxicologist Nikolai Lazarev began investigating how certain herbs with medicinal properties could help individuals adapt to and survive in harsh environments, thus coining the term "adaptogens" to describe any natural compound that would increase "non-specific resistance" to stress. (Source)
How Do Adaptogens Work?
Adaptogens have a variety of different properties, depending on which one you choose. Some work to fight fatigue, others to boost brain function. Regardless of type, they all have one aspect in common: they reduce stress.
You may appreciate that chronic stress isn't healthy, but over the long-term it can lead to potentially dangerous conditions such as adrenal fatigue and consistently heightened cortisol levels, the hormone that the body produces as a response to stress.
When confronted with stress, cortisol levels rise and the body enters a "fight or flight" stage. Blood pressure increases, adrenaline increases, and digestive functions decrease to prepare your body to respond by either fleeing or fighting. Once the stressor is confronted and dealt with, all bodily functions return to normal.
Unfortunately, if you go into this "fight or flight" state numerous times a day for whatever reason – a high-stress job, a difficult circumstance such as moving home or the death of a loved one – your body will consistently produce cortisol.
There are a variety of approaches towards dealing with stress ranging from certain antianxiety and antidepressant medications towards therapy, meditation or implementing lifestyle changes. However, these options might not be palatable or beneficial to everyone.
Adaptogens are a natural way to fight stress: studies on animal subjects have conclusively revealed that certain adaptogens have demonstrated the ability to increase resistance and tolerance to stress over time. (Source)
What Are Popular Adaptogens?
 Although there are hundreds of compounds that are classified as adaptogens with a diverse range of beneficial properties, there are several well-known herbs that are widely used in developing and developed countries alike with scientifically proven advantages.
Ginseng
Panax ginseng is one such adaptogen, used as a popular traditional remedy in East Asia for thousands of years. Panax ginseng's very name – panax – is derived from the Greek word panacea, which translates to "a remedy or cure for all diseases".
Ginseng has been proven to have beneficial effects on diseases such as cancer, diabetes, and neurological impairment conditions such as age-related memory loss. Ginseng also contains remarkable properties such as boosting how the central nervous system functions and promoting memory and learning acquisition. (Source)
Tulsi
Tulsi, also referred to as "holy basil", is an indigenous Indian herb that is commonly used as a medicinal remedy in Ayurvedic and Siddha traditional medicine. This adaptogen is used in a variety of forms to treat a range of illnesses and conditions, such as using the juice for ear infections and the stems and root of the plant for mosquito bites, snake bites, and even malaria!
A collection of studies examining the effects of tulsi on human subjects revealed that the herb can normalize blood pressure, lipid profiles, and glucose levels, as well as assist in combating psychological stress and stress to the immune system. (Source)
Rhodiola Rosea
Rhodiola rosea is another commonly used adaptogen that has been extensively studied for its ability to help with physical and psychological fatigue. As the plant grows only at high altitudes in northern countries, Rhodiola rosea has been utilized in traditional medicine throughout Europe, Russia and certain regions of Asia for thousands of years.
In a 28-day human trial investigating how rhodiola affects individuals with mental fatigue, it was revealed that those who took the herb reported improved well-being and higher energy levels compared to subjects taking only a placebo. (Source)
Licorice
Licorice is used for more than just flavoring candy: it has been a primary component of countless traditional Chinese medical remedies for centuries, used for the treatment of respiratory illnesses (i.e. chronic coughing and asthma), to relieve pain, and boosting digestive function.
Certain compounds found within licorice – GL and GA triterpenes – have been found to have positive antibacterial and antiviral effects, and are actually used within certain pharmaceutical medications for these healing properties! (Source)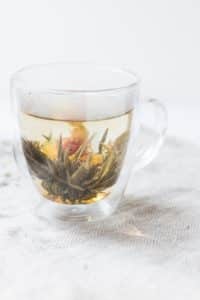 With all these positive neurological, psychological and physical effects, including adaptogens in your lifestyle can help with anything from reducing stress to supplementing a healthy diet. Adaptogens are available in various forms such as teas, pill-based supplements, or garnishes to spice up a meal! (Source)
Download Your FREE Paleo Starter Kit Today!
3-Day Paleo Diet Meal Plan
Comprehensive Paleo Diet Shopping List
5 of Our Favorite Paleo Diet Recipes