I want to start this post with a disclaimer:
On the whole, fast food is not paleo.
That said, sometimes there are no other options. You're dragged to your local takeaway by a friend or  you find yourself stuck between places on your way to work. The best way to stay paleo is to plan ahead and to be prepared but there are times when life happens and you just have to deal with it. When that happens, follow our advice to make sure you pick the best options.
Note that these meals should not be everyday meals. We've got tons of recipes to help you get started on your journey. Cooking for yourself is almost always healthier than buying food but if you do find yourself in a pickle, here are some great options.
Chipotle
Chipotle is my go-to spot for fast-ish food that's pretty darn paleo-friendly. Chipotle also does a good job of sourcing its food and you can see all the ingredients they use here. There are a couple of different options but here are some of my favorites.
The Meat Bowl and Guacamole
You can straight up ask for a meat bowl but you might get a few weird looks Instead, look your waiter in the eye and confidently say, "I'd like two sides of steak with guacamole, please."
You'll get a bunch of meat with guacamole. Depending on how much food you want, you can order extra sides at $2.25 a pop. You'll end up with a ton of food for less than you 'd pay for a burrito. Pretty good deal if you ask me.
Note: Occasionally you'll get a new employee who might put the sides in a sides container. If they do this, ask them if they can put it in a bowl. If they do that, they'll often realize it's not actually that much meat and give you more for free.
If you do it right, it should look something like this:
Delicious.
Salad – Hold The Beans (and add extra meat)
The salad is a solid option. Lettuce, meat, salsa. Just be sure to hold the beans (legumes aren't paleo). If you can handle cheese (and lean towards a more primal diet), feel free to add it in. Hold the vinaigrette – it's made with bran oil.
Burrito Bowl minus Rice and Beans
This is a decent option as well but it might just be a pricier way to get the meat and guac bowl or the salad we talked about above. If they give you trouble about ordering the sides, you can use this as a last resort to make sure you don't go hungry.
Bonus Chipotle hack: If you want to get more meat in your order, try the 1/2 + 1/2 = 3/5 trick. Basically, instead of ordering double meat, order half of one type of meat and half of another (half steak/half barbacoa). They'll typically give you closer to 3/4 of each type of meat and you'll end up with 1.5 x meat for the same price.
In-N-Out Burger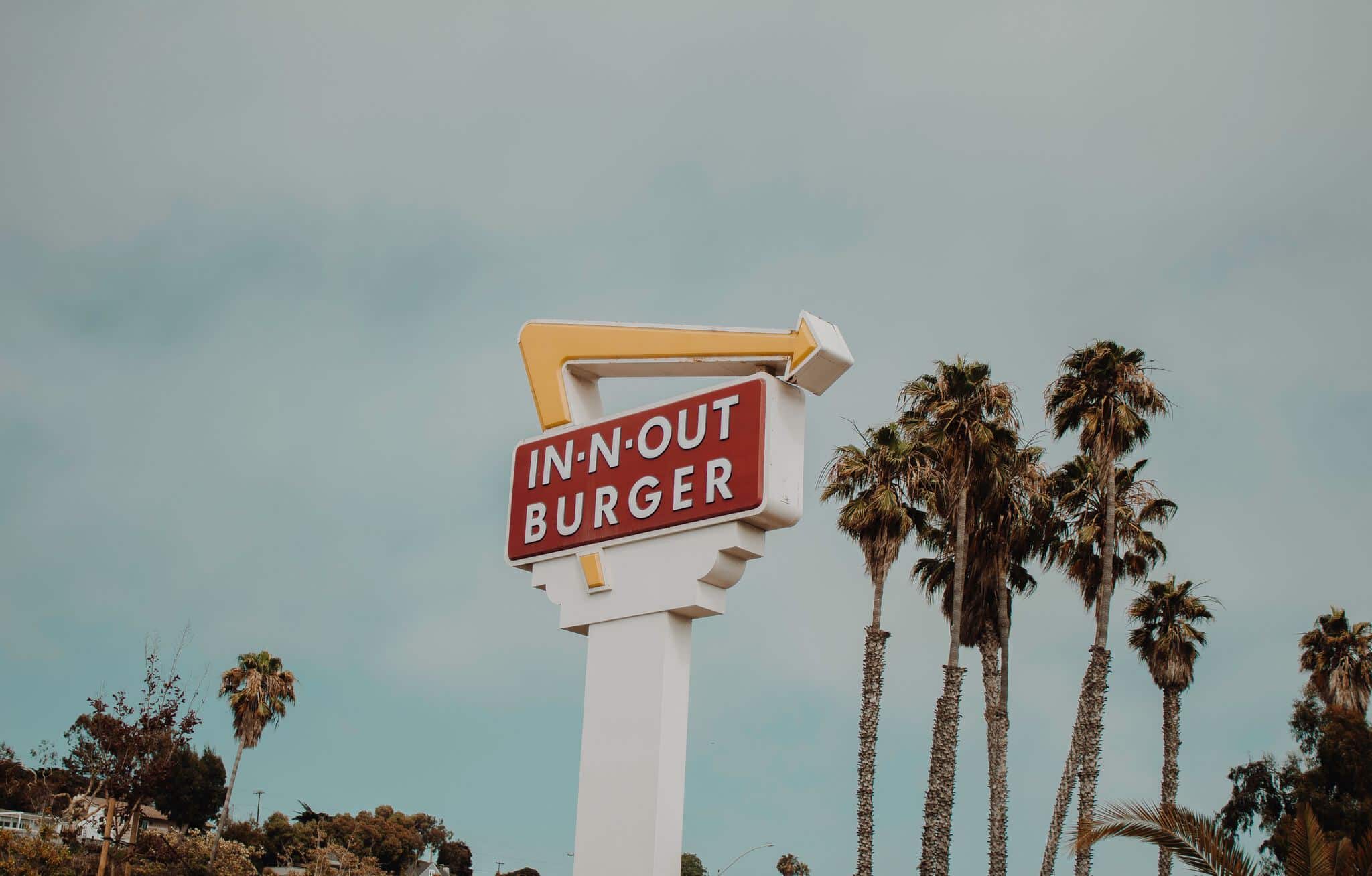 The thought of McDonald's or Burger King makes me want to gag but In-N-Out is a surprisingly decent paleo fast food option.
While the meat isn't grass-fed, it is free of preservatives and filler and is definitely a higher grade than the meat at other fast food places.
Paleo Options at In-N-Out
"A Double or Triple Protein Style, no sauce" gets you a double or triple patty in a lettuce wrap (although you can order any burger "protein style" and get it without the bun). 
You can also add extra grilled onions, tomatoes, and chilis, depending on how you like your veggies. The nice surprise with In-N-Out is that it is cheeeeeaap. If you're starving and near one, remember that it's a solid option if you're not feeling Chipotle.
You can also have the Flying Dutchman if your diet skews closer to primal and/or you can't get enough cheese.
Whole Foods
Okay, so Whole Foods isn't a fast food option. It's not even a restaurant really – it's a grocery store. That said, their salad buffet is pretty bomb. Load your salad up with spinach and other veggies and top it off with some healthy portions of meat.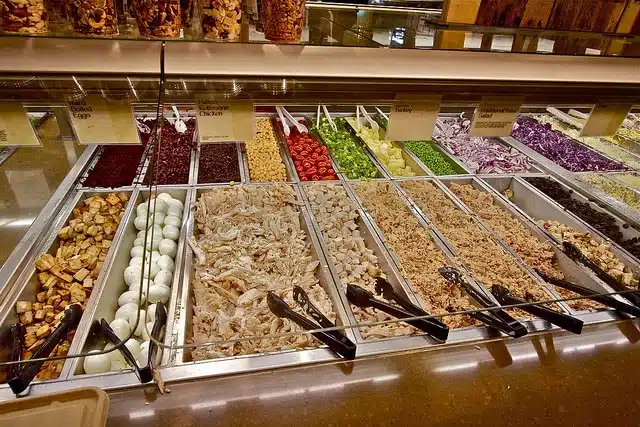 You pay by the pound so, depending on what you're getting and how much you eat, the cost will vary, but you should be able to do it all for under $8.
They also have pretty good green smoothies, so they're worth taking a look at as well.
Other Good "Paleo" Fast Food Options
Panera's "Hidden" Paleo Menu
We've highlighted Panera's paleo options before. Honestly, their portion sizes are a bit on the small side (so maybe order a double), but they're a good option if you're dragged along to a Panera lunch or are trying to get some work done and need something besides just coffee.
Quick And Dirty Breakfast Options
If you're in a pinch and out of options, you can always go to IHOP, Denny's, or Bob Evans and get bacon, eggs, and fruit. It's not pretty but it's doable, cheap, and will get the job done.
There are a few other restaurants where you can find paleo-friendly meals (or make non-paleo meals paleo-friendly with a few modifications):
CBW
Austin "Zen" Asian
Mongolian BBQ
KooKooRoo
Raising Cane's Chicken
How To Find Paleo Restaurants Near You
Over the last few months, the UPG Team has been putting together Paleo Local – an awesome directory of paleo-friendly restaurants in major cities around the world. If you've got suggestions to add to the list, please let us know and we'll do our best to create the best paleo restaurant directory resource on the net.
This guide works really well if you're in the US where the majority of our readers are based. However, if you're outside the US and have got a great paleo or primal restaurant to share, let us know in the comments and we'll be sure to include it. Thanks!
So that's the paleo guide to fast food. Did we miss anything? What are your favorite options for when you get "stuck"? Let us know in the comments!
Photo credit: Counse
Download Your FREE Paleo Starter Kit Today!
3-Day Paleo Diet Meal Plan
Comprehensive Paleo Diet Shopping List
5 of Our Favorite Paleo Diet Recipes