In late 2012, Panera unveiled a "secret" menu. They're not saying it's paleo – specifically, but it sounds pretty paleo to us!
Here's what they have to say about it.
Developed by Scott Davis, Panera Bread's Chief Concept Officer, Panera's "off-the-menu" dishes offer nourishing options that make sticking to New Year's resolutions simple. All of these meal selections are an excellent source of protein and contain limited processed carbs. But you won't find these items on banners in our cafes, or even on the menu board.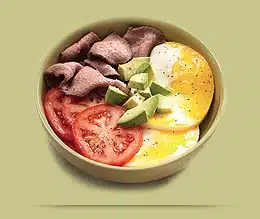 With all the names including the word "POWER", it certainly sounds like it's a nice departure from their typical bread, bread and more bread offerings you'll typically find at the bakery. So head over to your local panera, enjoy their wifi and chow down on one of these off-the-menu paleo menu items. Personally, we'll be on the lookout for the following delicious-sounding paleo-esque meals
POWER BREAKFAST EGG BOWL WITH STEAK

POWER MEDITERRANEAN ROASTED TURKEY SALAD
Now if they would just put it on the actual real menu, we might get more people eating this way!
Download Your FREE Paleo Starter Kit Today!
3-Day Paleo Diet Meal Plan
Comprehensive Paleo Diet Shopping List
5 of Our Favorite Paleo Diet Recipes