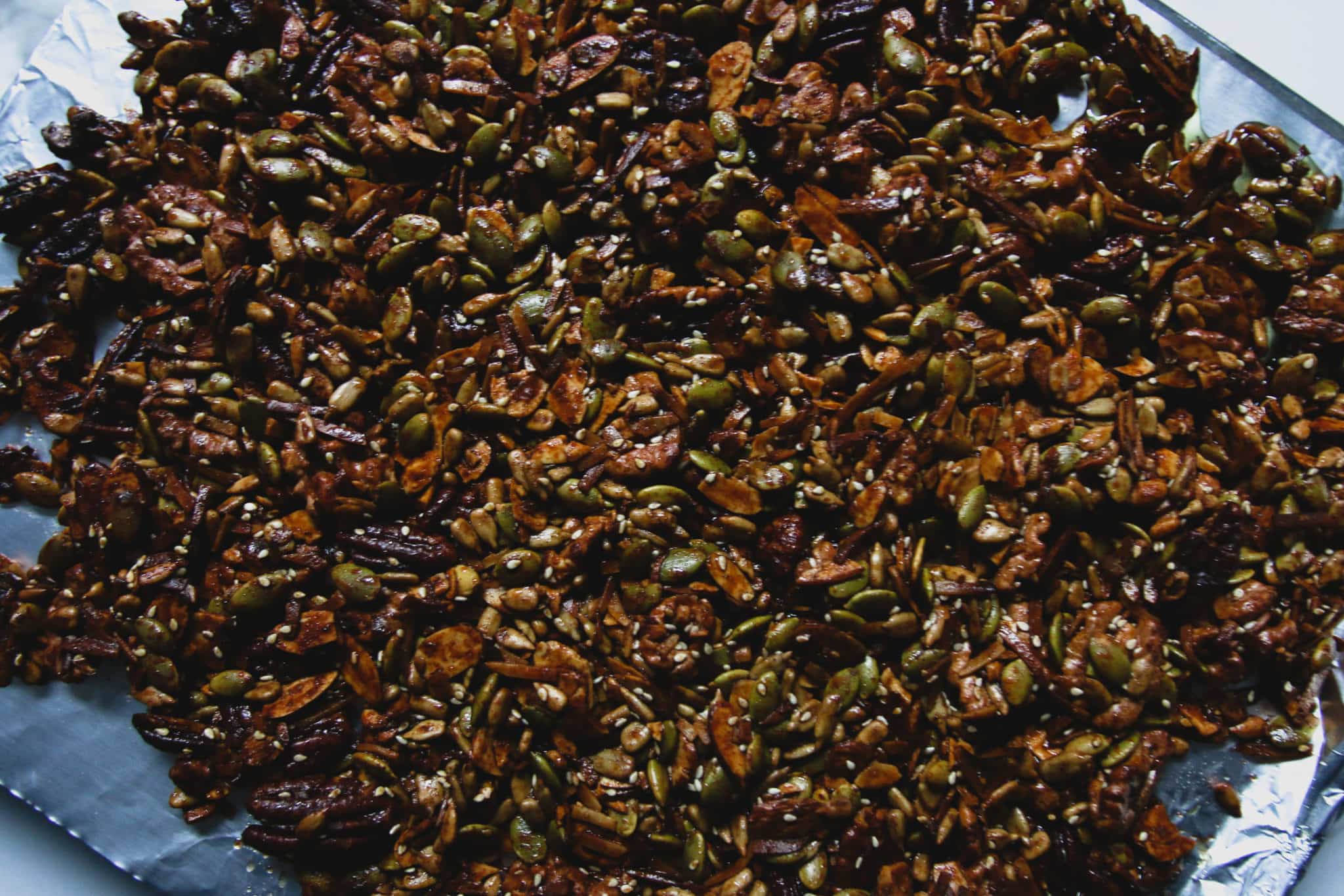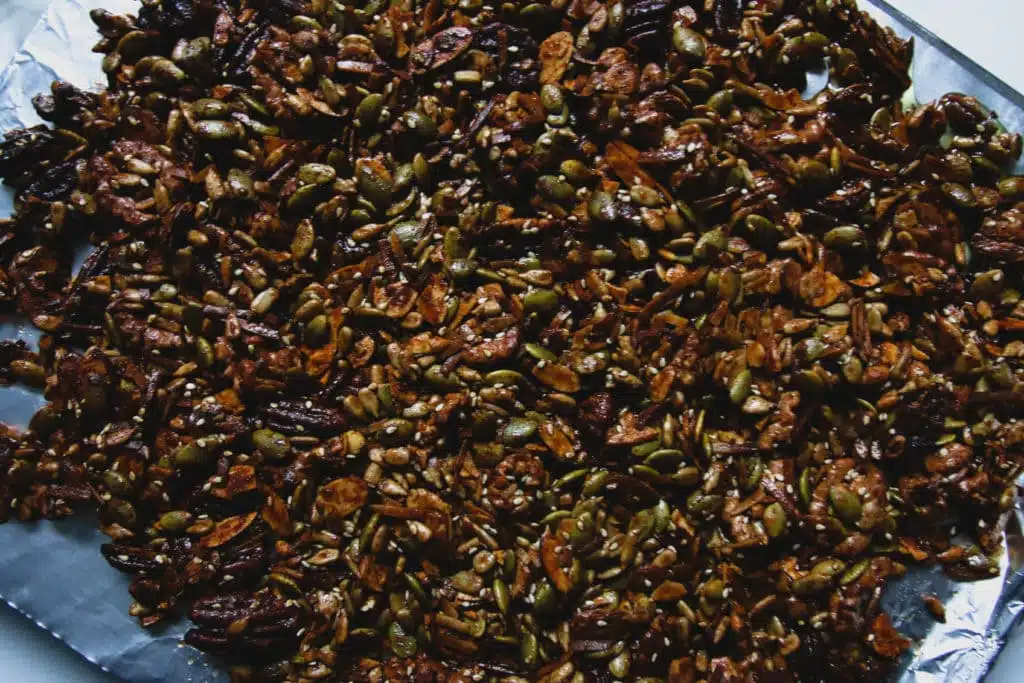 Technically it's not pumpkin-spice season, but who cares? This pumpkin spiced paleo granola is so good you won't care that it's the end of January. And what's better? You probably have all of these ingredients in your pantry.
If you've never made homemade granola, oooh..let me tell you what. It is so much better than store-bought. Like, there's not even a comparison. It's way tastier, I promise.
The other great thing about making it at home is that you can control the ingredients that go into it. So everything you put into it – you can feel good about. And anything that you choose not to eat doesn't have to be in there.
That's the beauty of cooking at home!
Because this granola is "paleo", it's mostly nut-based. We recommend pecans, walnuts, and almonds. I use the raw version of the nuts for all of these. But if you have a favorite nut that we've left out, you can definitely put in in as well.
We like throwing seeds in there as well. Sunflower, pumpkin, sesame, and flax seed all go well in this recipe. Seeds are loaded with nutrients like heart-healthy omega 3 fats and fiber.
Then, the only other ingredients you need are:
Coconut oil. We have a whole guide on coconut oil, so if you have questions on why we like it (in moderation), what kind to buy, or what brands we like, be sure to give that a rad.
Coconut flakes. Opt for the unsweetened kind here.
Honey. We like raw honey and we always try to support locally if the budget allows.
Dried cranberries. Again, opt for unsweetened. I like buying mine in the bulk section.
Sea salt and pumpkin pie spice. My go-to store for spices is Trader Joe's. #SorryNotSorry.
First things first, preheat your oven to 350 degrees Fahrenheit. Then you'll combine your coconut oil and honey in a large bowl and mix well until combined. Then you'll add in all of your other ingredients (except the cranberries) into the bowl with the liquids. Stir well.
Line your baking sheet with foil, parchment paper, or a silicone baking mat and spread the granola mixture across the sheet.
Bake – keeping an eye on it closely – for 30-40 minutes. Once it becomes brown and fragrant, you can pull it out of the oven.
Let that glorious, fragrant mixture cool and then gently stir in the dried cranberries. You can break up the mixture if you like it in chunks or whiz it in the food processor for a more traditional granola-like texture.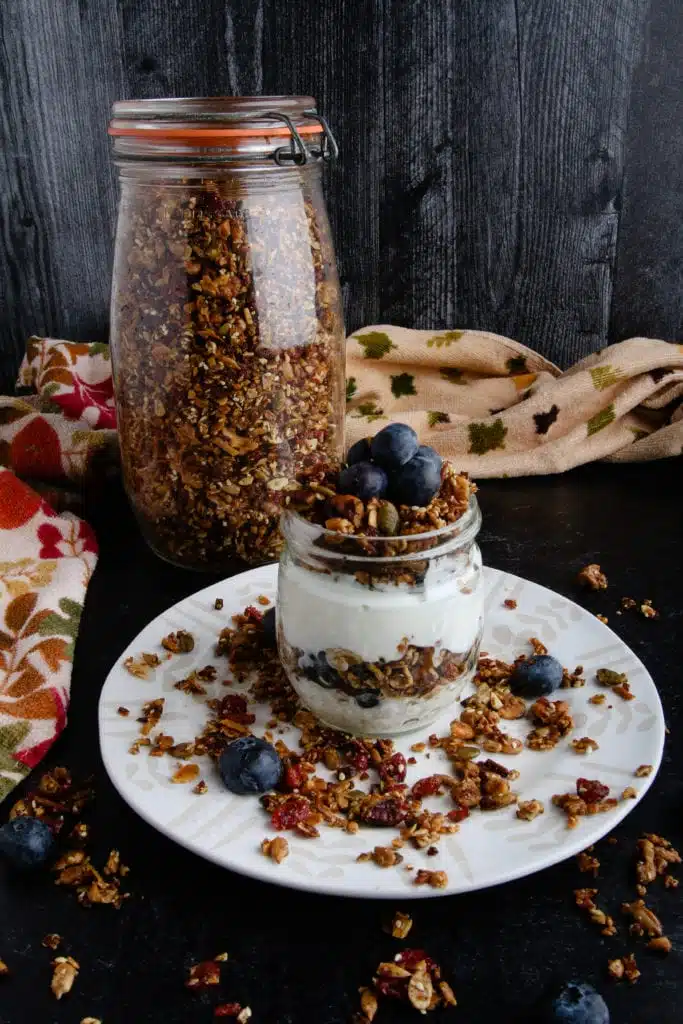 My favorite way to eat this is…by itself 🙂 But you can definitely mix it with almond milk, sprinkle it on top of your favorite fruit, use it as a topping for your yogurt. Whatever floats your boat, boo.
Enjoy!
If you like this recipe, check out these others: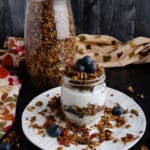 Pumpkin Spiced Paleo Granola
Sweet and slightly spicy, this grain free granola is crunchy, flavorful and a perfect breakfast. Eat with almond milk and fruit, or sprinkle a bit on top of high quality yogurt. It also makes a delicious and addictive snack.
Ingredients
1/8

cup

coconut oil

melted

1/4

cup

honey

1/2

cup

pecans

1/2

cup

walnuts

1/2

cup

sliced almonds

1/2

cup

unsweetened coconut flakes

1/2

cup

sunflower seeds

1/2

cup

pumpkin seeds

3

tablespoons

sesame seeds

3

tablespoons

flax seeds

1

tablespoon

pumpkin pie spice

or season to taste

1/2

teaspoon

sea salt

1/2

cup

dried cranberries
Instructions
Preheat oven to 350 degrees F.

Combine the coconut oil and honey in a large bowl and whisk until combined. Add the nuts, seeds, pumpkin pie spice, and salt, and stir to coat well.

Spread mixture on a parchment or foil lined baking sheet. Bake for 30-40 minutes, until brown and fragrant. Remove from oven and stir in the cranberries. Let cool, then break up, or put in a food processor and pulse for a more traditional granola like texture.

This recipe makes about 4 cups. Store in an airtight container.
Nutrition Facts
Pumpkin Spiced Paleo Granola
Amount Per Serving
Calories 245
Calories from Fat 162
% Daily Value*
Fat 18g28%
Carbohydrates 16g5%
Protein 10g20%
* Percent Daily Values are based on a 2000 calorie diet.
Download Your FREE Paleo Starter Kit Today!
3-Day Paleo Diet Meal Plan
Comprehensive Paleo Diet Shopping List
5 of Our Favorite Paleo Diet Recipes