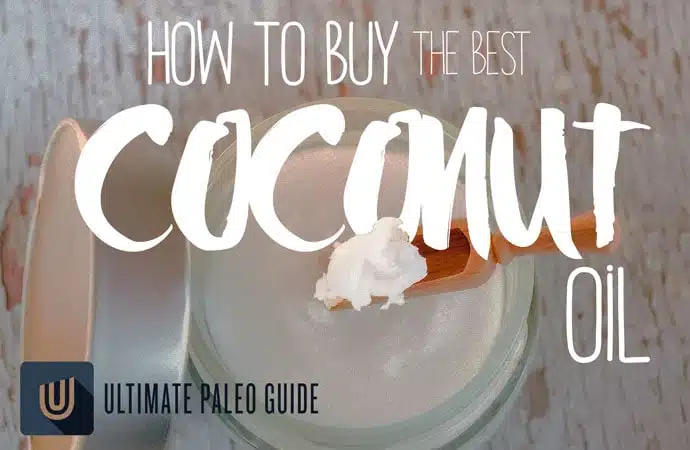 How do you buy the best coconut oil? Which type should you look for on the store shelf? There are a lot of variables that go in to answering these questions. 
Coconut oil's popularity has led to supermarkets stocking a multitude of brands and various types of coconut oil products. It's the perfect addition to a paleo or ketogenic diet. It's no wonder there's a ton of options.
But…
How do you know which products are best for you?
Which brands are good quality?
Do you buy organic, refined, unrefined, or liquid coconut oil?
It can seem a daunting decision with so many varieties and choices of coconut oil. After all, you want the right product to reap all the benefits of this tasty, healthy tropical oil.
To help you, here's a guide to know what to look for when buying this popular nutritional superfood.
How to Choose a Quality Coconut Oil
Before just going out and buying the first coconut oil you see, knowledge of the terminology will guide you to choose the correct oil. You want to know what a quality coconut oil is and not end up purchasing the wrong product for your intended use. So this is a detailed breakdown of what you should know to aid you in choosing the best coconut oil.
Refined vs Unrefined Coconut Oil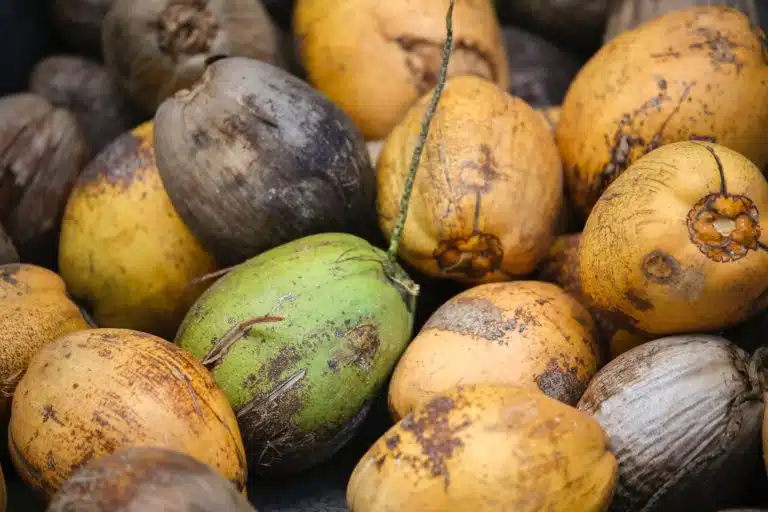 There are two main types of coconut oil – refined and unrefined. The refined coconut oil has little coconut taste or aroma. Whereas the unrefined coconut oil, often sold as 'virgin' oil, has all the nutty sweet coconut flavor.
Refined coconut oil is made from dried coconut meat known as copra and has been through a refining process. This coconut oil has a long shelf life and it is a solid at temperatures under 24 C (75F). It's popular for use in cooking as it has a high smoking temperature and doesn't have a powerful coconut taste.
Be sure to look for refined coconut oil that is steam-refined by cold-pressed extraction, as some refined coconut oil is refined, bleached and deodorized (RBD). RBD coconut oil is refined using heat and harsh chemicals that can destroy the antioxidant qualities.
Unrefined or virgin coconut oil is a natural oil pressed from fresh coconut meat. This type of oil retains all the nutritional qualities and health benefits of coconut's medium chain fatty acids. The antioxidants in unrefined coconut oil are higher than refined (RBD) oil. 1
The unrefined coconut oil is an edible oil and is popularly used for application on the skin. This type of oil also has a long shelf life and is solid at temperatures under 24 C (75 F).
Check the Label
Coconut oil products can have misleading labels using words like pure or extra virgin. The important difference is unrefined or refined – do not be fooled into paying a high price for extra virgin coconut oil, technically it doesn't exist.
Virgin coconut oil is an unrefined and natural oil. Quality refined coconut oil is labeled as steam-refined or cold pressed. Avoid RBD refined coconut oil this has been produced using heat and harsh chemicals that bleach and deodorize the natural coconut oil.
Buy Organic
Organic products are better for the environment and your health as they are grown without chemicals and the product does not contain pesticide residues. When looking to purchase organic coconut oil, search for products with the USDA organic label as this assures the product has been produced to strict guidelines. To assure that the product is not a GMO, look for the NON-GMO seal of approval label. 2 3
Stick With A Solid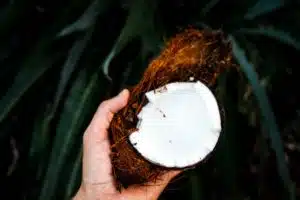 You may have seen liquid coconut oil on your supermarket shelves but don't be tempted to buy this oil – it is processed. Natural coconut oil is not a liquid!
Liquid coconut oil is often labeled as a concentrated oil and it is a clear, odorless and tasteless oil liquid at room temperature. Liquid coconut oil is a manufactured oil; it has been processed to remove some of the unique fatty acid content so you lose those health benefits that pure coconut oil is renowned for.
Non-hydrogenated
Hydrogenated coconut oil is a hardened, refined oil produced by extremely high temperatures. This form of coconut oil changes the unsaturated fats (monounsaturated and polyunsaturated fatty acids) into more saturated and trans fats.
Be sure to check the label for non-hydrated coconut oil to make sure you are getting a natural oil.
Fractionated Coconut Oil (Massage Oil)
Coconut oil sold as a liquid that is for use in skin massage is known as fractionated oil. This form of oil is usually sold in small 100ml brown glass bottles, and it is not an edible oil.
Coconut oil is great for your skin and this oil is designed specifically for beauty use. This oil's refining process removes some of the long-chain triglycerides, leaving medium-chain triglycerides. This creates a stable oil with a long shelf life and is suitable for all skin types, just add your favorite essential oil for wonderful soft skin.
Safe Packaging
Glass is the preferred packaging for coconut oil. Coconut oil has a long shelf life up to two years so plastic packaging is not a good idea. Over time, plastics are known to leach toxins which can be harmful to your health. 4
Price
When buying coconut oil, you want quality, unrefined, organic virgin oil. Quality products are produced using a costlier production process and are priced accordingly. As will most things in life, if the price is too cheap the quality of the product probably isn't the best.
Ethical shopping also adds cost to the product, so buying a fair trade coconut oil is more expensive.
Size
Bulk purchase has its place, but coconut oil is a product you use sparingly, a little goes a long way. If you are just using coconut oil for cooking than a large sized jar may go past the expiration date before you finish it.
Color, Aroma, and Flavor
Coconut oil should be a solid white colored butter-like substance. Signs of a rancid product is yellowing in color. The aroma of coconut oil, if unrefined, will be like fresh coconuts; any odd odor may be a sign of chemicals or a product past its sell-by date.
Flavor is a personal choice. If you like the sweet nutty taste of coconut oil, use unrefined for its full of flavor. Refined coconut oil has no real coconut taste so it will not make all your food taste like coconut.
Shopping For Coconut Oil
So your local supermarket has lots of coconut oil on the shelves but you don't have any idea about the brands. Doing some research online about companies that supply coconut oil, reading customers reviews, and scouring the product information can help you make the best choice.
Opting to buy online might be a better choice to guarantee freshness in a product. Be confident and ask a company any questions about their coconut oil products; a reputable company will be totally transparent in their information.
What Are You Using Coconut Oil For?
Deciding whether you use coconut oil as an edible or beauty product will help you make a choice for which type of coconut oil to buy.
Using an edible coconut oil, you will reap the health benefits of this healthy fatty acid oil. Coconut oil has been shown to help in preventing heart disease, aid weight loss, fight bacteria, aid digestion, and provide an energy boost.
Check out some of our favorite recipes using coconut oil: 
Maple Avocado Coconut Smoothie
Maple Doughnuts with Coconut Frosting
Coconut oil has antiviral, antifungal, antibacterial, anti-inflammatory, and antioxidant properties. These properties are great for topical use for skin conditions such as acne, eczema and fungal skin infections.
Unrefined virgin organic coconut oil can be used as an edible oil for cooking and as a beauty oil. Coconut oil melts when warmed above 24 C (75 F) so it's easily absorbed into your warm skin.
Refined coconut oil is the most popular edible coconut oil and least expensive. It is a very good oil to cook with but not recommended to use as a beauty product. People who don't like that strong coconut taste choose refined coconut oil.
If you just want to reap the beauty benefits of coconut oil, then fractionated coconut oil may be cheaper than buying unrefined virgin oil. This form of coconut oil is designed for the sole use as a beauty oil and the fact its liquid makes it so practical.
Conclusion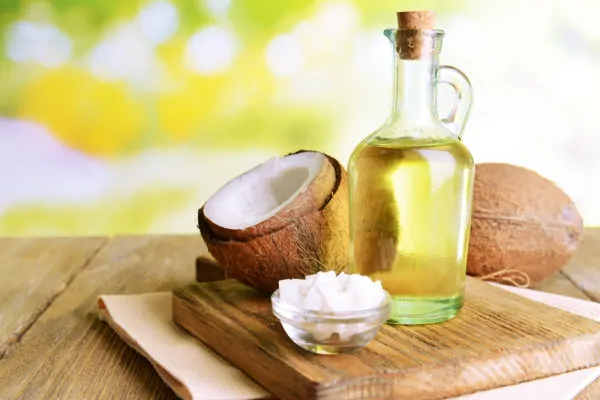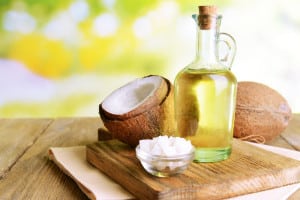 The coconut oil market is a big business. Try to choose your coconut oil products from a reputable quality company. Choosing fair trade coconut oil will ensure the growers are not exploited and paid a fair wage.
Read the label and make sure you opt for a chemical free coconut oil whether it is refined or unrefined. Store your coconut oil out of the fridge and away from direct sunlight or heat to ensure it keeps its freshness.
A final word – opting for unrefined coconut oil that is USDA organic and expeller-pressed, with no trans fats and non-hydrogenated will guarantee you have the best quality coconut oil.
Source
Coconut Oil Resources:
How To Choose The Best Coconut Oil
Download Your FREE Paleo Starter Kit Today!
3-Day Paleo Diet Meal Plan
Comprehensive Paleo Diet Shopping List
5 of Our Favorite Paleo Diet Recipes