Without a doubt, the most frequent question we get at UPG is about snacks.
"What are appropriate snacks?"
"When am I supposed to eat snacks?"
"Snacks for me are easy, but what about kid-friendly ones?"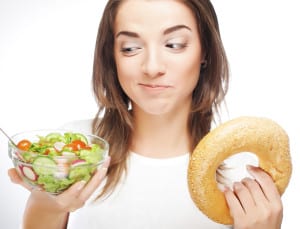 It's worth noting that snacking is not necessary following the Paleo diet. When it comes to eating snacks, it's best to listen to your body. If you notice you get hungry between breakfast and lunch, then by all means, enjoy a snack. But if your meals are keeping you completely satisfied, then snacking is not essential.
Nutrition in general is completely individualized, and what works for you might not work for someone else. There is no standard time to snack.
Remember – Paleo is a lifestyle. Success comes when you make it fit YOUR life.
Know What's Paleo
That being said, the first key in knowing how to snack on the Paleo diet is having a firm understanding of the Paleo guidelines. We've covered this relentlessly, so if you need a refresher, this is a good place to start.
Be sure to download the paleo.io app, the #1 Paleo app, so you always know what's Paleo.
Keep it Simple
Snacks are especially handy when you are on-the-go or traveling. Having pre-made options can keep you from resorting to something not as Paleo friendly. Things that can be kept in purses, handbags, or backpacks and can stay fresh over an extended amount of time are especially great to have.
Keep it Balanced
The secret to a satisfying snack? Healthy fat, fiber (from fruit and veggies), and protein! Aiming to have this combination during each snack helps keep your blood sugar stable and promotes satiety. An apple is a great (and super easy) snack option. But, take it to the next level and eat it with a handful of nuts or a couple tablespoons of raw nut butter. Apples have a healthy dose of fiber and are loaded with vitamins and minerals. Nut butter contains both protein and healthy fats. Boom.
Use the chart below to build the perfect snack. Your goal: hit at least two out of the three columns. Achieve ultimate snacking success by hitting all three columns! Doing this will not only provide you with essential macro- and micronutrients that will keep you healthy and your body functioning optimally, but it will also ensure you stay satiated until your next meal.
While helpful, this list is by no means comprehensive. Don't be afraid to get creative or think out of the box!
Fruit/veggies

Healthy Fats
Protein

Apple

Nut butter (no sugar added)
Hard-boiled eggs

Berries (fresh or frozen)

Raw nuts

Jerky

Baby carrots

Avocado

Smoked salmon

Celery

Guacamole

Slices of turkey/ham

Bell pepper

Unsweetened shredded coconut

Can of tuna/salmon

Sweet potato

Coconut butter

Sardines

Kale chips

Olives

Bacon

Sugar snap peas

Pumpkin/sunflower seeds

Seaweed

Bananas

Olive/coconut oil

Prosciutto

Roasted brussel sprout chips
Chia/hemp seeds

Full-fat, fermented yogurt

(not Paleo, but an option if you tolerate dairy)
A few of my favorite combinations include:
Baked sweet potato topped with almond butter and shredded coconut
Raw veggies dipped in guacamole
Canned tuna mixed with mashed avocado
Berries with prosciutto
Quality and Convenience
As much as we would like to avoid packaged, processed foods on a Paleo diet, having the convenience of grab-and-go Paleo snacks is also nice. Here are some favorite snack brands/options that are Paleo approved:
Justin's Almond Butter Squeeze Packs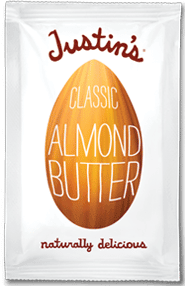 Be sure to check out the Ultimate Paleo Guide archives for over 50 delicious snack recipes.
Do you have any favorite go-to snacks that I missed? What's your favorite combination?
If you want to simplify your life even more, sign up for Paleo Meal Plans. You will receive weekly meal plans, recipes, shopping lists, and access to our Paleo Nutritionist who can answer all of your questions.
Download Your FREE Paleo Starter Kit Today!
3-Day Paleo Diet Meal Plan
Comprehensive Paleo Diet Shopping List
5 of Our Favorite Paleo Diet Recipes