The keto craze is at an all-time high right now. And it shows no signs of slowing down.
From Kim Kardashian to Jenna Jameson, even the most abstract (we'll call it that…) of celebrities are hopping on the keto train.

It's no wonder why keto is all the rage. While everyone has different reasons why they love keto, the most common praise is that you see results – and fast. Because of the drastic reduction of carbs, most people see a pretty quick drop off in weight.

Obviously, that's a huge selling point.
Keto Benefits
But there are other benefits worth talking about because health and wellness goes way (weigh?) beyond the scale. (See what I did there…)

Kick your body into ketosis and you'll probably notice that your energy levels surge. Everyone always talks about increased mental clarity as well.

More energy to get you through the day and less brain fog – I think that's something we can all get behind.

There's also research that shows that the keto diet helps regulate blood sugar levels as well as reduces your risk for a number of conditions. Before I go down a rabbit hole with this, if you're interested in reading more about the benefits of keto, check out our guide and accompanying sources.
My View On Keto
Any way, I view nutrition as one big science experiment. What works for one person could be totally different than what works for another. That's why it's important to not pigeon-hole yourself into one way of eating for your whole life.

It's good to add things in, take things out, and change things up because our body is highly adaptable and it can change over time. The key is doing your research and taking an educated approach to it.

This is exactly why I was excited to give the keto way a try. It's definitely a different approach for me, but it's been fun to incorporate foods that I have traditionally avoided in the past and see how my body responds to the new stimulus.

So, all of that to say, I've been doing this keto thing for a bit and I wanted to share with you what a typical day of keto eating looks like for me. This is by no means the only way to do keto. I just hope to provide you with a quick look at how I structure my meals throughout the day and ensure that I'm doing keto the sustainable way. (Sorry for all of you people who thought keto was only cheese, bacon, and keto treats. There's definitely some of that – but much more variety too)

Breakfast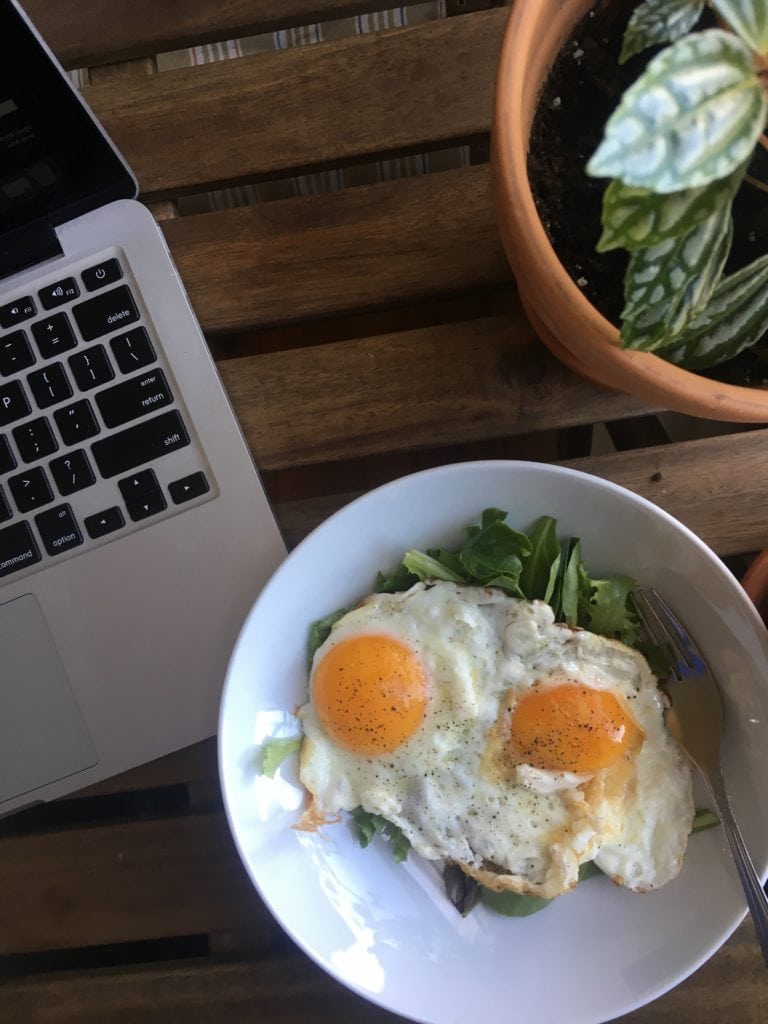 I always try to start my day with a big glass of water. I chug that first thing. Then I get to cooking.

This morning, I had 2 slices of bacon (not pictured because I ate those bad boys up before I remembered to take a picture), 2 eggs cooked with garlic and placed on top of a handful of baby spinach.

I take my coffee black but you could definitely add cream, collagen, or even MCT powder in there to spice it up.

Macronutrient breakdown: 245 calories – 20g protein – 5 g carbs – 16 g fat

Snack

I like to eat so snacks are essential. This day was the easiest snack to eat on the go. 1 avocado sprinkled with Trader Joe's Everything But The Bagel seasoning and ¼ cup macadamia nuts.

Macronutrient breakdown: 488 calories – 5 g protein – 16 g carbs – 46 g fat

Lunch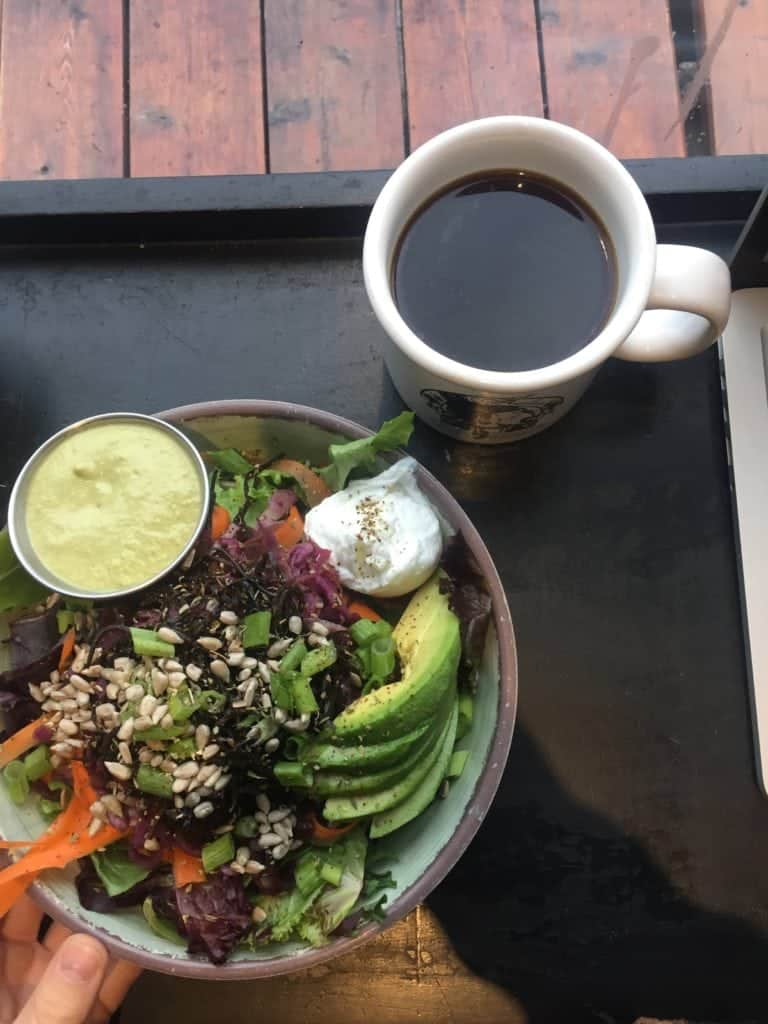 Big salads are easiest for me to do for lunch – especially if I'm eating out like I did this day. The salad is usually pretty huge, so mentally it looks like I have a bunch of food. This is big for me. I hate feeling restricted. I can also load it down with veggies and healthy fats so I'm ensuring that I'm not skimping on any nutrients.

This one included – romaine lettuce, tomatoes, poached egg, diced turkey, blue cheese crumbles, sliced avocado, green onion, sunflower seeds, some shredded carrots and cabbage. Throw all of it in a big bowl. I skipped the dressing just because I don't need it to love the salad. That's just me though.

And I sipped on a black decaf coffee…

Macronutrient breakdown: 444 calories – 35 g protein – 19 g carbs – 24 g fat

Dinner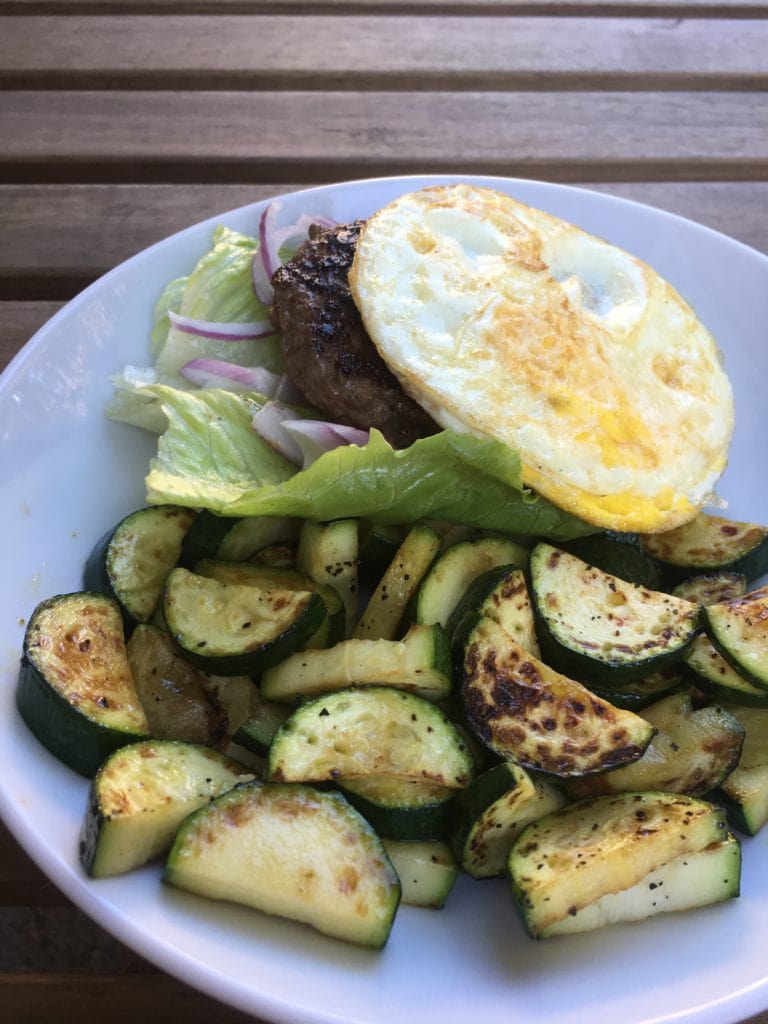 I am not going to try to claim credit for this recipe. It's actually one that I swiped from our meal plans service.

Easy Peasy "Loco Moco" – a loco moco is a meal that you'll find from the islands of Hawaii. It's basically a hamburger smothered in brown gravy with a side of white sticky rice and usually mac salad too.

Obviously, we're trying to keep it keto here, so this is a healthier version. A hamburger on a bed of romaine lettuce, some chopped red onion, with a fried egg on top. On the side I have pan-cooked zucchini that got brown and crispy.

Yessss.

Macronutrient breakdown: 508 calories – 37 g protein – 10 g carbs – 35 g fat

Snack

I have to have a little something before I go to bed. I think this is just a habit that got ingrained in me as a child. So I try to make smart choices with this (and not binge on all the dark chocolate or keto cookies…)

This night I chose a Keto Bar. I found these at my local grocery store and was surprisingly impressed with taste, quality, and macro breakdown.

Macronutrient breakdown: 230 calories – 10 g protein – 12 g carbs – 19 g fat

I also wash that down with a protein shake. I use Earth Fed Muscle whey protein. One scoop mixed with water.

Macronutrient breakdown: 119 calories – 22 g protein – 3 g carbs – 2 g fat

There you have it.

Total Macro Breakdown

In total, that's 2,034 calories. 129 g protein. 65 g carbs. 142 g fat.

The important thing with keto is to ensure that you're staying in ketosis. We want to generally keep our calories consumed from carbohydrates at 5-10%. I'm lading right around 12% – but I'm ok with that considering I do Olympic weightlifting and CrossFit 2-3 hours a day/5 times a week.

This is the breakdown that my body feels best at. But remember – nutrition is an experiment and there is no one-size-fits-all approach.
More Keto Recipes
Have you been inspired to up your keto game? Lucky for you, we've started to build out our keto recipe database. For more recipes to broaden your keto horizons, click this link.
And if you want to take the planning part of keto off your plate completely, we've got meal plans to help you with that. All keto-friendly and they stick to our 15/5 rule – each recipe won't take longer than 15 minutes to make and won't use more than 5 ingredients.
It's really as simple as can be.
I hope you've enjoyed this little look into my eating life. If nothing else, I hope I've inspired you or maybe shown you that keto eating doesn't have to be hard. Got questions – drop them below.

Happy eating!

Download Your FREE Paleo Starter Kit Today!
3-Day Paleo Diet Meal Plan
Comprehensive Paleo Diet Shopping List
5 of Our Favorite Paleo Diet Recipes