When I was in college, I would go the rec center every day. I had a specific routine: 30 minutes of cardio, 10 minutes of "abs", then I'd step on the scale.
I'd do this almost every single day.
If the number was lower than the day before, my whole day was instantly better. If the number was the same or higher, I'd be bummed for the rest of the day.
I literally remember thinking to myself, "If only I could get under 120 pounds, I'll be happy."
Looking back, I wish I could shake some sense into my twenty-something self.
What a waste.
For so long, our society has been bombarded with the message that skinnier is better. Our worth is linked to the size of our jeans. Products are marketed to us, not for health, but specifically for weight loss.
Be skinnier, be happier they tell us.
Take it from me – the number on the scale does not define you or your worth.
There are many reasons why your weight is only one piece of your health. But before we dive into those, I just want you to repeat these words to yourself.
The number on the scale does not define me or my worth.
You don't have to make yourself smaller to be happy. Take it from me, reaching that goal number on the scale won't bring you some sort of magical happiness out of the blue.
If you are a frequent self-weigher, like I was years ago, I encourage you to hide your scale. Put it out of reach. Give it away. Hell, even smash it.
Weight does not equal health
I'll start out by saying this – yes, weight does give us some indication of health status. That being said, it is not the ONLY way to measure health. Instead of obsessively focusing on the scale, why don't we look at other indications of health?
How is your sleep quality?
How is your digestion?
How do you feel in YOUR body?
Do you have sustained energy throughout the day?
Is your skin clearer?
When you work out, do you feel strong and empowered?
Does your mood stay stable throughout the day?
How are any previous symptoms or medical conditions? Have they improved?
There are so many other ways to measure health rather than that number on the scale. Instead of letting the scale rule your self-worth, check in with yourself about these other things. If you're eating a whole foods based diet (like Paleo), chances are you have improvement in all of these areas.
Forget the scale and celebrate these victories instead.
The scale encourages negative feelings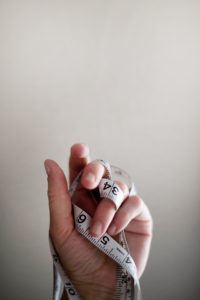 When I used to weigh myself, and I'd see that my weight wasn't budging, I'd immediately start to feel guilty. What was wrong with me? Why couldn't I control this one thing?
Cue the food restriction…and put me down for a longer cardio session the next day.
Looking back at my behavior, I'd argue that these negative feelings that were triggered by the scale did more harm in the long run than the cookie from which I deprived myself.
As we all know, stress does the body no favors. And in today's world, we all have enough stress as it is. Don't put this extra stress on yourself.
YOU get to decide your worth. Don't allow some inanimate piece of plastic dictate how you feel.
Weight naturally fluctuates
Unless you have a specific reason to be weighing yourself religiously (maybe you have a medical condition that requires it or you're an athlete in a weight class based sport), you should stop.
Weight naturally fluctuates. Sometimes your body holds onto more water than normal. If you're a woman, your weight will move with your cycle. Food and drink consumption can also wildly impact the scale within a couple of hours. Exercise is the same. Want to try a (weird) little experiment…weigh yourself before and after going to the bathroom. You might see a pound or two difference.
This is not fat loss or gain. It's simple weight fluctuation and it really gives you no indication of health status.
Religious weigh ins are (normally) not necessary. If you can't break off your relationship with the scale completely, really try to limit it. Think about using it in month increments. This will tell you much more about the overall picture of your health rather than the short snapshot that daily weigh ins give.
It's time to break it off
Break ups are scary – especially if you've been in a committed relationship for so long. But, be honest with yourself, is the scale serving you in any positive way…or is it just producing more stress, guilt, shame, restriction, or any other negative feelings in your life?
If your answer is the latter, it's time to break up. Remember, you are so much more than the scale. You deserve to take up space (skinnier is NOT better) and feel healthy and strong in your body. Health can be measured in so many other ways outside of the scale.
I give you permission to smash it. And reclaim your health – beyond the scale.
[/et_pb_text][/et_pb_column][/et_pb_row][/et_pb_section]
Download Your FREE Paleo Starter Kit Today!
3-Day Paleo Diet Meal Plan
Comprehensive Paleo Diet Shopping List
5 of Our Favorite Paleo Diet Recipes