Purple vegetables – they sound weird, but they're a great addition to your diet. If there is one thing that we have all learned about ourselves during this quarantine, it is that snacking is too easy and even a bit dangerous. One minute you're opening a bag of tortilla chips, the next minute, you're inhaling chip dust. While some might say, "Just stop snacking!" a better approach would be to snack smarter and equip your fridge with delicious and more attractive foods.
The Importance of Eating a Colorful Plate of Purple Vegetables
It's acceptable to occasionally satisfy a craving for burgers, chicken fingers or other junk food. However, it is important to monitor how frequently these foods are consumed due to the addictive qualities associated with them. In order to avoid overeating junk food, one should limit how much of it is available and to have healthier options on standby.
Keeping a refrigerator readily stocked up with fresh fruits and vegetables is a good start, but one must have a method to employ as well. A simple way to avoid overeating unhealthy foods and to maximize consuming nutritious foods is to follow "The Plate Method." The Plate Method indicates that half of one's plate should be composed of non-starchy vegetables, one quarter of whole grains and another quarter of lean protein.
When using this method, it is easy to have a variety of fruits and vegetables, thus creating a colorful collection of produce in the fridge. Also, following this method has been associated with lowering the risk of cardiovascular disease, obesity and it facilitates keeping muscles healthy and strong.
Additionally, this tactic has helped with portion control, which oftentimes leads to multiple benefits and weight loss. The Plate Method is an ideal way to keep track of food intake, develop healthier habits while keeping it straightforward. For those interested in learning more about The Plate Method, check out our article here!
Why Purple Vegetables & Purple Foods Are Awesome
Many find that when utilizing "The Plate Method" or focusing on eating more fruits and vegetables, it becomes easier to accumulate a rainbow of natural foods. Furthermore, of all these colorful foods, those with a purple hue prove to be the rarest or most exotic.
While some may have difficulty finding natural blue or purple foods, it is important to incorporate as many as you can into your diet since they are found to have numerous benefits.
One study found that purple produce is associated with increased nutrient intake and reduced risk for metabolic syndrome. Additional studies have focused on the anthocyanin pigments found in these foods and how they act as strong antioxidants in the body and can reduce the risk of cancer, diabetes and heart disease.
More specifically, studies show that purple potatoes may have anti-inflammatory properties, eggplants can protect the heart and purple cauliflower might prevent colorectal cancer. Through these studies and the fact that these purple foods are delicious, it is clear that one might want to incorporate them into their diet as much as they can.
What Makes Vegetables Purple
As stated earlier, purple foods are packed with anthocyanin pigments. These pigments are a type of polyphenol compound that gives foods their purple, blue, or red color. The need to eat more foods with anthocyanin pigments has been pushed in recent years due to the positive association between anthocyanin intake and compliance with national dietary guidance.
Consuming anthocyanin-rich foods is an easy way for the body to absorb an array of nutrients, which helps the body maintain overall wellness. As a result, one should focus on incorporating more foods packed with anthocyanin pigments into their diet.
For those who have difficulty or little access to these kinds of foods, supplements are available. However, one should always consult a physician before self-treating or trying supplements.
What Are the Best Ways to Cook These Purple Vegetables?
For those who have access to a wide variety of purple vegetables, there are multiple preparation methods that can be used. An important reminder when cooking these vegetables is that their pigmentation can stain cutting boards, utensils or even clothes. Therefore, it is recommended to cover these vegetables while cooking.
When choosing the best cooking method, it all depends on one's preferences. For those who are trying to cut back on pan-frying and oil intake, then boiling would be best. One suggestion is to cover these vegetables when cooking in water to prevent the evaporation of essential nutrients.
Another alternative to pan-frying is air frying vegetables, if an air fryer is available. For those who can't stand boiled potatoes or any boiled vegetable, grilling and roasting them are other options.
Regardless of the method one chooses to use or the types of vegetables they have on hand, the important takeaway is to consistently try and consume nutrient-rich foods with each meal.
Our Ten Favorite Purple Vegetables & Fruits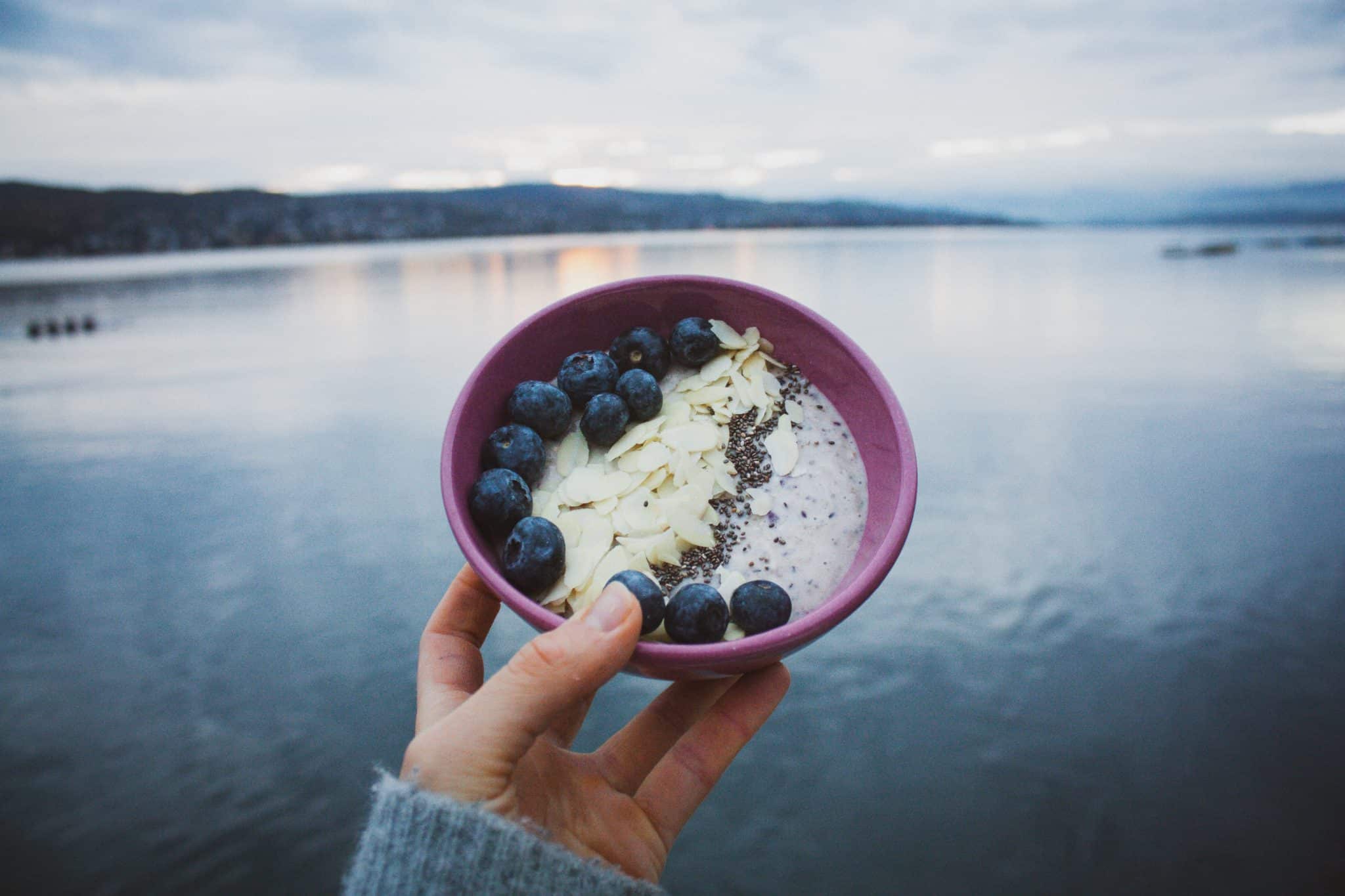 Blueberries
One of the most well-known purple foods are blueberries. Blueberries are packed with antioxidants, which are linked to reducing the risk of cancer, diabetes and heart disease. These juicy berries can be eaten on their own or can be added to oatmeal, cereals or even salads.
Recipe: Blueberry Lemon Smoothie
Purple/Red Cabbage
Another popular purple food is purple cabbage. All kinds of cabbage are associated with high nutrition profiles, but red cabbage contains anthocyanins, which make it even more nutritious than its cruciferous counterparts. Purple cabbage can be added to stir-fries, slaws and stews.
Recipe: Cabbage Salad with Almond Dressing
Red Grapes
Red or purple grapes are another classic purple fruit that are linked to having anti-inflammatory and antioxidant properties. Grapes make a delicious snack and can also be added to vegetable or chicken salad.
Beets
Beets are a low calorie food packed with many nutrients. Beets have been found to lower blood pressure, thus preventing heart attacks, stroke or heart failure. These vegetables are great roasted, air-fried or boiled and can be eaten alone or in salads.
Recipe: Roasted Sweet Potatoes and Beets
Eggplant
There are a variety of eggplant colors available, but the most popular is purple. When eating eggplant, it is important to keep the skin since it contains the nutrients that have been shown to have anti-inflammatory and heart-protective properties. Due to this, the best way to preserve the skin is to roast or grill the eggplant. Remember to add your favorite spices!
Recipe: Grilled Eggplant with Pork and Mint Bolognese
Red Onion
Another group of nutrient dense vegetables are onions. Like other anthocyanin-rich foods, onions have been linked to reducing the risk of heart disease. Red onions can be cooked or eaten raw in salads and salsas.
Recipe: Bacon and Red Onion Brussels Sprouts
Purple Cauliflower (If you can find it)
Purple cauliflower is a different purple cruciferous vegetable that has been linked to preventing colorectal cancer. This vegetable can be grilled, fried, roasted or eaten raw so make sure to add some to your meals this week!
Purple Kale (If you can find it)
Purple kale, also known as Redbor kale, has been found to have 47 powerful plant compounds including: kaempferol, quercetin, and p-coumaric acid along with disease-fighting properties as well. This kale can be cooked or eaten raw, which makes it an easy addition to most recipes.
Purple Sweet Potatoes (If you can find them)
Sweet potatoes are highly nutritious, but purple sweet potatoes have the added characteristic of lowering the risk of colon cancer. Purple sweet potatoes also have many minerals and vitamins and can be used in lieu of regular sweet potatoes in any recipe.
Recipe: Simple Spicy Sweet Potatoes
Purple Carrots (If you can find them)
The last of the purple vegetables on our list are purple carrots, which are sweet and packed with polyphenol antioxidants. Studies show that polyphenol-rich foods are linked to lowering the risk of heart disease, diabetes and obesity. These health-boosting vegetables can be eaten raw as a snack or cooked like any other vegetable.
Needless to say, you want to make sure you get some purple fruits and vegetables on your plate! What's your favorite purple food?
If you liked this article, check out these others:
Download Your FREE Paleo Starter Kit Today!
3-Day Paleo Diet Meal Plan
Comprehensive Paleo Diet Shopping List
5 of Our Favorite Paleo Diet Recipes