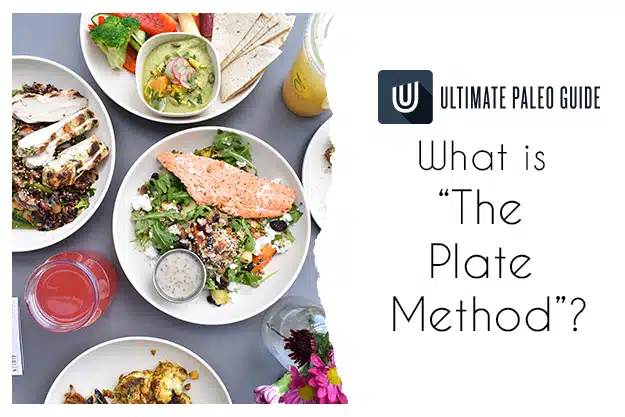 There's an abundance of dietary strategies out there to get you feeling and looking better. The hard part isn't finding one—it's choosing one that suits you.
In this article, we discuss what is the plate method? You'll learn how this technique works, and whether or not it can help you achieve your wellness goals. We also share the pros and cons for you to compare.
Learn what the plate method is:
How does it work?
What do you eat?
The plate method for weight loss.
Disadvantages.
What Is the Plate Method, and How Does It Work?
The plate method is appealingly straightforward—there's no need to calculate macros or puzzle over calorie counts.
Instead, you determine portion sizes on your plate by sight for a wholesome meal. Size definitely matters here—the plate in question should be 9 inches in diameter.
The point is that your meals should be varied and colorful—not bland, like a big bowl of macaroni or a small salad.
The goal is for your dish to contain sufficient portions of fruits, vegetables, proteins, and grains. These are all the foodstuffs that make up a balanced diet.
This video demonstrates the process in action:
Your daily dose of dairy will be off the plate, in the form of a glass of low-fat milk, a cup of yogurt, or a similar item—don't go for ice cream. Fruits may also be off the side, depending on how you approach the method.
As you can see, these quantities aren't all set in stone, as we'll discuss when we go into the plate method for diabetes.
So, how does dividing your dish work to improve health?
Each of the basic food categories has properties that can boost your well-being. With the plate method, you ensure you're getting enough of each.
Fruits and Vegetables
The standard recommendation we're all familiar with is for half of your dish to consist of veggies and fruits.
There's a reason for that—a high intake of these items can lower your risk of cardiovascular disease and obesity.
Furthermore, the majority are plentiful in essential vitamins and minerals that your body needs to function. Many are also antioxidant-rich, which can decrease unwanted free radicals—harmful compounds—in your body.
Protein
Protein is one of the nutrients that play a vital role in muscle health and strength, as well as immunity.
It might seem shocking, but the bulk of the protein eaten worldwide comes from plant-based foods rather than animals—although meat comes up second, and dairy third.
There is a caveat here: you should opt for low-fat or lean proteins, like fish or chicken breasts. Meats and dairy high in saturated fats may not be good for your cholesterol.
If you're vegan or vegetarian, you can eliminate animal proteins from your plate. You do need to make sure you're getting enough from your veggies—which is possible if you're careful.
Whole Grains
You'll notice we made a distinction here—whole grains only. Refined grains like white flour and white bread don't have the germ or bran in them.
Without these bits, a lot of what makes grains healthy—like certain vitamins and dietary fiber—isn't there. That's why eating the whole thing is the better alternative: go for foods like brown rice, oatmeal or whole-grain pasta.
If you must opt for refined grains, check the label to see if they're enriched with micronutrients.
What to Avoid on the Plate Method
Preparing the perfect plate and then snacking on junk foods afterward will defeat the purpose of the endeavor. Similarly, if you're heavy-handed with sugary sauces and salty seasonings, you probably won't get very far.
This guide from the US Department of Agriculture dictates what your daily allowance should be for fats and oils like butter, salad dressings, plant-based oils, etc.
As for sodium—or salt—try to avoid processed or pre-made foods and beverages, like ready-to-eat frozen meals.
They're often high in sodium, meaning you could be ingesting more than you need without knowing. Salt is vital for various processes in our bodies, but too much of it can raise your blood pressure.
The Plate Method for Weight Loss
There are a number of factors influencing our adherence to a healthier way of eating. These include meal-planning, flexible distribution of foods, and satisfaction.
If restrictive dieting or weighing everything you consume doesn't work for you, the plate method could be an easier alternative. In fact, you can buy a dish that eliminates the guesswork when serving out portions.
You don't need to cut out entire food groups, or plan ultra-specific meals. The plate method is proven to be a sustainable way to lose weight versus calorie restriction.
The foods you're eating aren't empty calories either. Protein, as well as fiber-rich foods like vegetables and grains, can limit hunger pangs throughout the day.
Additionally, this tactic helps with portion control, which can promote weight loss. If you start paying attention to how much you're eating, over time, you'll begin to think twice about that second helping or bigger slice—positive effects are likely to follow.
The Plate Method for Diabetes
If you have diabetes, you'll have to tweak your foods a little—mainly, by cutting down on fruit and high-starch vegetables.
Reserve fruits as small, post-meal treats rather than devoting a quarter of your plate to them as per the Choose My Plate approach. Fructose, the natural sugar found in fruits, can have negative effects on your blood sugar if you consume too much of it.
As for vegetables, half of your plate will be non-starchy veggies, such as broccoli or spinach.
Limit starchier options such as peas and corn to the whole-grain quarter of your plate—excess carbohydrates aren't great for diabetes.
Downsides of the Plate Method
The simplicity of the plate method may be a boon for some and a disadvantage for others:
It isn't a universal fit—for instance, the athletic among you may need more carbohydrates per meal.
Pregnant women require more calories, meaning limiting portion sizes might not be wise.
If you have a food intolerance or voluntarily choose not to indulge in food groups (e.g., whole grains or dairy), you have to reconfigure your meals to fit your nutritional needs.
There's also personal preference—you may find that the method doesn't fit into your routine or style of eating.
Conclusion
The plate method can be an ideal way for you to keep track of what you're eating. You can simplify things by buying a plate with dividers.
However, if you're on a diet that cuts out entire food groups—for example, keto or the carnivore diet—then this strategy may prove difficult or redundant.
Ready to learn about other diets?
The Ultimate Autoimmune Protocol Diet Guide
The Ultimate Carnivore Diet Guide
Download Your FREE Paleo Starter Kit Today!
3-Day Paleo Diet Meal Plan
Comprehensive Paleo Diet Shopping List
5 of Our Favorite Paleo Diet Recipes