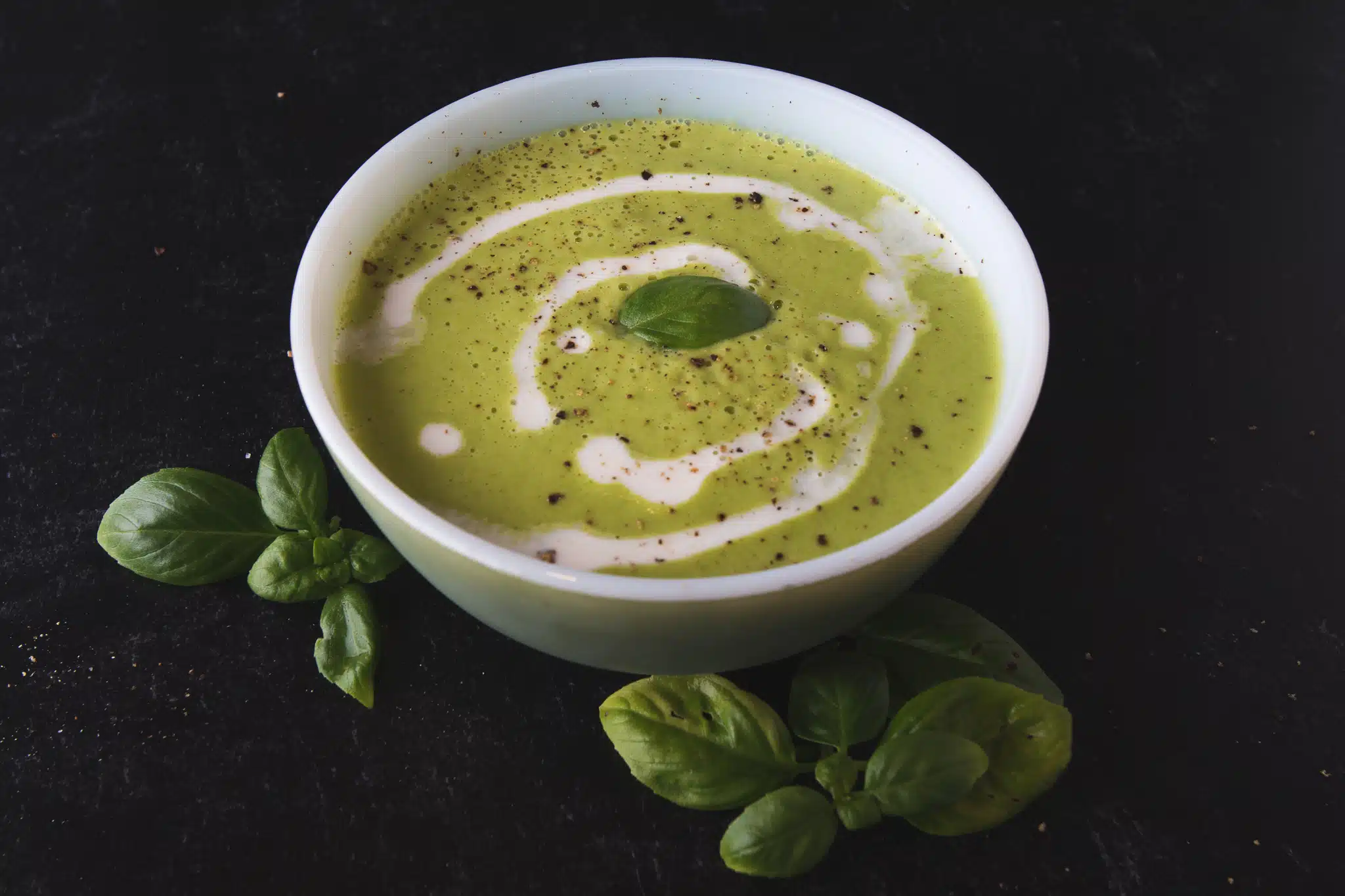 This cream of zucchini soup isn't necessarily a "Fall" recipe, but I know we have plenty of readers in warm climates. If that's you, then this recipe is one you'll want to save!
Or – if you're a zucchini lover but you're in Autumn right now, bookmark this recipe and come back to it next summer when the zucchini are poppin'. This soup definitely makes any warm summer day a delicious one.
Having a plethora of zucchini-based recipes on hand is especially important if you have the vegetable planted in your garden. For anyone who has ever planted zucchini before, you know that you'll have a whole bounty of them before the summer ends. While they're a great gift to give your neighbors and friends, it's also good to have a variety of go-to recipes to use them up before they go bad.
One of my favorite zucchini treats growing up was this certain cookie recipe from my grandma. With dark chocolate chips and various seeds, these cookies were absolutely delectable. I also know that zucchini bread is a fan favorite as well.
But I'm hoping this soup will help you mix things up from all the zucchini baked goods. And the fact that it can be served chilled or warmed just makes it even more versatile!
But – a fair warning for our dairy intolerant friends…we've got some heavy cream in this recipe, so you might need to avoid if heavy cream doesn't sit well with you.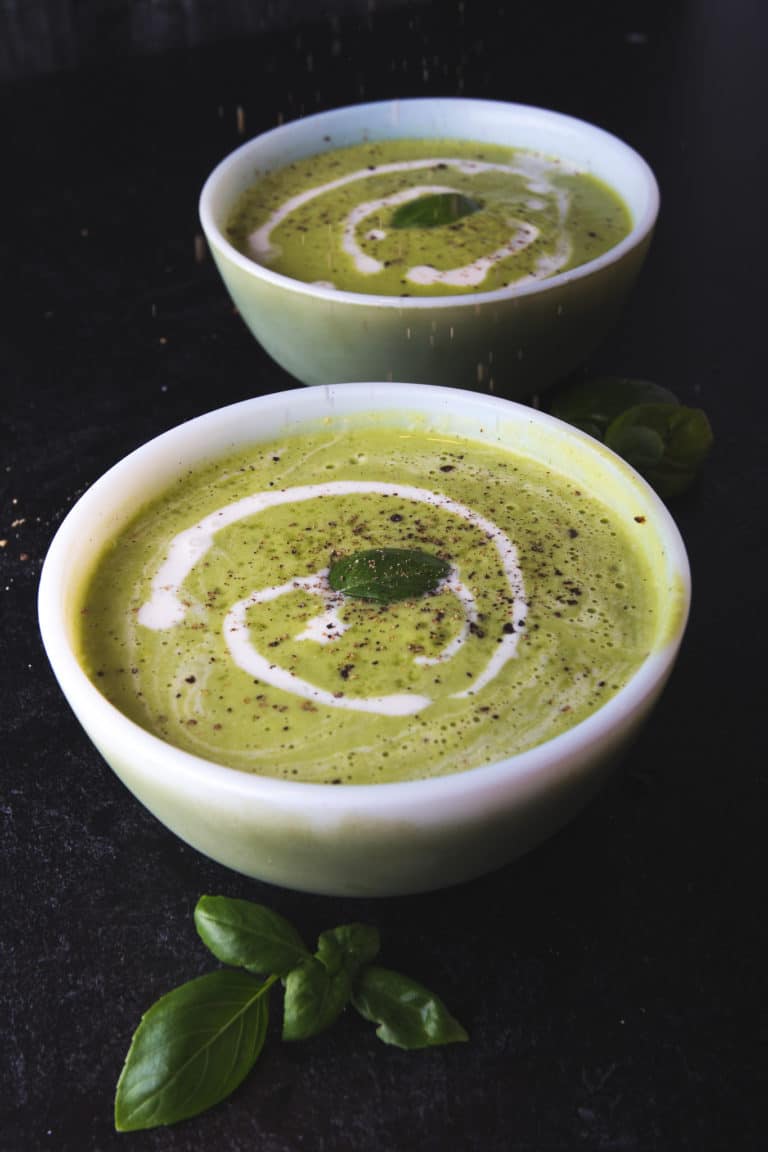 With onion, garlic, basil, thyme, and nourishing chicken broth, this recipe is definitely not lacking on flavor. Basically, all you have to do is let all of your veggie and herb ingredients get friendly in the pot with some high-quality olive oil. Once your ingredients are softened, add in your chicken broth. Bring that concoction to a boil and reduce heat and let simmer for at least five minutes.
Next, you're going to need a blender. Transfer the contents of your pot to a blender and blend until smooth. Carefully, add it back to the pot and add in your cream. Let that simmer until nice and creamy.
If you're serving this soup hot, this is when you'll want to divide it up into bowls and top with fresh basil and any salt and pepper you might need. But if you would rather eat it chilled, just transfer to a bowl and let it chill in the fridge for a bit.
Whether you eat this warm and chilled, it's quite refreshing and most definitely healthy!
If you like this recipe, check out these others:
Chilled Strawberry Lavender Soup
Creamy Cauliflower Chicken Soup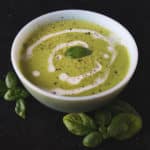 Cream of Zucchini Soup
An easy summer soup that will use up a bountiful of zucchini if you have them. It can be served chilled or hot, so be sure to try both ways!
Ingredients
1

tablespoon

olive oil

1

onion

diced

4

zucchini

diced

2

cloves

garlic

minced

1

teaspoon

dried thyme

1

cup

chicken broth

1

cup

heavy cream

Fresh chopped basil leaves

for serving

Sea salt and fresh ground pepper

to taste
Instructions
Heat the oil in a pot and add the onions, zucchini, garlic, and thyme. Cook until softened and add the broth. Bring to a boil, and simmer for 5 minutes.

Transfer to a blender and blend until smooth; add back to the pot and add the cream. Simmer for 5 minutes.

Serve topped with the basil.
Nutrition Facts
Cream of Zucchini Soup
Amount Per Serving
Calories 289
Calories from Fat 252
% Daily Value*
Fat 28g43%
Carbohydrates 11g4%
Protein 4g8%
* Percent Daily Values are based on a 2000 calorie diet.
Download Your FREE Paleo Starter Kit Today!
3-Day Paleo Diet Meal Plan
Comprehensive Paleo Diet Shopping List
5 of Our Favorite Paleo Diet Recipes