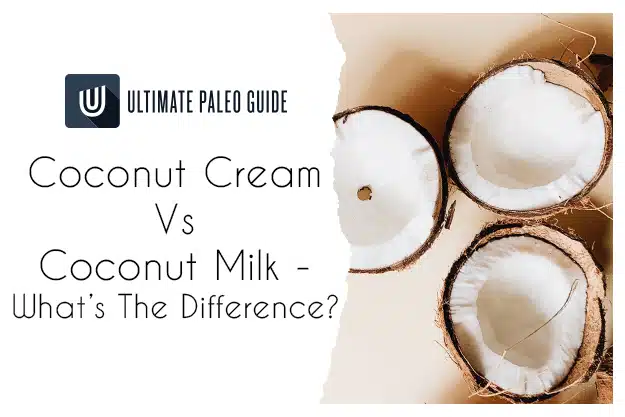 You may have heard these two delicious drinks referred to interchangeably—but you're not entirely sure if they're the same.
Our article will clear up the coconut cream vs coconut milk debate. You'll learn the uses of each, how one differs from the other, plus the benefits of consuming them.
Find out the differences between coconut milk vs coconut cream:
Preparation.
Uses.
Taste.
Nutrients.
The Lowdown on Coconut Cream vs Coconut Milk
We compare all the essentials of coconut cream vs coconut milk. Find out the similarities and differences when it comes to:
How they're prepared.
Nutritional content.
Health benefits.
Uses.
Taste.
Preparation
Both of these beverages come from the coconut, a multifaceted fruit with plenty of applications in and out of the kitchen.
Milk is a bit of a misnomer since it's plant rather than animal-based. It's more like what you'd consider juice: the tasty white flesh is grated and mixed with water.
The cream also comes from the flesh—except that it has a thicker consistency, and doesn't always contain water. Despite the name, coconut cream is dairy-free.
Take note that not all brands are equal when it comes to these products. Some liquids are unsweetened, whereas others contain added sugars you may not want.
Nutrients
If you pit coconut milk vs coconut cream against each other nutritionally, it would be hard to pick a winner.
Both liquids are nourishing in their own unique ways—the one that's better for you will depend on your dietary and culinary needs. We'll get more into that later on.
Let's begin with calories: neither one is ideal if you're limiting your daily intake.
Coconut milk tops out at 552 calories per 240-gram cup. The same serving of cream is a whopping 792 calories.
Note that the latter is unsweetened. If you opt for a sweetened variety, we're talking about roughly 1000 calories per a single cup. That's why you need to read the label carefully before you buy—save the extra 200 or so calories.
Both contain an abundance of saturated fat, which is part of a healthy diet. Roughly 50 of the 57.2 grams of fat in the milk are saturated, with nearly 74 grams out of 83.2 grams for the cream.
You'll also get a small dose of protein from both cream and milk—17 percent and 11 percent of your daily value, respectively.
As for minerals and vitamins, neither one is deficient.
Milk and cream both provide hefty doses of manganese, an essential mineral for your body. They're also rich in copper, iron, phosphorus, and potassium.
There are trace quantities—between 10 and 20 percent of your daily requirement—of vitamin C and folate, also known as vitamin B12.
Vitamin C is a crucial micronutrient that we can't produce on our own, meaning we must get it from external sources. Folate works to help with cell division and other vital processes.
Health Benefits
You might not expect many health benefits from such calorific beverages, but you'd be wrong.
In spite of the fat, consuming coconut milk (or flesh) doesn't appear to be associated with heart disease risk.
Saturated fats can increase good (HDL) cholesterol while lowering inflammation in the body. Populations that frequently consume coconut byproducts demonstrate higher HDL levels.
In Ghana, the milk is a traditional remedy for diarrhea. It isn't an ideal curative, but it does have the advantage of being sterile and fresh.
Uses
How can you harness the powers of these two tropical elixirs? We share the ways you can make use of them:
Beverages
Both the milk and cream can serve as delectable drinks by themselves—in moderation.
You shouldn't chug multiple glasses per day regardless of the health perks. Remember, a single cup of either one is over 500 calories.
If you want a coconut-derived beverage that isn't a calorie bomb, you can try coconut water. That's the fluid found inside coconuts when you crack them open. This isn't made with the nutrient-dense flesh and it has less than 50 calories per cup.
Ingredients
Both coconut-based liquids are most common as ingredients in various recipes. That includes savory curries, delicious desserts, and yummy pastries.
They can also substitute dairy milk for individuals who are either lactose-intolerant, vegan or simply prefer not to consume milk from animals.
Hair Care
If you head to the cosmetics aisle, it seems every other shampoo or conditioner is coconut-based.
While coconut oil can penetrate the hair shaft to help restore lackluster locks, there isn't much evidence for the cream or milk—yet.
Still, if you want to experiment, you can watch this video of a coconut milk hair mask:
Here's a video demonstrating a coconut cream hair mask, if you prefer:
Taste and Consistency
There's little to distinguish coconut cream vs coconut milk, where it concerns flavor. Both have similar tastes—it's the consistency that separates them.
The cream is thicker, and the milk is more fluid. For instance, the cream may be preferable for ice cream, whereas milk could work better for lighter sauces or curries.
Can You Use Coconut Cream Instead of Coconut Milk?

That'll depend on the recipe. For the most part, you should be fine substituting coconut cream for milk as you can mediate the consistency with water.
The other way around may not be so easy. If your recipe demands a coconut cream, you can't really thicken the milk the same way you can dilute the cream.
An exception to that rule is if you made homemade coconut cream. You can add more flesh to boost the density: this video shows you how:
Is Creamed Coconut the Same as Coconut Cream?
You might see the two items alongside each other at the grocery store, but they aren't the same thing.
Creamed coconut is more commonly known as coconut butter. It's somewhat akin to peanut butter.
What About Cream of Coconut?
If you're starting to get overwhelmed with all these creamy variations, don't worry—this is the last one. Cream of coconut is almost always sweetened with sugar, as it's typically used for desserts.
Conclusion
To sum it up.
Coconut cream vs coconut milk are two separate products that shouldn't be confused with one another. Although they may taste and sound similar, they aren't.
The major differences are in the consistencies and calorie counts—cream is thicker and more calorie-laden than milk.
Still, these tasty beverages have plenty of benefits and applications. Bearing in mind that both have a high energy load, try not to be too heavy-handed if you're using them as ingredients.
If you liked this post, check out these others:
The Ultimate Guide To Coconut Milk Kefir
The Ultimate Guide To Coconut Oil
And these recipes that use coconut milk and coconut cream…
Curried Chicken With Poached Eggs
Veggie Fritters with Chive Coconut Cream
Download Your FREE Paleo Starter Kit Today!
3-Day Paleo Diet Meal Plan
Comprehensive Paleo Diet Shopping List
5 of Our Favorite Paleo Diet Recipes