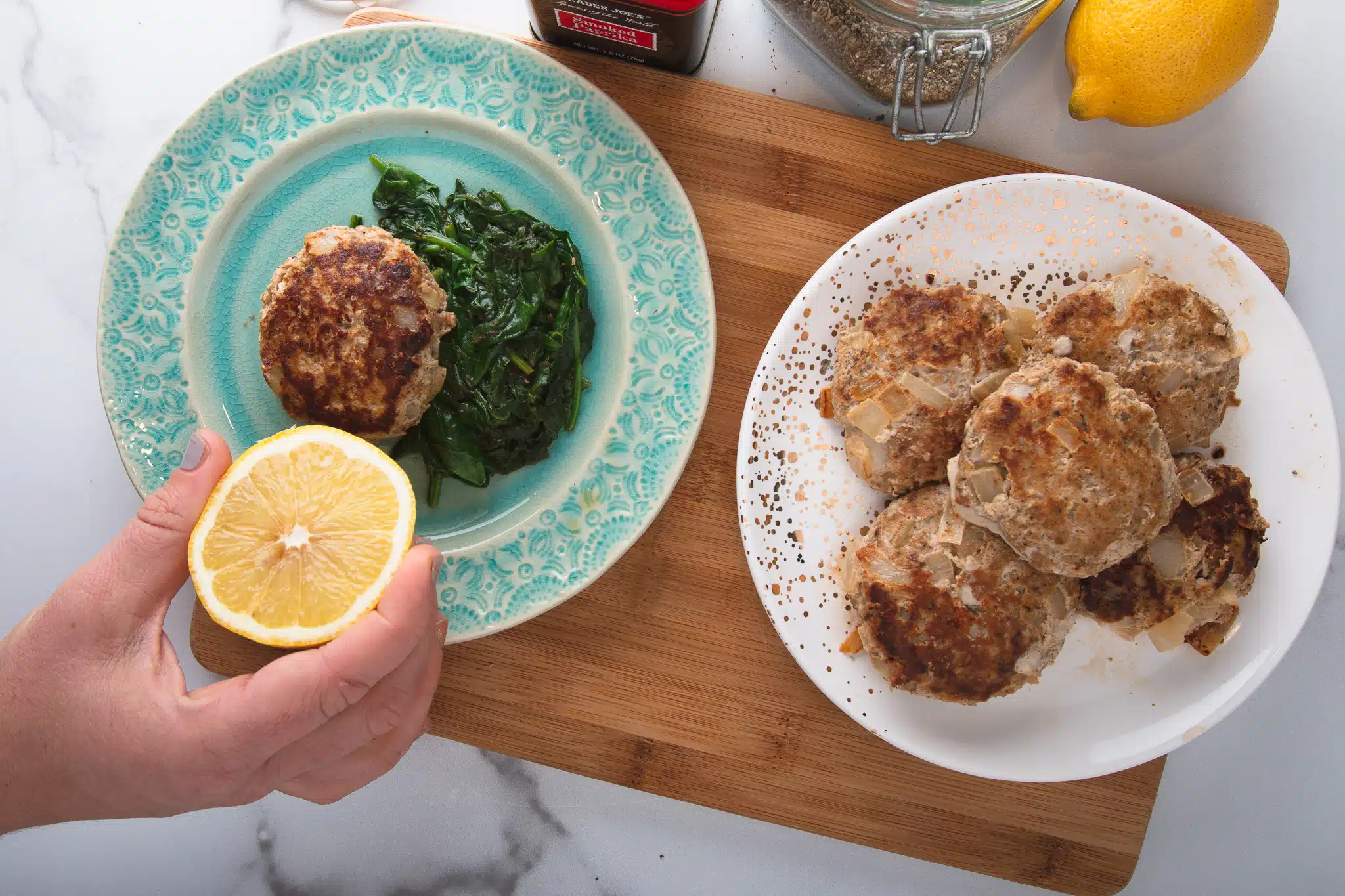 I'm really excited about these turkey sausage patties with lemon spinach. Let me tell you why…
If I'm being totally honest, I eat eggs for breakfast a lot. Scrambled, fried (or "bubble" as my boyfriend calls them), in an omelet, poached, hard-boiled. Literally, I like them all.
But sometimes, a girl's gotta switch it up a little bit. And with my experience working with nutrition clients, I know that not everyone feels the same about eggs as I do. In fact, one of the most frequent requests we get is for egg-free breakfast recipes.
If you have ever found yourself wondering if a paleo breakfast without eggs is possible, bookmark this recipe immediately! These turkey sausage patties with an accompanying pile of lemon spinach are a great way to make sure you're loading your morning with protein (AKA staying full and fueled) as well as sneaking in some veggies. A win-win-win situation. (If you know what that reference is from, then we'd most definitely be friends 😃)
This turkey sausage is pretty dang easy to whip up in the morning. You first need to start with some ground turkey. Ground turkey is a great protein option because it's really packed with protein but low on the fat content. If you love sausage, but want to keep your fat intake on the lower end, this is a great option.
With the raw ground turkey in a bowl, you'll also add in one egg (to help the meat bind together), one onion that's been finely diced, garlic, and spices including paprika, oregano, and ground sage. Using your hands, mix up everything in the bowl making sure that the spices get well-incorporated into the meat.
Once everything is mixed well together, form the meat into around 2-inch patties. I find it easiest to take a handful of meat, roll it into a ball, and then smash into a patty.
From there, all you have to do is cook 'em! Oil in a pan, pan on medium-high heat, sizzle those babies away until they're nice and brown and cooked all the way through. Take them out of the pan to cool.
After that, it's spinach's turn to shine. Throw a few BIG handfuls into the pan and let it wilt. Squeeze lemon on top and season however you like. And that's it.
A super healthy, tasty, and EGG-FREE breakfast recipe!
If you like this recipe, check out these others:
The Ultimate Guide to the Carnivore Diet
Turkey Sausage Patties with Lemon Spinach
A quick and healthy breakfast that is filling and nutritious. You can make these patties ahead of time so breakfast comes together in minutes.
Ingredients
1

pound

ground turkey

1

egg

1

onion

finely diced

2

cloves

garlic

minced

1

teaspoon

paprika

1

teaspoon

oregano

1

teaspoon

ground sage

2

tablespoons

olive oil

1

pound

baby spinach

Juice of 1 lemon

Sea salt and fresh ground pepper

to taste
Instructions
Combine the turkey, egg, onion, garlic, and seasonings in a mixing bowl and mix until combined. Form into 2-inch breakfast patties.

Heat the oil in a skillet over medium high heat and cook the sausage patties until browned and cooked through. Remove from pan.

Add the spinach and cook until wilted. Add the lemon juice.

Serve the sausage with the spinach.
Nutrition Facts
Turkey Sausage Patties with Lemon Spinach
Amount Per Serving
Calories 354
Calories from Fat 153
% Daily Value*
Fat 17g26%
Carbohydrates 18g6%
Protein 33g66%
* Percent Daily Values are based on a 2000 calorie diet.
Download Your FREE Paleo Starter Kit Today!
3-Day Paleo Diet Meal Plan
Comprehensive Paleo Diet Shopping List
5 of Our Favorite Paleo Diet Recipes