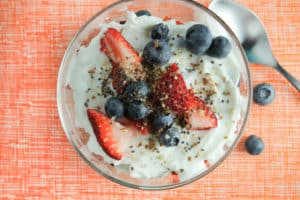 This coconut ice cream parfait recipe takes a bit of time, but I promise it's worth it.
Coconut cream is rich and decadent, with the benefit of being dairy free. Because of this, it makes amazing ice cream, which when paired with fruit, is a healthy and delicious dessert you don't have to feel guilty about.
Let's talk about the amazing benefits of coconut for a minute. This recipe features both coconut milk and coconut oil for a double dose of coconut goodness.
Coconut is rich in medium chain triglycerides. This is a type of fat that is readily absorbed and used as energy by the body. In fact, 60% of the fatty acids contained in coconut cream are medium chain.
Coconut also contains lauric acid. This is a type of fatty acid that has antimicrobial properties. This makes it great at fighting viruses and bacteria that commonly make us sick.
Some people may argue that coconut should be avoided because of its saturated fat content. Research shows that saturated fat isn't as evil as once thought. In fact, saturated fat helps promote satiety and keeps our body's hormones healthy and functioning regularly.
Moral of the story – coconut is a great addition to a well-balanced Paleo diet. And this recipe is a great way to do it! Mixed with the antioxidant potential of the berries, and healthy fats from the seeds, this parfait packs a powerful nutritional punch.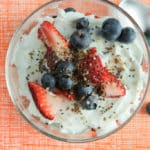 Coconut Ice Cream Parfait
*You will need an ice cream maker for this recipe.
Ingredients
Coconut Ice Cream:
2

(15 oz)

cans full fat coconut milk

1/2

cup

raw honey or maple syrup

3

tablespoons

Coconut oil

1

tablespoon

Vanilla extract
Parfait:
4

cups

Mixed berries

such as strawberries, raspberries, blueberries or blackberries

3

tablespoons

Ground flax seeds

3

tablespoons

hemp seeds

3

tablespoons

Chia seeds
Instructions
To make the ice cream, put all of the ingredients in a blender and blend until smooth. Transfer mixture to an ice cream maker and following the instructions, churn the mixture until ready to freeze. 

Freeze the mixture overnight.

To make the parfaits, layer the ice cream with the berries and seeds in tall glasses or bowls.

Serve immediately.
Download Your FREE Paleo Starter Kit Today!
3-Day Paleo Diet Meal Plan
Comprehensive Paleo Diet Shopping List
5 of Our Favorite Paleo Diet Recipes