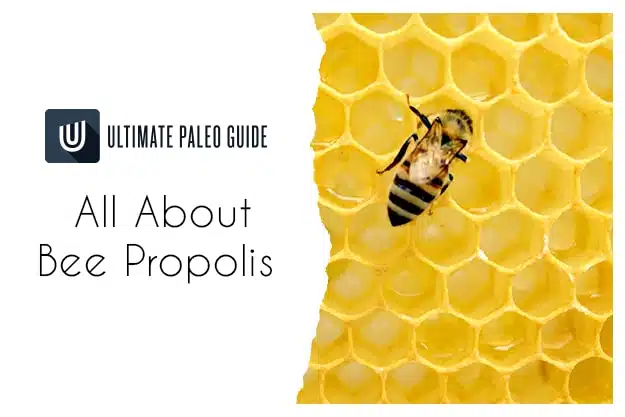 Have you heard about bee propolis and wondered what this curious-sounding product is? Perhaps you want to know if it's worth taking notice of all the hype.
We've put together a guide all about bee propolis to answer all your questions. You'll learn what the substance is, the benefits and side effects, how to use it, and more.
Here's the lowdown on bee propolis:
What is bee propolis?
Health benefits.
Safety and side effects.
Where to buy it.
What Is Bee Propolis?
We're all familiar with honey and royal jelly, the most famous—and delicious—byproducts of certain species of bee.
Propolis is comparable to your favorite craft adhesive: the common name for it is "bee glue." The waxy, resinous material, is ideal for hive repair and construction.
The worker bee uses it to patch up weak points to keep their home safe from unwanted intruders, like snakes or lizards. The Greek name translates to "in front of the city," meaning the natural sealant serves as a defense from the outside world.
How Is Bee Propolis Made?
The glue is a combination of different plant excretions combined with bee saliva. The industrious worker bees collect sticky plant resins with their mouths, deposit it onto their rear legs, and return to the hive.
Back at home, fellow workers help to remove the tacky solution from their legs. Then, the glue gets applied wherever it's needed.
If the bee-spit grosses you out, remember that royal jelly is a similar type of secretion—try not to dwell on the origins. The color will vary based on the area from which it's harvested.
On that note, propolis is collected by apiarists (beekeepers) at the same time as honey. It's either scraped out of the hive or with a trap.
This video details the process for you:
How Is Bee Propolis Used?
Much like yummy honey, humans have enjoyed bee glue for a long time.
History books tell us the ancient Egyptians, Greeks, and Romans used it for medicinal purposes, and it remains a popular remedy in traditional folk medicine.
The following video explores the history of this insect-made adhesive:
Today, we take it as a dietary supplement—and, unlike other natural remedies, there's evidence to back it up. There are also plenty of creams, gels, and other products such as toothpaste and mouthwashes that include the resin.
What Are the Benefits?
Now, let's learn about the good stuff—how can bee propolis benefit you?
This video summarizes some of the advantages:
Here are the ways this organic product could boost your health and combat common ailments:
Fights Fungal Infections
If you're prone to fungal infections, this organic adhesive could be of help.
One study investigated the effect of propolis extract on onychomycosis, a chronic fungal infection that affects the nails. The extract penetrated the human nail to target the fungi without the toxicity associated with other treatments.
It was also shown to work against various species of Candida, the pesky fungus responsible for yeast infections. The resinous mixture eliminated Candida cells and inhibited growth.
Soothes Burns
We've all experienced the unbearable smarting sting of a burn. If you're not a fan of medicated creams and gels, bee propolis could prove to be a viable alternative.
An animal trial revealed that this substance shortened wound healing time and reduced the number of infection-causing microorganisms on the burns.
Applying the sticky resin to your burnt skin can also limit free radicals, compounds that develop from the stress of the injury and can cause further damage. Plus, it's anti-inflammatory—meaning it can moderate pain intensity too.
Heals Wounds
You shouldn't be surprised after the last section—burns are a type of wound, after all.
Diabetic patients with disease-related foot ulcers were administered with bee propolis spray over eight weeks. This treatment reduced the size of the lesions and promoted healing overall.
The resinous material could be advantageous for our beloved furry companions too. A study on dogs with flesh injuries found that the tacky resin sped up and improved recovery.
Works Against Herpes
The Herpes simplex viruses (HSV 1 and HSV 2) are one of the most frequent infections we humans contract. Although neither type is dangerous for the majority of people, an outbreak of sores can be both uncomfortable and unsightly.
One experiment on mice revealed that bee glue extract limited lesions from HSV-1. Similar extracts applied topically, were found to have anti-herpetic activities.
These remarkable results aren't all lab tests and animal trials. Ointments formulated with the extract already exist for alleviating herpes symptoms.
Limits Sun Damage
Most of us look forward to sunny days—there's nothing more pleasant than the feel of warm sunshine—but ultraviolet (UV) radiation is a known carcinogen. This means that, in high quantities, it's harmful to our skin's appearance and can lead to skin cancer.
The antioxidants found in bee glue extracts can reduce the DNA-damage UV radiation causes, which can result in cancer. Another study confirmed these positive effects. Still, we don't suggest substituting it for your sun cream until further research is done.
Lowers Blood Sugar
Diabetics face an ongoing battle to normalize blood sugar levels—this healthful resin could be a potent weapon.
Adults with type 2 diabetes were given 300 milligrams of propolis supplements thrice daily. After 12 weeks, the participants showed improved blood sugar as well as cholesterol levels.
Animal trials back up this beneficial ability to stabilize blood sugar. Diabetic rabbits treated with bee glue extract enjoyed significantly lower levels.
Don't stop taking your prescribed medications just yet—but you could always check with your physician to see if propolis is appropriate for you.
Improves Oral Hygiene
Oral hygiene is vital if you want to avoid costly—and potentially painful—visits to your dentist. Keeping our mouths clean reduces the nasty bacteria that can incite cavities, gum disease, and other unpleasant conditions.
Mouthwashes and toothpaste that contain the waxy bee resin could prove a valuable ally in that respect. The antibacterial, antiviral, and anti-inflammatory properties can work to boost and preserve dental health.
Another pro is that the natural substance is less irritating than synthetic mouthwashes. Although bee glue rinses may be less adept at killing microorganisms, they're also less likely to irritate sore or infected gums.
Promotes Gastrointestinal Health
Depending on the severity, tummy woes can span from frustrating to debilitating. Once again, the anti-inflammatory and antioxidant capabilities of bee propolis are at your service.
These compounds can work to relieve gastrointestinal ulcers, cancers, ulcerative colitis, and oral mucositis. The latter is technically a condition of the mouth, but it can provoke GI symptoms such as diarrhea.
Does Bee Propolis Kill Good Bacteria?
The human gut is a complex system—it plays host to both good and bad bacteria. If the harmful bacteria outnumber the good, we're more likely to face a multitude of health issues.
You might be concerned about taking supplements that can impact this delicate balance. The good news is there are no studies so far that reveal bee propolis kills good bacteria.
Furthermore, one rodent trial demonstrated the plant-based mixture had positive effects on gut microbiota.
Potentially Fights Cancer
Any natural solution with anticancer properties is worth looking at, in our opinion. The waxy resin contains compounds that are toxic to cancer cells.
Is It Safe?
Yes, bee propolis is safe for most individuals. So far, early studies and the fact that it's widely used in various industries indicate that the natural resin is non-toxic.
Be aware that those of you with a sensitivity to bee products (e.g., honey) may find that the substance triggers allergic reactions, such as eczema.
You may want to perform a small test first for topical products and monitor yourself carefully if you're taking a supplement.
You should also be aware that standardization protocols for bee propolis are not yet well-developed. That's because the contents of each type are different based on the region—not all of the winged insects will gather resin from the same plants.
Additionally, each product will vary. You need to ensure that you're buying your bee glue in whichever form you choose from a reputable manufacturer.
Where Can You Buy It?
Most online retailers, such as Amazon, will carry bee propolis products. If you're looking for something more specialized, you can check out local apiaries to see if they sell it.
How To Take It
How you'll be taking your bee propolis will depend on what you've bought.
Supplements, creams, mouthwashes—many products that profit from this health-giving adhesive.
We recommend checking the label for dosage instructions. Remember, bee glue isn't necessarily harmful, but you should still proceed with caution.
If you're taking the substance in its natural form, watch your teeth. The resin is hard when cold, although it softens when warm. You may want to leave it in your mouth a little while before chewing.
Follow the manufacturer's directions explicitly, and watch for any signs that you aren't tolerating it well. A few common symptoms include:
Hives.
Itching.
Skin rashes.
Sinus congestion.
Stomach discomfort.
If you have trouble breathing or begin vomiting, seek medical attention.
Does Bee Propolis Go Bad?
Again, the answer will depend on your product of choice. Take a look at the expiration date and shelf life after you open it.
Summary
For the majority of people, bee propolis could be a pleasing addition to your wellness routine. Whether you eat the sticky substance in its natural form, take it as a supplement, or use it in another product—it has established health perks.
If you liked this post, check out these others:
Download Your FREE Paleo Starter Kit Today!
3-Day Paleo Diet Meal Plan
Comprehensive Paleo Diet Shopping List
5 of Our Favorite Paleo Diet Recipes