Paleo people are talking, and they're talking about sesame seeds. Sesame seeds are paleo-approved. When it comes to sesame seed nutrition, they are high in fiber, vitamin E, and magnesium (which lowers chances of high blood pressure – a risk factor for heart attack and stroke). They may even help to lower cholesterol.
You might know sesame seeds as those little seeds that top hamburger buns. Or one of the necessary ingredients in the cult-favorite Trader Joe's Everything But The Bagel seasoning. With so many benefits and a punch of flavor, it's no wonder that sesame seeds are such a hot topic today. They are the classic combo of nutritious and delicious – the perfect-add on to any salad, steak, or smoothie.
Five fun facts about sesame seeds
Scientifically known as Sesamum indicum, sesame seeds come from plants that are native to parts of Africa and India. Today's the world's biggest producers include Tanzania, Myanmar, India, and Sudan.
They come from plants that produce flowers and bear fruit. The fruits burst open on their own, revealing the seeds which are later harvested, sorted, and packaged for consumption.
Sesame seeds are one of the oldest crops used for oil. The crop was domesticated over 3000 years ago! Today, funny looking seeds are sent for sesame seed oil production.
They are an international delight. How many foods find themselves the perfect topping for salads, hamburgers, and sushi?
The seeds have a nutty, almost sweet taste. If the seeds are roasted, the flavors are brought forward a bit more! The black seeds are more powerful in terms of flavor!
Sesame seeds + diets
These little seeds are great for paleo diets, falling into the category of most popular nuts and seeds in paleo kitchens these days. They're low in carbs and high in fat, making them fit for a keto diet as well. As far as an auto-immune protocol (AIP) diet goes, these seeds are best avoided.
If you're following a specific diet, check out Ultimate Meal Plans. There are paleo, keto, and AIP meal plans that will help you adhere to whatever diet you need to reach your goals.
Sesame seed nutrition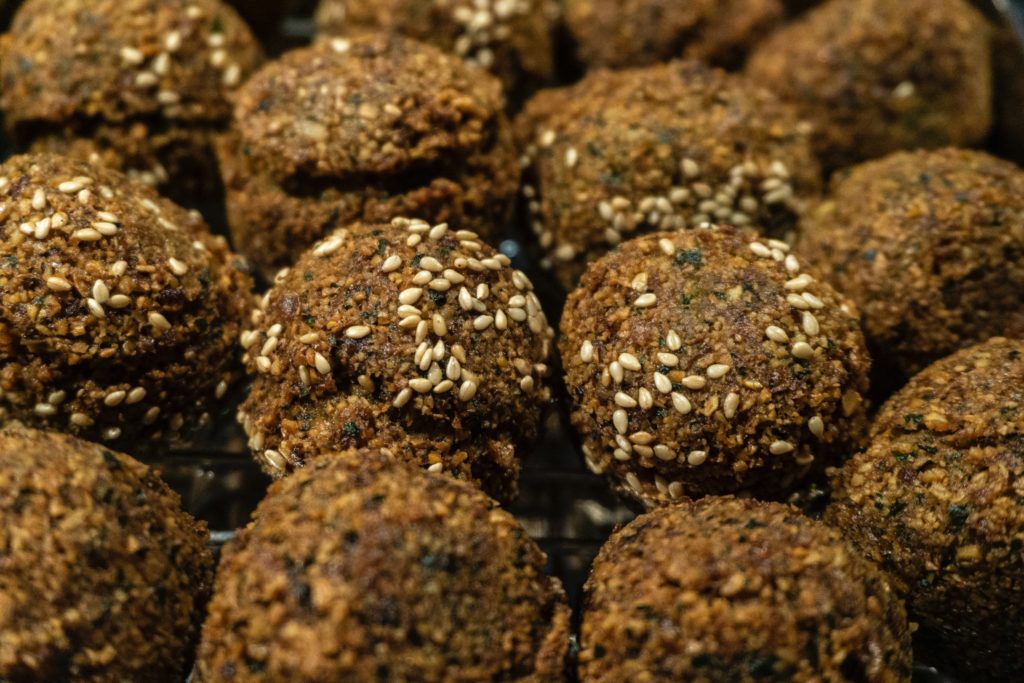 The nutritional facts for sesame seeds are a testament to their success as a paleo-friendly food.
Most people will use about a tablespoon (9g) or less at time. Here's what you'll find in this sized serving:
Calories: 51.6 (from carbohydrates, 8.6g; from fat 37.4g; from protein 5.5g)
Carbohydrates: 2.1g
Dietary Fiber: 1.1g
Total Fat:4.5g (saturated fat 4.5g; monounsaturated fat .6g, polyunsaturated fat 2g)
Protein: 1.6g
Sesame seeds are a significant source of copper, manganese, and calcium.
The success of sesame seeds
For a little seed, it sure packs quite a punch in terms of health benefits!
Rich omega fatty acids promote the growth of hair thanks to improved circulation to the scalp. The seeds also support skin and dental health. Some people even blend sesame seeds with olive oil to make a face serum!
High fiber means support for your digestive system. Things will flow a little better with this seed a regular part of your diet.
Replacing your regular cooking oil with sesame seed oil can improve cardiovascular health, lowering blood pressure.
They are a good source of protein.
Black sesame seeds have iron which could help those with anemia.
As you can tell from this list, these little seeds pack a big nutritional punch. And they're incredibly easy to incorporate into your diet.
How to Use Sesame Seeds
These tasty seeds can be added to a variety of recipes to round out a flavor or to add a little protein.
You can buy these seeds just about anywhere that offers produce, which is an added convenience. This specialty product isn't hard to find. You can pick them up at almost any major grocer as well as in produce and specialty markets.
Sesame seeds are an important part of Indian cuisine, so you may find more options by searching in Indian grocers or your local supermarket's international aisle. They are often found in the deli or produce section.
Once you have scored your sesame seeds, you can throw them into many dishes that you already love. Heat 'em or leave 'em be – the choice is yours!
Try this sesame-honey chicken salad recipe from the UK!
We also love the guide on sesame seeds by the Spruce Eats which outlines the different types of sesame seeds out there today. The guide explains how white seeds boast a "delicate flavor" that can be added to just about anything that you can imagine. The black version boasts "a richer flavor" to be paired with other powerful flavors.
Our favorite recipe? Throw in 1-2 tablespoons of white sesame seeds into a strawberry-banana smoothie. It tastes like cereal on-the-go. A truly scrumptious breakfast treat, good any time of day!
Sesame seeds are a given in many paleo kitchens because they are easy to come by and offer many health benefits. Throw some in your cart on your next trip to the store!
If you like this article, check out these others:
Everything You Need to Know About Tahini
Broccoli Sprouts (and how to grow them)
Everything You Need to Know About Spirulina
Download Your FREE Paleo Starter Kit Today!
3-Day Paleo Diet Meal Plan
Comprehensive Paleo Diet Shopping List
5 of Our Favorite Paleo Diet Recipes