Saute Spinach is a simple, healthy, and yummy cuisine.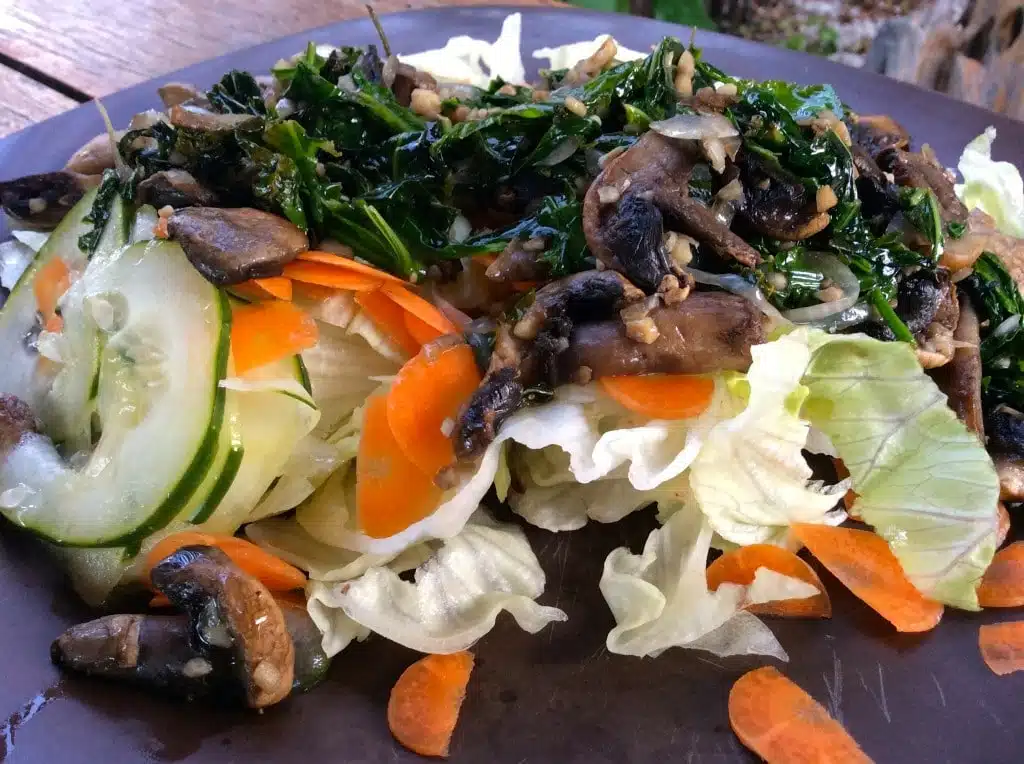 Sautéed Spinach Salad, is a cuisine compact with all the nutrients essential for a strong and healthy body. When in a Paleo diet plan, Sueteed Spinach Salad is a great snack and appetizer.
Speaking of strong body, it is Spinach is famed by the sailor-man with a pipe Popeye. There is much lore regarding spinach, most famously as the source of Popeye's strength. Sailor-man Popeye, when in trouble, will squeeze a tin of spinach strongly unto his mouth. Once consumed, his biceps will really over-grow and his new state will send his enemies rolling. This is actually an error in decimal by a German scientist who put 35 instead of 3.5 milligrams of iron in a 100g serving of spinach. The accepted number became 35 milligrams thanks to his mistake. But wait! Though there is a confusion, Spinach is still what made the Palaeolithic people super durable and strong.
Spinach is a desirable leafy green known for good health; a reputation that stands firm to this day.
To prepare this amazing salad, simply sauté spinach, mushrooms, garlic, and onion for about 3-5 mins until onion becomes translucent and spinach wilts. A small amount of oil or fat in a shallow pan over relatively enough heat will do. Food that is sautéed is browned while preserving its texture, moisture, and flavour so, your Sauté Spinach will surely bring an amazing taste to your taste buds! Also, sautéing preserves the nutrients so it is assuring that the minerals needed by your body is given.
Whenever you feel like you need a good kick of nutrients and vitamins, make up one of these salads. Throw in as many veggies as you want, sauté everything, and top with your favorite toppings. Couldn't be easier!
Saute Spinach Salad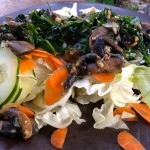 Sautéed Spinach Salad
Ingredients
2

c

Iceberg lettuce

(torn_

1/4

c

Carrot

(sliced)

1/4

c

Cucumber

(sliced)

2

c

Spinach

(roughly chopped)

2

c

Fresh mushrooms

(chopped)

1

tbsp

garlic

(minced)

1/4

c

Onion

(sliced)

1

tbsp

EVOO
Instructions
In a medium pan, sauté spinach, mushrooms, garlic, and onion for about 3-5 minutes on high, until onion becomes translucent and spinach wilts.

Prepare lettuce, carrots, and cucumber, and toss gently. Divide into 2 servings.

Once spinach mix is cooked through, top each salad serving with half the spinach.

Garnish with additional olive oil, vinegar, or sunflower seeds if desired.

Enjoy!
Nutrition Facts
Sautéed Spinach Salad
Amount Per Serving
Calories 191
Calories from Fat 81
% Daily Value*
Fat 9g14%
Sodium 235mg10%
Potassium 1861mg53%
Carbohydrates 25g8%
Protein 10g20%
Vitamin A 28400IU568%
Vitamin C 110.6mg134%
Calcium 300mg30%
Iron 8.5mg47%
* Percent Daily Values are based on a 2000 calorie diet.
Download Your FREE Paleo Starter Kit Today!
3-Day Paleo Diet Meal Plan
Comprehensive Paleo Diet Shopping List
5 of Our Favorite Paleo Diet Recipes