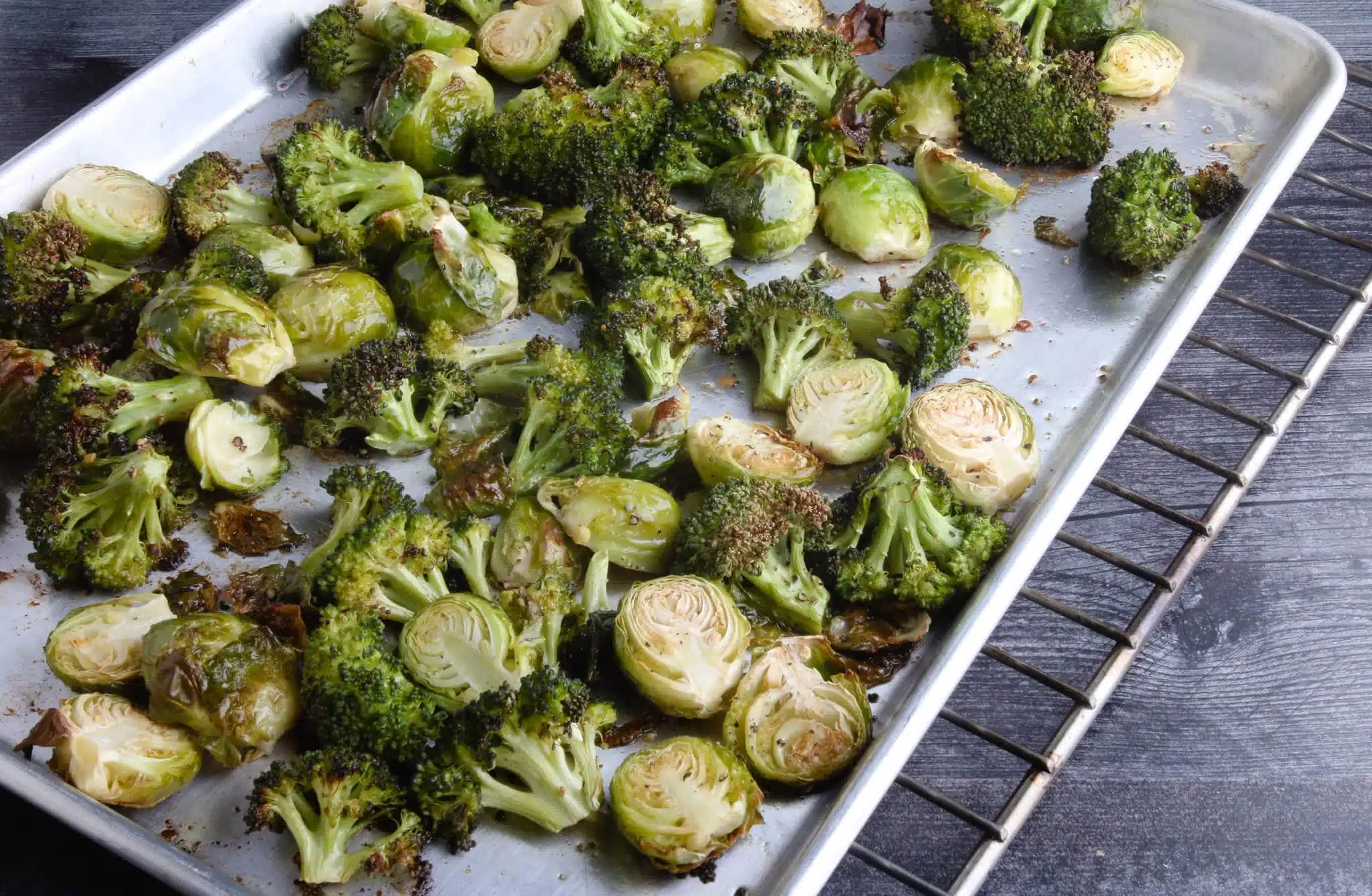 We're about three weeks into 2020. How's your resolution holding up so far? Hopefully you're still going strong and instilling good habits (whatever those may be for you…) for the coming years.
The gym that I coach at is currently doing the #800gChallenge. Basically, this challenge is all about eating your fruits and veggies. For 30 days, your goal is to eat 800 grams of fruits and vegetables a day.
These can be anything you want. They can be raw carrots, cooked apples, frozen berries, spinach leaves, etc. As long as they are a real fruit or vegetable, they count towards your 800 grams.
We've been doing it for a week now, and let me tell you, it's been a great way to make sure that my vegetable and fruit intake is top notch after the holidays.
So, while I've got vegetables on the brain, of course you all get an incredibly simple, yet delicious, veggie recipe.
I always tell people who claim they hate vegetables to try roasting them. Usually, when people think of gross vegetables, they're reminiscing about those mushy, boiled Brussels sprouts their mom used to make.
When vegetables like broccoli and sprouts are drizzled in some type of fat, roasted, and sprinkled with salt, they transform into this crunchy, flavorful, delicious creation.
All you need to start is some raw broccoli and Brussels sprouts. These powerhouse veggies are considered Brassicas and may have some powerful health benefits.
You want the broccoli to be cut up into florets – or little trees as I like to call them. You'll also want to cut the hard stem ends off of the sprouts and half them so there's one flat side.
One secret to roasting vegetables is to have a good quality oil. My favorite oil for roasting is avocado oil due to its high smoke point, but olive oil will also get the job done here.
After tossing in oil, make sure to evenly spread the vegetables out across a baking sheet. You want to make sure that your veggies roast evenly throughout.
Put your baking sheet into a hot oven and let it roast for about 20 minutes. Take the sheet out, give them a stir, and then let them roast for about 15-20 more minutes – or until they are nicely caramelized.
Another secret is the addition of some citrus – specifically lemon. Drizzle some freshly squeezed lemon juice on top of your browned vegetables when they're done and I promise you it will take your roasted veggies to the next level.
So, if you're not a fan of traditional vegetables, give this recipe a whirl. I can *almost* promise that you won't be disappointed!
If you like this recipe, check out these others:
Roasted Butternut Squash with Crispy Sage Leaves
Roasted Sweet Potatoes and Beets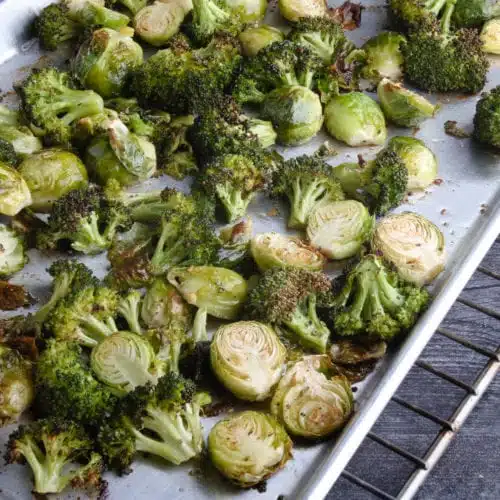 Roasted Broccoli and Brussels Sprouts
Roasting veggies gives them new life, especially cruciferous veggies like broccoli and Brussels sprouts. It's as easy as tossing in oil and putting in a hot oven, and when you're done, you'll have a side that will rival any main dish you put up against it.
Ingredients
2

cups

broccoli florets

2

cups

halved and cored Brussels sprouts

2

tablespoons

avocado or olive oil

1

tablespoon

lemon juice

Sea salt and fresh ground pepper

to taste
Instructions
Preheat oven to 425 degrees F.

Toss the broccoli and Brussels sprouts with the oil and a pinch of salt and pepper. Spread on a foil or parchment lined baking sheet in a single layer and roast for 20 minutes. Remove from oven and stir, roast another 15-20 minutes, or until veggies are deep and caramelized. Remove from oven and drizzle with the lemon juice before serving.
Nutrition Facts
Roasted Broccoli and Brussels Sprouts
Amount Per Serving
Calories 92
Calories from Fat 63
% Daily Value*
Fat 7g11%
Carbohydrates 6g2%
Protein 3g6%
* Percent Daily Values are based on a 2000 calorie diet.
Download Your FREE Paleo Starter Kit Today!
3-Day Paleo Diet Meal Plan
Comprehensive Paleo Diet Shopping List
5 of Our Favorite Paleo Diet Recipes