Cauliflower might just be the most versatile vegetable out there.
Need a substitute for rice?
Use cauliflower. Trader Joe's has frozen and refrigerated riced cauliflower that takes the work out of everything. It's kind of the best thing ever.
Need a substitute for mashed potatoes?
Cauliflower. 
Want a sneaky way to add veggies and fiber to your morning smoothie?
You guessed it. Cauliflower. 
You can even make pizza crusts out of cauliflower. It's a little bit involved, if I'm being honest, but you can do it. And once you master it, it's pretty great. Especially if you're a pizza lover.
The other great thing about cauliflower though is that it can be flavored in a ton of different ways. Naturally, cauliflower's flavor is pretty neutral, so it takes on whatever spices you want to put on it.
On top of all that, cauliflower is a cruciferous vegetable. Cruciferous veggies have phytonutrients in them that help our liver with its detox functions.
Cauliflower is also packed full of vitamins – specifically vitamin C and vitamin K. These both play important roles in keeping our immune system and bones in tip top condition.
Basically, if you're catching my drift here, cauliflower is awesome. And when you curry it up – like our latest recipe – it becomes even more awesome.
All you have to do is toss the cauliflower (and peas, if you're following this specific recipe) in coconut oil and curry powder. Put the veggies on a baking sheet and roast for around 30 minutes.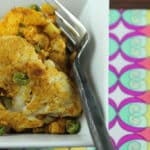 Curried Roasted Cauliflower
Spicy and flavorful, this easy side dish adds exotic flair to anything you serve it with.
Ingredients
1

head cauliflower

cut into florets

1/2

cup

fresh or frozen peas

1

tablespoon

curry powder

2

tablespoons

coconut oil

Sea salt and fresh ground pepper

to taste
Instructions
Preheat oven to 400 degrees F.

Toss the cauliflower and peas with the curry and coconut oil. Lay on a baking sheet and roast for 30 minutes, or until tender.

Serve immediately.
Download Your FREE Paleo Starter Kit Today!
3-Day Paleo Diet Meal Plan
Comprehensive Paleo Diet Shopping List
5 of Our Favorite Paleo Diet Recipes