This Pumpkin Paleo Pancakes recipe is brought to you from Jenny Sansouci of Healthy Crush. Check our more of her great recipes and her best yoga mat recommendations here. Take it away Jenny!
====
Happy Thanksgiving!
Pumpkin season is here, and we all know that one of the best things about fall is baking treats. When you're following a paleo diet, you may think you can't join in on the pumpkin festivities, which is pretty depressing. But worry not because it's totally possible to make grain-free paleo pumpkin pancakes. It's true. Trust me on this, it's a winner — I tested this recipe to perfection.
I got the idea for pumpkin paleo pancakes because I'm obsessed with this amazing paleo pancake recipe, which uses just 3 ingredients – banana, almond butter and egg. It's just too easy and perfect. (Although as a side note, I always use 2 eggs and 1 banana that recipe instead of the other way around).
The other day, one of my health coaching clients asked me what she could use instead of banana to make the paleo pumpkin pancakes, in order to lower the sugar.
Pumpkin is the perfect replacement for banana — there's only 3.2 grams of sugar in 1 cup of pumpkin vs. 14 grams of sugar in 1 banana. Score.
I figured I could probably just sub out the banana for pumpkin equally and call it a day. Turns out it took a little more finesse than that. I tried and failed for about 2 days straight before I got the measurements down perfectly.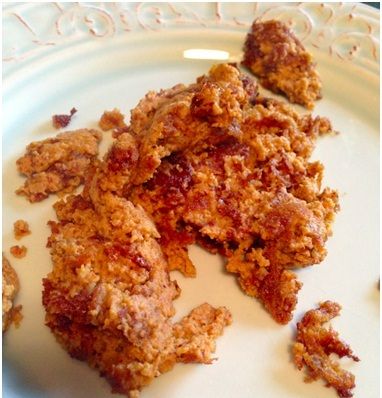 One of my failed pancake attempts (don't get me wrong, I still ate it, and it was delicious). A friend of mine texted me with a rough estimate of how she made hers, and I realized the problem was that I was using wayyyyy too much pumpkin. Amateur move.
When I finally made the perfect paleo pumpkin pancake, it was truly a glorious moment for humanity. So good! Here's the recipe:
Pumpkin Paleo Pancake Recipe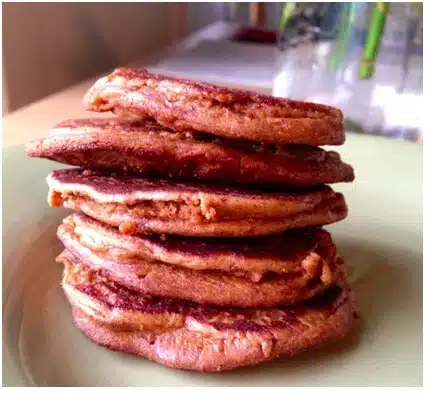 Paleo Pumpkin Pancake
Ingredients
1

Egg

1/4

cup

Almond butter

3

tbsp

Pumpkin

(canned)

1

tbsp

Cinnamon

1

pinch

Sea salt

Coconut oil

(or grass-fed butter for the pan)

Maple syrup and butter

(for topping)
Instructions
Add all ingredients to a mixing bowl and mix well until you have a pancake batter. Add coconut oil or butter to a pan and cook pancakes until brown on each side.

Dress these babies up with some grass-fed butter and organic maple syrup, and you'll forget conventional flour and sugar pancakes ever existed!

That's it! Now it's time to throw a fall-themed paleo brunch and impress everyone you know with your mad paleo pumpkin pancake skills.
Nutrition Facts
Paleo Pumpkin Pancake
Amount Per Serving
Calories 212
Calories from Fat 162
% Daily Value*
Fat 18g28%
Sodium 136mg6%
Potassium 338mg10%
Carbohydrates 14g5%
Protein 5g10%
Vitamin A 1650IU33%
Vitamin C 5mg6%
Calcium 170mg17%
Iron 4.1mg23%
* Percent Daily Values are based on a 2000 calorie diet.
====
For more of Jenny's delicious recipes, check out the following popular ones:
Download Your FREE Paleo Starter Kit Today!
3-Day Paleo Diet Meal Plan
Comprehensive Paleo Diet Shopping List
5 of Our Favorite Paleo Diet Recipes