The Quick Answer
Yes. Natural sweeteners are paleo.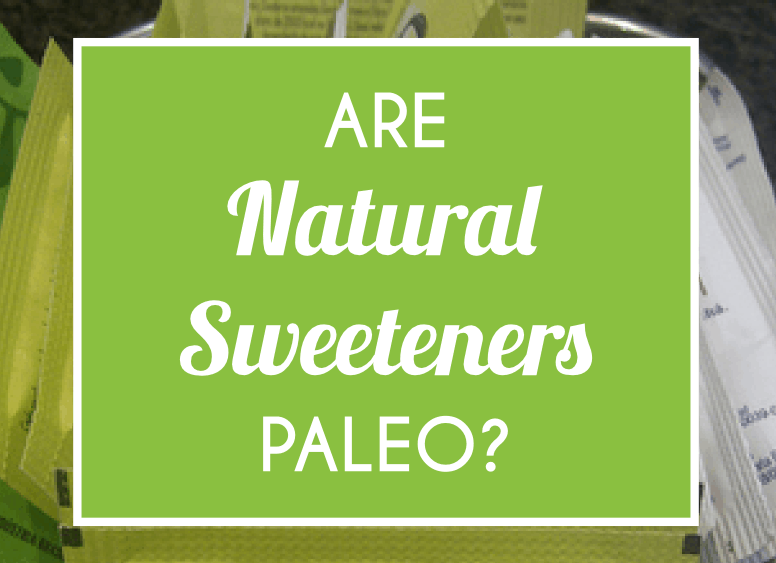 Why Are Natural Sweeteners Paleo?
High quality, naturally occurring forms of sweeteners, including raw honey, 100% pure maple syrup, coconut nectar, blackstrap molasses, and stevia extract, are traditional, healing foods that have been used to add sweetness to unprocessed foods, boosting the taste and appeal of many nutrient-dense foods, for thousands of years. In addition to improving taste, some natural sweeteners actually have health benefits of their own, helping to boost immunity and fight off infection, and help with skin irritations, for example. Some contain antimicrobial, antibiotic, and anti-inflammatory properties, as well as traces of some important minerals and vitamins.
Researchers know that humans are naturally drawn to the taste of sweetness. It is human nature to seek out and enjoy natural forms of sugar, including fruit and other sweeteners. We know that in Paleolithic times, when people had access to sweet tasting foods that were derived naturally from plant foods, they did eat and enjoy them in moderation. Today, the paleo movement recognizes the desire or need for some type of sweet tastes in the diet and encourages the use of natural sweeteners. It does not, however, promote the consumption of overly processed white and brown cane sugars, which are harmful to blood sugar and insulin levels and which negatively impacts people's moods and energy.
It is very likely that any recipe you are looking to create that normally contains a type of refined cane sugar (listed under names like brown sugar, beet sugar, high fructose corn syrup, agave nectar, brown rice syrup, and barley malt, for example) that can be replaced with another form of natural sweetener instead. You can find plenty more information on subbing in different forms of sweeteners in baked recipes online or, if you are simply looking to add sweetness directly to something like a smoothie, fruit, or coffee, you can directly sub in a teaspoon or two of any natural sweetener.
In comparison to more processed forms of sweeteners (like sugar, high fructose corn syrup, and agave nectar), natural sweeteners like raw honey and blackstrap molasses can be enjoyed in moderate amounts without causing too much of a problem for most people. Most natural sweeteners are thought to be lower on the glycemic index than regular white cane sugar, meaning they will have less of an effect on blood sugar levels and insulin spikes and dips. Coconut sugar, molasses, and stevia are classified as lower glycemic index foods than sugar and some other processed sweeteners and, because of this, people who find sugar too hard to metabolize due to its higher glycemic index, can sometimes do much better with natural sweeteners.
The key here, of course, is using sweeteners in moderation. Adding a small amount (one to two teaspoons once per day for example) of pure maple syrup, honey, or another form of natural sweetener to your meals is a great way to naturally appease your sweet tooth without causing too much damage, since other more refined and processed forms of sugar, found in many modern packaged foods, are not paleo.
Considering the fact that most forms of sweeteners have roughly the same amount of calories and sugar grams in them (usually around 45-60 calories per tablespoon and 12-15 grams of sugar), with the exception of stevia, which has zero of both, it is a smarter idea to go for less processed and more beneficial forms whenever possible. However, of course there is such thing as "too much of a good thing." If you are someone who really needs to watch their sugar intake, you will want to be careful about how much natural sweetener you consume, and aim to keep the amount very low (one teaspoon per day or less).
When purchasing natural sweeteners, quality is important. It's best to buy sweeteners in organic form from a reliable distributor that can ensure they are very minimally processed and that they still contain their trace mineral benefits. Any time a raw variety is available, for example raw honey or pure unprocessed maple syrup, go for that.
Is There Any Confusion When It Comes To Natural Sweeteners Being Paleo?
Yes. To some degree, people disagree about whether or not certain sweeteners should be considered paleo, especially when it comes to stevia extract and coconut sugar (which are normally somewhat processed). Some people choose to stay away from sweeteners altogether, because they feel they only hinder their ability to overcome food cravings and eat completely cleanly. So, while most paleo followers feel that natural sweeteners are an acceptable food, others disagree and believe that including them in one's diet is unnecessary and that this can add to illnesses, cravings for sweets, and problems balancing energy, especially when controlling portions is an issue.
So Are Natural Sweeteners Paleo?
Yes. Natural sweeteners are paleo.
How To Know What Is And Isn't Paleo
Check out Paleo.io, the mobile app that answers the question, "is __ paleo?" Paleo.io comes with the most comprehensive paleo diet food list out there, so no matter which food you're confused about, you'll always be able to find out whether or not it's paleo.
Photo credit: Mark Hillary
Download Your FREE Paleo Starter Kit Today!
3-Day Paleo Diet Meal Plan
Comprehensive Paleo Diet Shopping List
5 of Our Favorite Paleo Diet Recipes