The Quick Answer
No. Regular white cane sugar and its derivatives are not paleo, however, certain other forms of sugar (those that are found in nature) generally are considered to be paleo.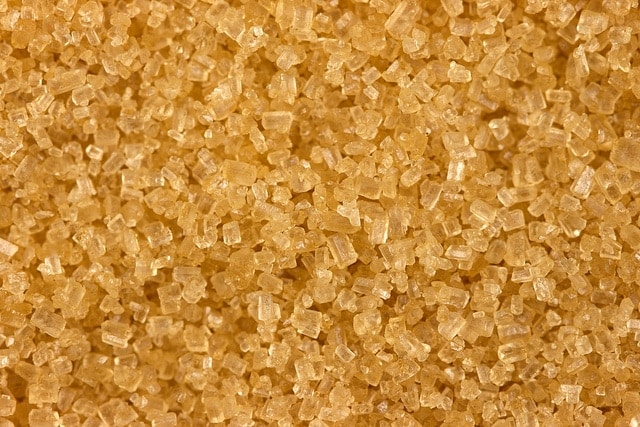 Why Aren't/Are Different Types of Sugar Paleo?
White cane sugar is not paleo for the following reasons:
It has an extremely high score on the glycemic index and wreaks havoc on your blood sugar levels, which can lead to insulin resistance and other conditions.
It doesn't contain any nutrients at all and is associated with serious diseases, including diabetes, autoimmune diseases, heart disease, and obesity.
Although the cane plant that is used to make sugar is found in nature, it undergoes a lot of processing before it becomes the edible crystals that we are accustomed to eating. Therefore white cane sugar could not have been eaten in when cavemen were around, since the necessary technology did not exist.
What About Other Sweeteners?
What about other sweeteners like beet sugar, high fructose corn syrup, agave nectar, brown rice syrup, and barley malt? They're not paleo for exactly the same reasons. They're highly processed and high on the glycemic index.
On the other hand, some natural forms of sugar are considered to be paleo: raw honey, good quality maple syrup, organic Stevia, molassess, and a few lesser known natural sweeteners like chicory root and inulin fiber.
These sweeteners are considered paleo (at least by some) because they occur in nature, don't require any filtration or processing, and do offer some trace amounts of minerals.
Of course sugar found naturally in fruit (fructose) is also considered paleo, since fruit is paleo. Fruit is paleo because it is natural, needs no processing, and contains important and beneficial nutrients including fiber, antioxidants, and phytochemicals. So even though fruit does contain a relatively high amount of sugar, the benefits they provide outweigh the bad.
Why Is There Confusion?
There is no disagreement when it comes to white cane sugar, as everyone (even people who are far from paleo followers) accepts that this is a harmful food, devoid of any nutrients.
The debate arises when we consider how natural sweeteners should be classified. On the one hand, some people feel that any sugar or sweetener (other than that found in fruit) should be considered non-paleo because of its negative impact on blood sugar levels, energy, and cravings, and because sweeteners can lead to disease when eaten in large enough quantities, just like regular sugar can. This side feels that sugar in any form is still sugar.
However others feel that as long as people watch their portion sizes and eat only natural sweeteners, other forms of sugar can be incorporated into a healthy diet without any problem. They point out that people living in Paleolithic times likely did eat some raw honey and other sweeteners. That said, the kinds and amounts they ate were probably very different to the forms and quantities we eat them in today. High quality, raw, natural forms of sugar are thought to be traditional, healing foods that contain antimicrobial/antibiotic/anti-inflammatory properties and also traces of some important minerals and vitamins.
Sugar Is Not Paleo
To sum up, sugar is not paleo because it wreaks havoc with your blood sugar levels, undergoes a lot of processing, and doesn't have much to offer your body in terms of nutrition. Some people do eat sweeteners on paleo. Whether or not you do is up to you. If you would like to reduce your sugar intake, we recommend The 21-Day Sugar Detox. You can read our review of it here.
How To Know What Is And Isn't Paleo
Check out is Paleo.io, the mobile app that answers the question, "is __ paleo?". Paleo.io comes with the most comprehensive paleo diet food list out there, so no matter which food you're confused about, you'll always be able to find out whether or not it's paleo.
Further Resources And Reading
If you want to learn more about why white sugar isn't paleo but some other forms of natural sugars are, check out these resources:
This post gives a great overview of which sweeteners are and aren't normally thought to be paleo.
This post deals with the controversy surrounding natural sweeteners.
Download Your FREE Paleo Starter Kit Today!
3-Day Paleo Diet Meal Plan
Comprehensive Paleo Diet Shopping List
5 of Our Favorite Paleo Diet Recipes