The Quick Answer
Yes. Maple syrup is paleo.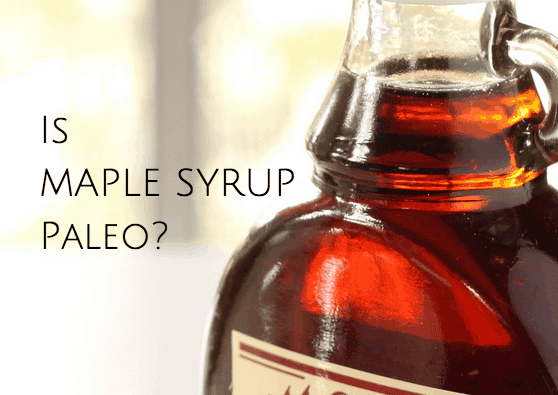 Why Is Maple Syrup Paleo?
Maple syrup (in its most natural, unprocessed form) is paleo because it's a natural food that has been eaten by people throughout history. It is a great alternative to white sugar and can even contain trace amounts of some beneficial nutrients.
Good quality, 100% pure maple syrup is a substance formed on trees. You can see it forming around tree bark and probably think of it as the tree's "sap". People have been eating natural sweeteners like maple syrup since Paleolithic times (although probably not in the quantities that we consume it today because of the existence of foods like baked goods). The Native Americans were using maple syrup when the Europeans first arrived in the Americas.
The kind of maple syrup that you find in most supermarkets today (and that is used with pancakes and French toast) is not the kind that is paleo-approved. Commercial and branded varieties of maple syrup (like Aunt Jemima) are overly processed and devoid of nutrients because they're processed at high temperatures and because they contain added ingredients. However, if you purchase good quality maple syrup – the kind normally produced by small farmers – you are consuming a product that is paleo-approved. It is believed that maple syrup does contain some nutrients since it comes from a tree.
Consuming maple syrup in moderation is a great way to satisfy your sweet tooth, since other more refined and processed forms of sugar are not paleo. The chances are that any packaged food you come across will contain refined cane sugar (listed under names like beet sugar, high-fructose corn syrup, agave nectar, brown rice syrup, and barley malt). This can be replaced with some maple syrup instead. Just be careful about how much you use, since it does still contain a good amount of sugar and carbs.
Why There's Confusion
Certain paleo followers choose not to include any added sweeteners in their diet at all because they feel it's unnecessary to consume them and because they believe that consuming sweet foods can increase cravings for sweet things.
It can be easy for people to overdo it on sweets and to start including paleo sweeteners in everything from paleo cookies to paleo banana bread. The bottom line is that maple syrup is OK if used in small quantities, but that when you have too much of it, it can cause the same problems that other sugars cause (mood swings, cravings, headaches, and possibly insulin resistance).
So, Is Maple Syrup Paleo?
Yes, maple syrup is paleo.
To sum it up, maple syrup has been eaten since Paleolithic times, it's a natural sweetener, it doesn't appear to have any harmful effects on the human body, and it may even provide some health benefits. While regular white cane sugar is very processed and harmful to blood sugar and insulin levels, and negatively impacts people's moods and energy levels, natural maple syrup can be enjoyed in moderate amounts without causing any problems for most people.
How To Know What Is And Isn't Paleo
Check out Paleo.io, the mobile app that answers the question, "is __ paleo?" Paleo.io comes with the most comprehensive paleo diet food list out there, so no matter which food you're confused about, you'll always be able to find out whether or not it's paleo.
How To Consume Less Sugar
If you're concerned about the amount of sugar you're consuming, consider doing The 21-Day Sugar Challenge. For more information out it, read our review of The 21-Day Sugar Detox.
Photo credit: Stacy Spensley
Download Your FREE Paleo Starter Kit Today!
3-Day Paleo Diet Meal Plan
Comprehensive Paleo Diet Shopping List
5 of Our Favorite Paleo Diet Recipes