The Quick Answer
Yes. Mushrooms (all kinds) are paleo.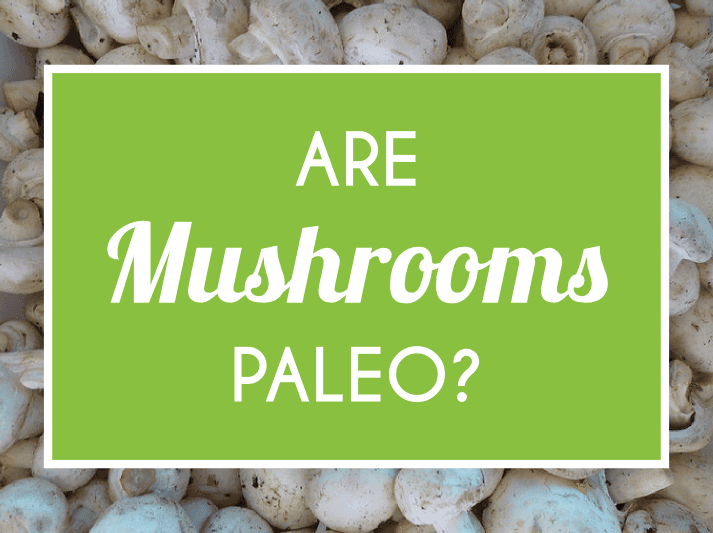 Why Are Mushrooms Paleo?
All types of mushrooms (including cremini, button, Portobello, shiitake, and so on) are paleo because they are extremely rich in nutrients and because they have various disease-preventing abilities. They are found in nature and have been consumed for many years. Mushrooms offer important phytonutrients, antioxidants, protein, fiber, healthy carbs, and vitamins. Mushrooms are high in antioxidants, making them one of the best "cancer-fighting" vegetables around. Their antioxidants give them the ability to fight damaging free radicals in the body, which, left uncontrolled, can lead to various chronic diseases like cancer, heart disease, and so on.
Mushrooms belong to a group of foods called fungi, although they are commonly thought of and classified as non-starchy vegetables. They are technically neither an animal nor a plant (which is pretty cool, isn't it?). The fact that they are non-starchy is good news because it means you can eat tons of them without taking in too many grams of sugar or carbs. They're therefore a great choice for people who want to lose weight.
Different varieties of mushrooms have different health benefits and uses. Here is an overview of some of their best benefits:
White mushrooms (cremini, button, Portobello) are great for weight loss and prostate cancer prevention. These types contain a carbohydrate that increases metabolism and that controls blood sugar levels.
Shiitake mushrooms are helpful in fighting harmful tumors. They're also anti-inflammatory, antibacterial, a good source of vitamin D.
Reishi mushrooms are considered a "super food" due to their anti-cancer, anti-oxidant, anti-bacterial, anti-viral, and anti-fungal properties.
Maitake mushrooms help to find abnormal cells and cause them to self-destruct, which is bad news for cancerous cells.
Oyster mushrooms may be helpful in defending the body against viruses like HIV. They are also anti-inflammatory and high in antioxidants.
Chanterelle mushrooms contain anti-microbial, anti-bacterial and anti-fungal properties. They are also high in vitamins C and D and potassium.
Porcini mushrooms are highly anti-inflammatory. These are meaty mushroom similar to Portobello mushrooms and they can be great for weight loss.
Shimeji mushrooms (common in Japanese dishes) are a traditional remedy for destroying growing tumors. They help to ward off diabetes and prevent asthma.
Mushrooms are encouraged in unlimited quantities for the most part on the paleo diet. Each type tastes a bit different, which is great for getting some variety into your diet. Vegetarians should note that mushrooms are a great substitute for meat (think Portobello burgers) thanks to their chewy texture. They're also great stuffed, and in stir-fries and omelets.
Is There Any Confusion When It Comes To Mushrooms Being Paleo?
No, there isn't any confusion in the paleo community. Mushrooms are always considered paleo.
So Are Mushrooms Paleo?
Yes, mushrooms are definitely paleo. They are unprocessed, found in nature, high in disease-preventing nutrients, and filling but low in calories. Mushrooms have been eaten by people for medicinal purposes for thousands of years, especially in the East. Mushrooms still considered "super foods" today by many people.
How To Know What Is And Isn't Paleo
Check out Paleo.io, the mobile app that answers the question, "is __ paleo?" Paleo.io comes with the most comprehensive paleo diet food list out there, so no matter which food you're confused about, you'll always be able to find out whether or not it's paleo.
Photo credit: Mike Licht
Download Your FREE Paleo Starter Kit Today!
3-Day Paleo Diet Meal Plan
Comprehensive Paleo Diet Shopping List
5 of Our Favorite Paleo Diet Recipes