Let's be honest – we could all use a little more H2O in our lives.
I am a total fan of plain water. As a kid, my parents really didn't keep have soda in the house. Our staples were milk (my dad had deep roots in dairy farming, so we always had gallons of milk in the fridge) and water.
Because of this, I've never had trouble getting in enough water. I've never found it boring. I never had to struggle giving up sugary drinks. Thanks, Mom and Dad.
But I realize that this probably isn't the norm. When first making the transition to paleo, many people have told me just how hard it is to give up those sugar-filled beverages.
Therefore, we have to get creative with our water situation. And that's where fruit, veggies, and herbs can come in handy.
This lemon cucumber mint water gives you just that subtle taste of freshness. And because we're using sparkling water, you even get the bubbles.
Let this beverage up your water consumption and give your tastebuds a little treat. Perfect for the warm spring and summer days that are approaching.
Stay hydrated, my friends.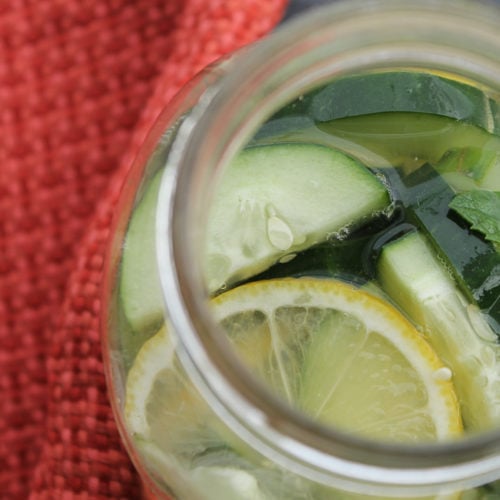 Lemon Cucumber Mint Spritzer
If you have a hard time giving up soda, this easy spritzer is perfect. You'll get nutrients and flavor without the sugar and carbs in your favorite soda.
Ingredients
32

ounces

sparkling water

1

cucumber

thinly sliced

1

lemon

thinly sliced

1

bunch fresh mint leaves
Instructions
Put all of the ingredients in a pitcher and refrigerate for 1 hour. Best if served within a day or two.
Download Your FREE Paleo Starter Kit Today!
3-Day Paleo Diet Meal Plan
Comprehensive Paleo Diet Shopping List
5 of Our Favorite Paleo Diet Recipes