The Quick Answer
No, artificial sweeteners are not paleo.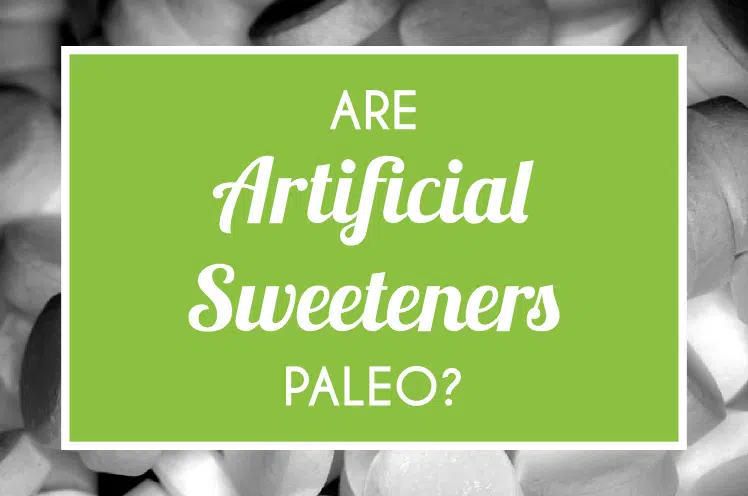 Why Aren't Artificial Sweeteners Paleo?
While many people assume they are being smart and healthy by switching from real sugar to artificial sweeteners, they are failing to take into account the many harmful properties of artificial sweeteners. The artificial chemicals that make up popular artificial sweeteners like Splenda, Equal, and Sweet N' Low have been linked with numerous health problems as well as noticeable and immediate changes in food cravings and digestion.
Artificial sweeteners are completely man-made, processed foods, created in complex laboratory settings. Today they are commonly added to many types of popular packaged foods that are marketed as "light", "diet", and "sugar-free". It's very common to find at least one type of artificial sweetener, if not more, in foods like yogurt, cereal, frozen meals, diet sodas and other diet drinks, gum, breads, condiments, and more.
In addition to artificial sweeteners, "sugar alcohols" also exist, which are not technically the same as artificial sweeteners because they do contain trace amounts of calories and sugar. Sugar alcohols are associated with many digestive problems and are often combined with artificial sweeteners to enhance sweetness. They are commonly listed on ingredient labels as "xylitol" or "sugar alcohol."
Artificial Sweeteners Lead To Sugar Cravings
Studies have found that artificial sweeteners disrupt the body's natural ability to regulate calorie intake, interpret hunger signals, and deal with food cravings. Consuming them leads people to crave even more sweet foods and drinks because their bodies are confused by the artificial, chemical properties. This leads to metabolic problems and overconsumption.
Once we taste something sweet, our brains expect us to consume sugar and therefore calories as well. However, when we consume artificial sweeteners, no calories or sugar follow the sweet taste. The brain then signals to the body that it wants other forms of sugar and sweets to compensate for the lack of calories consumed.
Repeatedly consuming sweets can also lead to a sugar habit. For example, if someone has a diet yogurt with their breakfast each day, diet soda with lunch, and diet ice cream after dinner, they'll get into the habit of constantly consuming sweets and wind up craving them more and more.
Because artificial sweeteners are much sweeter than regular sugar, they activate our taste buds to prefer foods with very strong sweet tastes. This means people tend to consume even more of these artificially sweetened foods than they would of regular, sugar-sweetened versions. Furthermore, people see sugar-free foods as healthy and don't worry about how much of them they consume.
Artificial Sweeteners Slow Down Metabolism And Cause An Insulin Release
After reviewing over a dozen artificial sweetener studies, researchers deemed artificial sweeteners "counterintuitive" in terms of helping people to lose weight and become healthier. Artificial sweeteners have been shown to slow down your metabolism and even release insulin into the blood stream, even though they contain no real sugar.
In animal studies, rats that consumed artificial sweeteners ate more, their metabolism slowed down, and they gained an average of 14% of their body fat, all within about two weeks. This happened even though the rats were not consuming many more calories at all, showing how the artificial sweeteners had negative effects on brain chemistry, insulin levels, fat storing abilities, and metabolism.
Do Artificial Sweeteners Cause Cancer?
The verdict is still out on whether or not artificial sweeteners can lead to serious conditions like cancer. Because they are a modern food and have only been available for a short time, long term studies have not been carried out on them.
Brand Names Of Artificial Sweeteners
You will always want to check ingredient labels if you are eating anything packaged, especially if it is a "light" or a "diet" food. Look out for these common artificial sweeteners:
Aspartame (brand names NutraSweet or Equal)
Possible health risks and related symptoms: Headaches, fibromyalgia, anxiety, arthritis, abdominal pain, nausea, irritable bowel syndrome, seizures, and weight gain. Chemicals in aspartame also impact brain and central nervous system functions, which play a role in the development of mood disorders.
Acesulfame-K (brand names Sunett or Sweet One)
Possible health risks and related symptoms: nausea, headaches, mood problems, impairment of the liver and kidneys, problems with eyesight, and possibly cancer. Studies have also revealed a link between the sweetener and the development of multiple cancers in laboratory animals.
Sucralose (brand name Splenda)
Possible health risks and related symptoms: head and muscle aches, stomach cramps, diarrhea, bladder issues, skin irritation, dizziness, and inflammation. A recent study showed that consuming sucralose can reduce healthy intestinal bacteria, which leads to poor digestion and other autoimmune disorders when allowed to continue.
Saccharin (brand name Sweet'N Low)
Possible health risks and related symptoms: allergies, nausea, diarrhea, skin problems, and other allergy-related symptoms. Studies of saccharin have shown that the sweetener causes bladder cancer in rats.
Is There Any Confusion When It Comes To Artificial Sweeteners Being Paleo?
No. Artificial sweeteners are not paleo. There are better ways to sweeten your foods and drinks.
If you're looking for a way to sweeten your drinks or food and don't want to carry honey or maple syrup around with you, stevia is another good option. Stevia is not an artificial sweetener, although it can be found in packets in powder form, which can make it seem like one.
It is actually a natural sweetener, derived from the leaves of the stevia rebaudiana plant. High-quality stevia is thought to have some trace nutritional benefits (or at least to be far less harmful than other processed sweeteners). To date, there have been no studies done that show any downside to consuming stevia, and some research even shows that it can help to balance blood sugar levels and regulate insulin, so it's a good thing to keep on hand for times when you need a quick fix when you're on the go (for example, when you are getting a coffee or a tea at a coffee shop and you want to sweeten it naturally).
So, Are Artificial Sweeteners Paleo?
No, artificial sweeteners are not paleo.
How To Know What Is And Isn't Paleo
Check out Paleo.io, the mobile app that answers the question, "is __ paleo?" Paleo.io comes with the most comprehensive paleo diet food list out there, so no matter which food you're confused about, you'll always be able to find out whether or not it's paleo.
Photo credit: Pascal
Download Your FREE Paleo Starter Kit Today!
3-Day Paleo Diet Meal Plan
Comprehensive Paleo Diet Shopping List
5 of Our Favorite Paleo Diet Recipes