In case you haven't heard, eating pasta is a no-go these days. While many of us would like to think that the Maggiano's sized portion of pasta is okay for an individual dinner, it is quite the opposite (except for low carb pasta)
Pasta is very high in simple carbohydrates, has more calories and has less fiber and nutrients since the pasta has been stripped of the germ and bran. Many studies have found that eating too many carbs increases blood pressure, waist circumference, bad LDL cholesterol, insulin resistance, blood sugar, blood triglycerides and the risk of heart disease.
Luckily, there have been a flurry of low carb pastas that have bubbled up over the past few years.
Despite this, pasta can be a healthy dish when eaten in moderation with healthy meats and vegetables. However, many fail to prepare pasta dishes with this in mind and usually go over the recommended serving size while skipping out on vegetables. In order to meet the daily vegetable quota while enjoying those classic pasta dishes, many have adopted specific diets.  
First, of all – let's talk diets.
What diets are low carb?
The most popular diets in the past few years have focused on eating high fiber fruits and vegetables, lean meats while cutting back on foods high in simple carbohydrates. The two most notable diets are the paleo diet and the ketogenic diet.
The paleo diet focuses on whole foods while eliminating legumes, grains and most processed foods whereas the keto diet emphasizes controlling the body's dependence from carbs to fat as energy through the monitored consumption of macronutrients. These low carb diets have similar objectives, but are truly unique, which allows individuals to choose a diet that best suits them. 
Low Carb Pasta on The Paleo Diet
The paleo diet, or the "caveman" diet, is a focus on eating natural, real food that is widely available with little or no processing. In other words, the paleo diet focuses on eating the way nature intended us to eat.
Basically, if a hunter-gatherer wouldn't have been able to eat it 10,000 years ago, you shouldn't eat it either. When it comes to grains, they do not qualify as paleo.
Grains are very simple carbohydrates. That means they break down into sugar quickly. This causes a spike in your blood sugar levels, which in turn causes a spike in your insulin levels.
High insulin levels prevent your body from burning fat because they cause your body to convert the excess glucose in your bloodstream into energy and store the rest as fat. In addition to this, grains are avoided when on the paleo diet since they contain anti-nutrients: lectins, phytates and gluten.
Due to the paleo diet being grain-free, one can expect to kiss spaghetti and fettuccine, "Goodbye!"
Low Carb Pasta on the ketogenic diet
The ketogenic diet has become increasingly popular in the past couple of years thanks to celebrities and and health fitness gurus. The keto diet promotes eating meals that are high in fat, moderate in protein and low in carbs. The purpose is for the body to enter a metabolic state called ketosis, where the body produces ketones.
When in ketosis, the body switches its fuel to run on ketones instead of glucose, which makes it easier to access fat stores to burn them off. While the keto diet does promote the concept of eating more fat and protein than carbs, one needs to be aware that not all proteins, fats and carbs are the same, which affects the types of ingredients that go into meal preparation.
For example, one may think that a breakfast complete with bacon and butter is a great example of a keto breakfast due to being high in fat and protein. However, the keto diet encourages one to still eat heathy fats, proteins and veggies while consuming a limited amount of processed meats.
A better example of a keto breakfast would have something such as: eggs, avocado and cucumbers with 75-80% of calories from fat, 15-20% from protein and 5-10% from carbs. Knowing that the keto diet is characterized by eating foods low in carbohydrates, pasta is a no-go when on this diet.
Here's a quick rundown on the differences between paleo and keto.
What are my Low Carb Pasta options? 
Alright pasta lovers, you must be thinking, "Well, what CAN I eat??" Luckily, there are healthy alternatives that can substitute for low carb pasta in a variety of recipes when on the paleo and keto diet. 
Zoodles 
Zucchini + spiralizer = zoodles
If you're a pasta lover, zoodles are the way to go. You can get that pasta fix without all of the carbs. Zoodles have 5 net carbs, no fat and 3 grams of protein per cup. Zoodles have multiple vitamins and minerals, and are perfect for anyone trying to lower their blood sugar or decrease their risk of diabetes or heart disease.
Our Favorite Recipes:
Spaghetti Squash
Spaghetti squash is a winter squash low in calories, rich in fiber, vitamins, minerals and antioxidants. It contains only 5 grams of net carbs, zero fat and one gram of protein per cup. Spaghetti squash makes a great weeknight dinner because it is so versatile and makes a large portion of food. Just one spaghetti squash can provide 6 to 8 servings.
Our Favorite Recipes:
Black Bean Pasta
While those following the paleo diet can't eat legumes, individuals that are keto can have all the black bean pasta that they want. Black bean pasta has been known to cook and have the same texture as pasta, but it is more filling. This pasta is packed with protein and has 25 grams per serving.
Our Favorite Recipes:
Miracle Noodles (Shirataki Noodles)
Miracle noodles are carb-free, have no calories and are made of glucomannan, which is a fiber from the konjac root. These noodles are clear and pretty much take on the flavor of whatever they are cooked or prepared with. Also, Miracle noodles are gluten-free, soy-free and vegan.
Our Favorite Recipes:
Capello's Almond Flour Fettuccine
If you have missed fettuccine, look no further. Capello's gluten and grain-free almond flour fettuccine is made primarily from eggs and almond flour. This pasta has 9 grams of protein per serving and is packed with healthy fats, vitamin E, manganese and magnesium.
Our Favorite Recipes:
The Low Carb Pasta Conclusion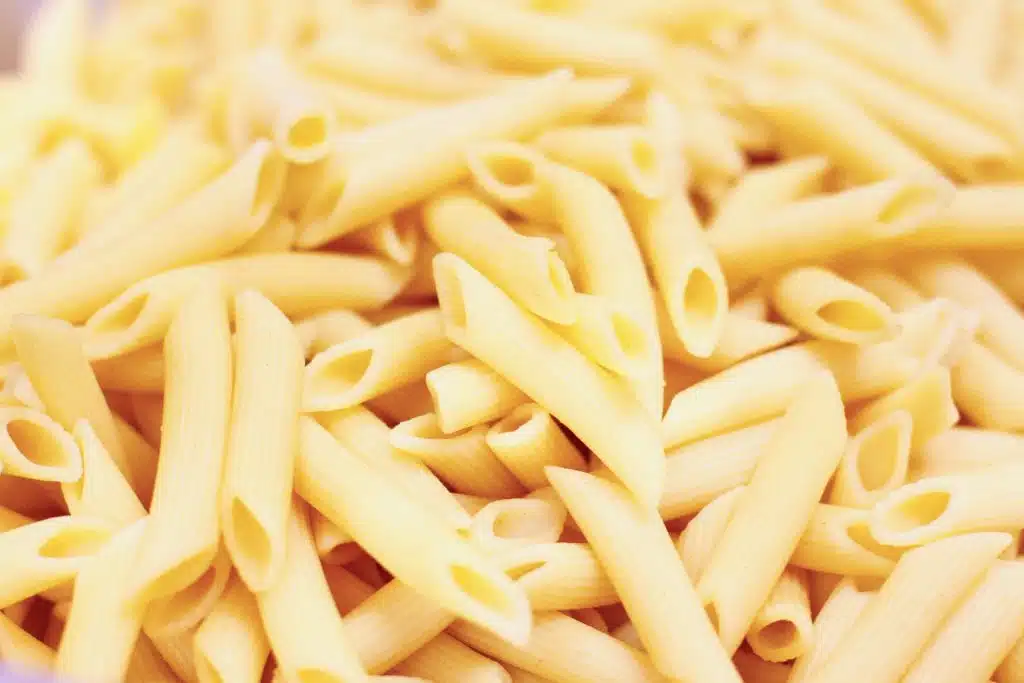 Pasta is a dish that should be enjoyed in moderation with a focus set on eating more vegetables and lean meats. However, most struggle to stick with the recommended serving size and typically overdo it.
Eating too much pasta can result in numerous health problems and lead to unhealthy habits. Instead of depriving yourself of pasta, remember that there are alternatives available.
Those comfort foods Nana used to make can still be enjoyed while keeping that carb count low. So enjoy the recipes, pour a glass of keto vino, and buon apettito!   
Download Your FREE Paleo Starter Kit Today!
3-Day Paleo Diet Meal Plan
Comprehensive Paleo Diet Shopping List
5 of Our Favorite Paleo Diet Recipes