This is what a nutritionist eats in a day…
Sometimes the most overwhelming part of eating healthy is choosing what to eat. I get it. One thing the readers of this blog alway want to know is "what should I eat?"
And, in a very anti-climactic fashion, my answer is that there is no "right" answer. Nutrition is highly individualized, and there is not one correct formula.
One of the most fun parts of the Paleo journey, in my opinion, is that you get to know your body really well. You start to understand what foods affect it negatively and what foods make it feel like a sparkly, magical, fine-tuned machine that's radiating from the inside-out.
That being said, I often get asked what I eat on a daily basis. And while I think you will surprisingly underwhelmed, and maybe even relieved, I thought it'd be a fun post that gives you a look at all the noms I eat in a day.
And while it won't be nearly as funny as Chris Pratt's #whatsmysnack (if you haven't seen these short videos yet, go. Now. Here, here,  here…there's more, just Google if you want a good laugh.)
So, here we go…
Waking up – 6am:
First thing I do is fill a mason jar with water, squeeze some lemon, and drink. Starting your morning with at least a glass of water not only re-hydrates your cells after a long sleep (cells get thirsty too!), but the added lemon also helps kickstart your digestion. The lemon juice's acidity makes the body think that it needs to produce bile to aid in digestion. This helps food you eat later in the day break down better.
Breakfast – 8am:
My formula for breakfast is: veggies, protein, healthy fats. The type of each varies dependent upon my mood, but those three things are there in one form or another EVERY time.
This morning, I went with a piece of leftover salmon from the previous night, some eggs scrambled in ghee, and a side of steamed broccoli.
Veggies: Broccoli. Check.
Healthy fats: ghee, egg yolks. Check.
Protein: eggs, salmon. Check
This took 10 minutes to put together and kept me full until noon. SO EASY.
Oh, also coffee. All the coffee.
Lunch – noon:
A couple of eggs on top of a sweet potato that I made into noodles via a veggie spiralizer. I put some spinach under the sweet potatoes for a green boost.
More lemon water – because excellent digestion FTW.
Snack – 3pm (pre-gym):
Time to carb up. For me, I went with a cooked sweet potato topped with 1 tbsp almond butter and a sprinkle of cinnamon. I'll also try to get some protein here as well. I batch cooked chicken breasts on Sunday as part of my meal prep, so I heated up a hunk of that and ate it on the side.
I told you this isn't glamorous, people.
Also, sauerkraut. I eat it right out of the jar. Not ashamed one bit.
Dinner – 7pm: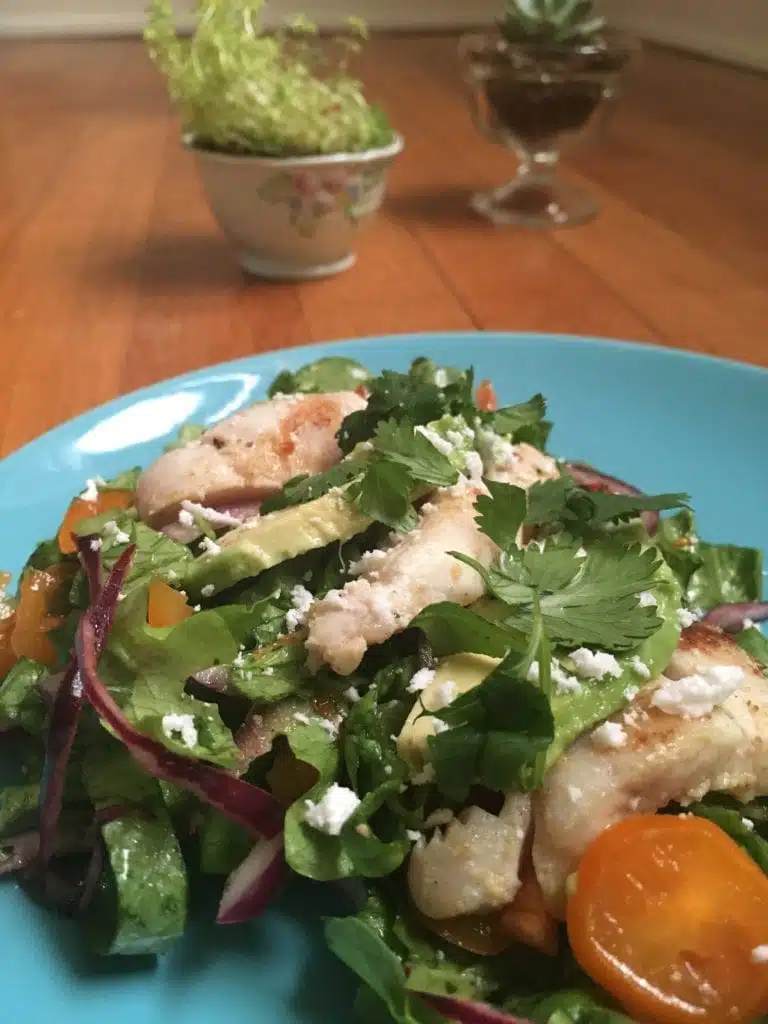 Grilled sole on top of a bunch of veggies drizzled in a homemade salad dressing. Meals like this (some sort of protein source on top of a bunch of veggies) happen at least once a week.
I included a bit of white rice on the side since I do include that in my diet for carbohydrates on workout days. I also sprinkled some local goat cheese on top because I can include a little bit of that type of dairy in my diet and not experience any sort of digestive issues.
Paleo is all about finding what works for YOUR body.
There are a couple of things that I do on meal prep day (Sundays for me) to ensure that I can make these meals in about 15 minutes.
On Sunday, I make sure to chop up at least one onion. I pre-chop my lettuce too and keep it in big glass mason jars. I cook up some white rice too and keep it in the fridge.
When weekday nights get busy, all I have to do to have a filling, nutrient-dense dinner is cook up my protein and slice up an avocado. I layer my pre-chopped lettuce, tomatoes, protein, and dressing in a bowl. Top that delicious concoction with some sliced avo and boom. Done.
A couple of squares of dark chocolate when I'm done. Because dark chocolate is practically medicinal, right?
Before Bed:
I drink a cup of Yogi Soothing Caramel Bedtime Tea. This not only helps me wind down for bed, but it satisfies the need for a little something sweet after dinner.
And – that's it. Do you see how simple I keep it? There are no elaborate recipes or hours slaving in the kitchen. Simple ingredients. Some meal prep time spent on Sunday. Both of those things keep me on track through the week.
I hope this behind the scenes look has been helpful for you all. If you have questions, just drop me a comment. Happy (simple) eating!
Download Your FREE Paleo Starter Kit Today!
3-Day Paleo Diet Meal Plan
Comprehensive Paleo Diet Shopping List
5 of Our Favorite Paleo Diet Recipes