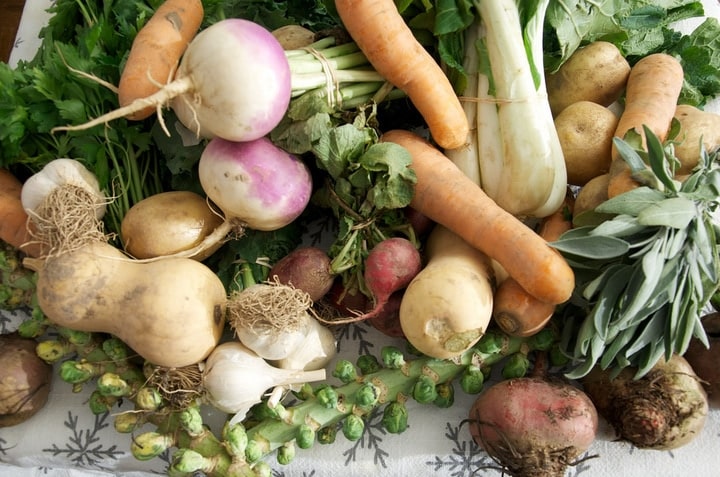 Photo credit: Stoneledge farms CSA (Community Supported Agriculture) Local Farming Week Twenty-Two CLS_6164 via photopin (license)
Here's an alarming fact: nearly 15 million people in the United States have a food allergy. Of that, 9 million are adults and 6 million are children—and that number is on the rise, according to foodallergy.org
With diets that consist of inflammatory foods like processed grains, vegetable oils and packaged goods filled with artificial ingredients, it's no wonder that food intolerances, reactions and sensitivities are diagnosed more than ever before.
A food allergy is biologically a measurable inflammatory response after consuming a specific food. There are many reasons someone might experience a food allergy, including genetics, poor gut health, a stressed immune system and conditions like leaky gut syndrome (intestinal permeability).
Even though most associate allergies with symptoms like itchiness, hives, a runny nose and congestion, allergic reactions to food are actually more dangerous and sometimes less obvious. Whenever the body experiences an intolerance to certain food particles within the digestive tract, it signals the body's immune system to trigger inflammation. Inflammatory responses produce histamines that are meant to protect the body, but in the process oxidative stress increases and swelling and pain usually occur.
The body "remembers" intolerances to certain foods, so it's usually only a matter of moments after eating that food that you can start experiencing histamine reactions. Its key to figure out what types of foods trigger reactions for you because if left ignored—and your diet unchanged—allergies can eventually lead to worse autoimmune conditions like Hoshimoto's disease.
There are various types of food allergies, sensitivities and intolerances, with some of the most common being gluten
and A1 casein found in dairy products. Other foods that also cause a higher rate of reactions include nuts (especially peanuts), eggs, shellfish, corn and artificial food additives like coloring, flavoring and preservatives. Each person is different and there are dozens, if not hundreds, of ingredients that can trigger reactions—which makes it hard to narrow down the culprit when someone has allergic symptoms.
Some foods are far less likely to cause reactions, and can actually help the gut and immune system heal while recovering from allergies. These healing foods include:
Leafy greens: One of the easiest food groups to tolerate, and also the most nutrient-dense, green leafy veggies like kale arugula, watercress, dandelion and chard provide minerals and B vitamins that help improve immune function.
Probiotic-rich or fermented foods: Probiotic foods like kombucha, sauerkraut, kimchi and so on,help repair damaged intestinal lining and repopulate the gut with healthy bacteria.
Bone broth: Bone broth is made from steeping beef and chicken bones along with vegetables in stock. The healing minerals and amino acids (like collagen) from the bones leach into the stock and help support the healing of leaky gut.
Breast milk for infants: This is the best way to prevent food allergies in your child.
Wild-caught fish or free-range chicken: Both are good sources of protein (amino acids), B vitamins and omega-3 fatty acids in the case of fish. They are less likely to cause reactions than eggs, dairy and pork.
Coconut: Coconut oil milk and "meat" are great sources of fatty acids that help with gut function, hormone production and nutrient absorption. They're less likely to cause allergic reactions than nuts and seeds.
If you feel like you might have allergies, do your best to steer clear of these "common culprits":
Gluten: Gluten's a protein found in all wheat, barley and rye (some oats too) that's very likely to cause gut reactions, whether you realize it or not. Remember gluten is found in all bread, wraps, pizza, rolls, cookies and most cereals. Plus it's hiding in most packaged foods in one form or another.
Dairy: Some people can tolerate organic, full-fat, unsweetened dairy products (especially if they're raw and unpasteurized), but many have negative reactions like bloating, cramps, etc. This is especially true when the dairy is sweetened and loaded with artificial flavorings that can exacerbate food allergies.
Sugar: Added to nearly all packaged foods, sugar can cause bad bacterial overgrowth and increase food intolerances and autoimmune reactions.
Artificial ingredients found in packaged foods: You're much more likely to find GMO's like corn, soy, canola and vegetables oils in packaged foods than homemade cooked meals, not to mention sulfites, preservatives, emulsifiers and flavor or texture enhancers that mess with digestion.
Doing an "Elimination Diet" for several months is the best way to determine food intolerances and allergies. While some companies promote allergen tests that claim to identify reactions to hundreds of different foods just by using a sample of your saliva, these are mostly considered inaccurate and not nearly as useful than testing your body's reactions.Aside from removing suspected foods, waiting a period, and then reintroducing them to test for symptoms, you can also try varying your diet to help prevent over consuming certain foods and triggering food allergies. Eating locally and seasonally-grown foods also helps a lot of people.
Keep in mind that there's also several helpful supplements and natural remedies that can help you clear up symptoms while you're overcoming allergies and intolerances. These include digestive enzymes, turmeric, probiotics, MSM, B vitamins and targeted amino acids like L-gluatmine.
How can these help? Digestive enzymes aid the digestive system in fully breaking down food particles, probiotics act like good bacteria in the gut and lower negative immune responses, MSM helps keep allergens from moving into the bloodstream, turmeric reduces inflammation, and B vitamins and amino acids help control histamine response, improve digestion and repair of the immune system.
You bring the will and we'll show you the way: Sign up for a meal plan today?
Download Your FREE Paleo Starter Kit Today!
3-Day Paleo Diet Meal Plan
Comprehensive Paleo Diet Shopping List
5 of Our Favorite Paleo Diet Recipes