One of my favorite beverages right now is kombucha. However, at over three bucks a bottle, it's also putting me in the poor house.
I first started drinking kombucha a few years ago because I was looking for ways to improve my gut health after taking a trip around the world that left me with a jacked up digestive system, some rashes, and other autoimmune-related issues.
I knew I needed more probiotics, fish oil, grass-fed proteins, and fermented foods in my diet but that I needed to avoid grains, legumes, dairy, and stress. After consulting the wise and all-knowing Google, I came across kombucha.
Be sure to check out our Paleo Food List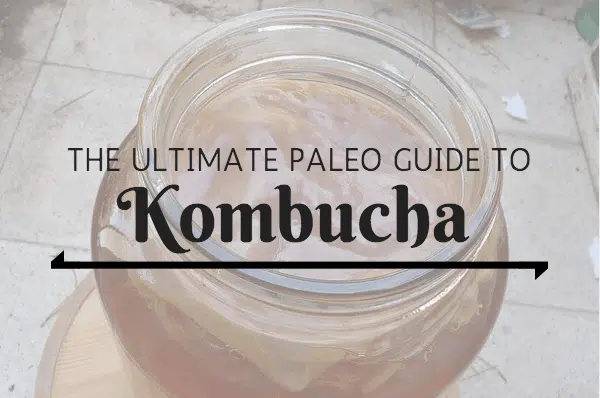 Reported Health Benefits Of Drinking Kombucha
What stood out to me most about kombucha were the amazing health benefits it was said to have:
Detoxification (for a healthy liver)
Reduction of pancreatic load (leading to better digestion and a reduction in gas and bloating)
Increase in glutaric acid (according to studies, this helps to prevent cancer)
Cartilage preservation and improved joint health (due to presence of glucosamines, which increase synovial hyaluronic acid product)
Improved digestion and gut health (due to presence of probiotics)
Reduction in symptoms of fibromyalgia, depression, and anxiety
Increased energy levels and immune function
Reduction in cholesterol
Lower blood pressure
Reduction in symptoms of gout and arthritis
Improved hair, skin, and nail health
The list goes on and on. Unfortunately most of these benefits are not backed by any research and are instead based on claims and testimonials from daily consumers of the drink.
This is most likely due to the fact that the drug industry could not profit from promoting a beverage that costs $3 but that can be made at home for as little as fifty cents a jar. The majority of the research carried out has been done overseas, mostly in Germany and Russia (probably because of Josef Stalin's obsession with finding a way to avoid cancer).
What Is Kombucha Like?
Despite the lack of research supporting the drink, I coughed up a few bucks and bought a few bottles because I liked the idea of adding healthy bacteria into my system.
Well, it turns out that the drink is darn near delicious. In its traditional form it tastes a bit like apple cider with a little bit of a vinegary taste, but you can also buy it in tons of different flavors now.
It only took me a few bottles to become a tad addicted to the stuff. After a few more purchases, I realized I was spending quite a bit of my income on it, which meant I had to do a little more research to find out what kombucha actually is.
What Is Kombucha?
Traditionally, kombucha is made from Camellia sinesis or "tea plant." Various teas (black, green, white, and oolong) are harvested from this plant. The plant originated in parts of Asia but can now be found in various tropical climates. Kombucha tea was developed throughout Asia and Europe around 220 BC. It was known as an elixir of life and immortality.
Kombucha is produced through the fermentation of sugar, healthy bacteria, yeast, and (black) tea. You may have heard that kombucha mushrooms are used in the process but these mushrooms are not actually mushrooms. Instead, they are healthy cultures of yeast and bacteria enclosed in a cellulose case called a SCOBY.
What the heck is a SCOBY?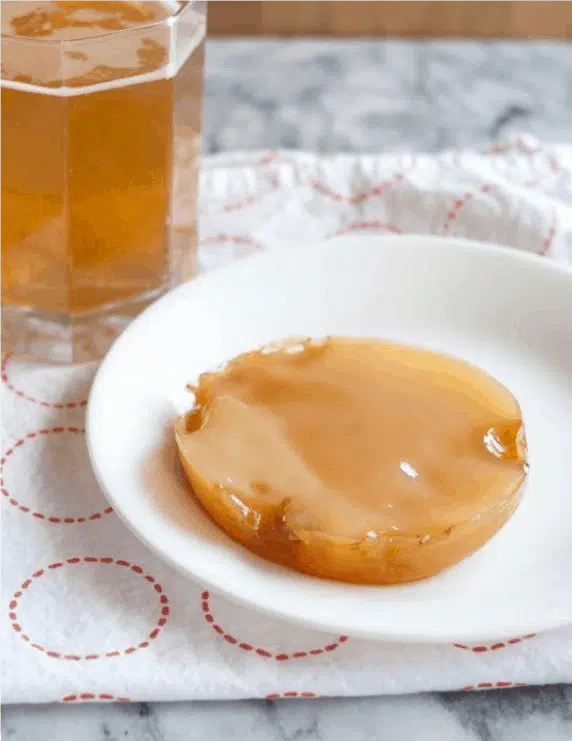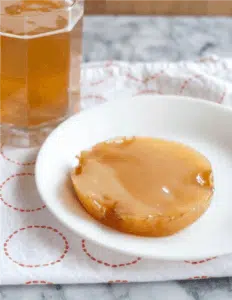 The SCOBY is where kombucha gets its health benefits. SCOBY stands for symbiotic colony of bacteria and yeast. Basically, the SCOBY is a cellulose mat where bacteria and yeast live together. Here, they ferment the tea from the sugar and the caffeine.
The Preparation Of Kombucha
This is how kombucha is made:
Tea is steeped.
Sugar is added to the hot tea and the tea is cooled.
Vinegar or existing kombucha is added.
Tea fungus is added to the tea.
This tea mix is placed in a glass jar and covered.
It is stored at room temperature for seven to ten days (or for even longer if you want less sugar in the kombucha).
If it is stored for more than ten days, the acidity levels need to be checked to ensure that the kombucha does not become toxic.
The tea is run through a cheese cloth and collected.
The tea itself is a living and growing organism, so it's very sensitive to energy. Storing it away from the sun and in very clean glass containers is very important.
Kombucha Composition
Kombucha is composed of a variety of substances, vitamins, minerals, and other things.
Ethanol/alcohol (very minimal alcohol, which many distributers remove)
Carbon dioxide (this creates the fizz when you open a bottle)
B vitamins
Smaller amounts of other vitamins and minerals
Various acids (amino, lactic, usnic (good for kidneys), gluconic (good for the liver), and glucuronic (good for overall detoxification)
Small amounts of caffeine
Cellulose (you may see this floating around in your container)
Yeast
Bacteria
Beneficial Bacteria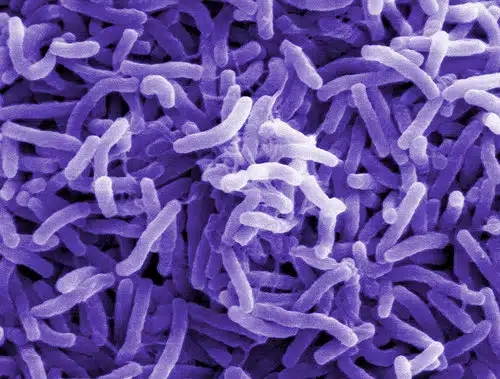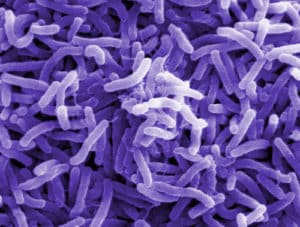 The yeast and bacteria found in kombucha are very good for our bodies. For some reason, when most people hear the words "yeast" and "bacteria", they automatically think the thing that contains them is bad for them. However, healthy bacteria are also found wine, tempeh, grass-fed dairy, kefir, and yogurt.
Yeast is found in most carbohydrates. It helps you digest the sugars in the carbs. Once it has helped to digest the sugars, yeast leaves behind B vitamins, ethanol, acid, and CO2. These substances help to feed living organisms and the healthy bacteria found in kombucha tea.
Kombucha tea also contains vitamins, minerals, and sterols, which occur naturally in many plants, animals, fungi, and proteins. The healthy bacteria and probiotics found in kombucha tea are important for a healthy digestive system.
This healthy bacteria helps to:
Protect the intestinal lining
Prevent candida overgrowth
Get rid of excess cholesterol by breaking down bile
Produce enzymes to help break down food
Absorb vitamins and minerals
Manufacture B vitamins and essential fatty acids
The more I study health and nutrition, the more I'm learning that taking care of your gut to heal yourself from the inside out is the best way to improve your overall health. And although the health benefits of kombucha have yet to be studied in the USA, some of the properties found in the tea are known to greatly assist in the development of better health and wellness. Drinking kombucha therefore seems to be a great way to heal your body from the inside.
The Risks
There are some risks associated with drinking too much kombucha. In most instances, harmful side effects are the result of increasing kombucha consumption from 4oz to 14oz. Furthermore, almost all incidents have come from drinking home-brewed kombucha rather than shop-bought kombucha.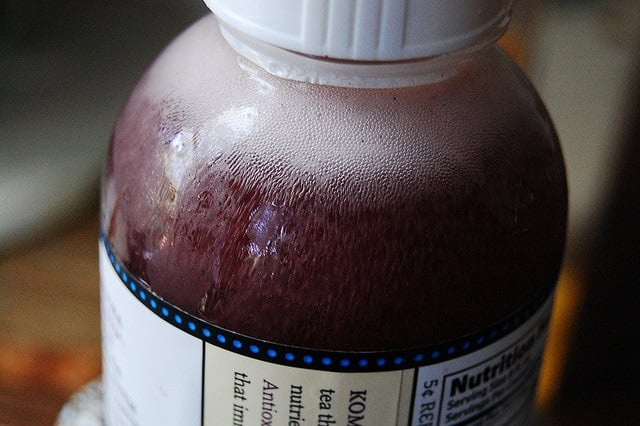 Fermented Foods And Other Ways To Get Healthy Bacteria
Drinking kombucha tea isn't the only way to promote intestinal health. There are plenty of other fermented and super foods that can improve your gut health:
Fermented, grass-fed diary
Sauerkraut
Grass-fed whole yogurt and kefir
Kimchi
Liver from grass-fed animals
Grass-fed butter
Fermentable fibers like sweet potato and yucca
Cod liver oil
Natto (fermented soy bean)
Supplements like probiotics
Fermentation helps to reduce the amounts of lecitins, gluten, and phytates found in grains. It even breaks down the lactose in dairy. When cacao beans are fermented to make dark chocolate, the fermentation process destroy some tannins, which are what give the chocolate that extremely bitter taste.
How Much Kombucha Should You Drink And When?
To cut a long story short, if you like the taste of kombucha and can afford it, go ahead and drink it from time to time or even make some up yourself. Just be careful because kombucha that's prepared incorrectly can become toxic.
Most kombucha advocates recommend keeping your consumption of the tea at or below four to eight ounces per day.
I like to drink a little kombucha after my workouts because of the sugars it contains. However, if you're worried about the sugar and carbohydrate content of kombucha, try an alternative probiotic drink like Kevita.
Personally, I drank kombucha every day for a month and noticed an increase in my energy levels, improved digestion, and better gut health. However, as stated before, for most people, drinking kombucha isn't very cost-effective. It's up to you whether you add kombucha to your diet or try an alternative approach to work on your gut health.
Some Of Our Favorite Brands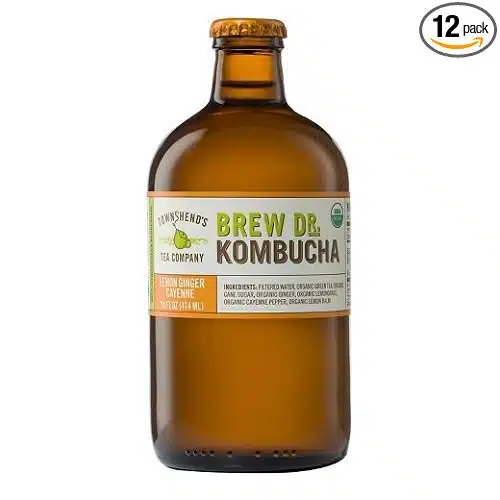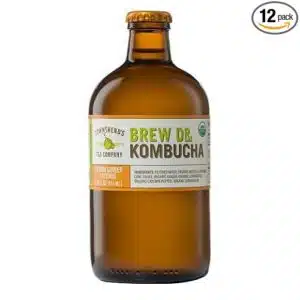 There are a variety of kombucha brands on the market nowadays. Here are some of our favorites:
Townshend Tea's Brew Dr. Kombucha
Are you a kombucha fan? Have you had positive or negative experiences with the stuff? We'd love to hear from you in the comments below.
References
Photo credit: zeevveez, Rebecca Wilson
Download Your FREE Paleo Starter Kit Today!
3-Day Paleo Diet Meal Plan
Comprehensive Paleo Diet Shopping List
5 of Our Favorite Paleo Diet Recipes