Mark Sisson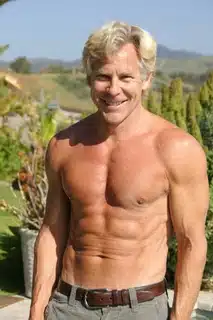 Mark Sisson is a 57-year-old expert on primal and paleo diets. He's most well known for his blog, called Mark's Daily Apple. A former elite endurance racer, Mark is one of the premiere voices in the world of paleo eating and primal nutrition.
Mark Sisson Biography
The oldest of four children, Mark was born and raised in Maine. A natural runner, he ran throughout high school and college and went on to pursue a professional running career. His effort culminated in a top five finish in the 1980 US National Marathon Championships and a qualifying spot for the 1980 US Olympic Trials.
After retiring from running in 1998, Mark went on to write several books and to be involved in the fitness industry to help prevent others from incurring the injuries he suffered throughout his running career.
He's been married to his wife Carrie for over nineteen years and has two kids, Devyn and Kyle.
He started blogging at Mark's Daily Apple in 2006.
Books Written by Mark Sisson
Mark has written several books. He's most known for the titles listed below.
Maximum Results
The Fat Control System
The Anti-aging Report
The Lean Lifestyle Program
Primal Blueprint Products
Mark Sisson leads Primal Blueprint, a primal store that offers everything from cookbooks to aprons. Here are some of the Primal Blueprint products we recommend.
The Primal Blueprint Essentials Kit
"The Primal Essentials Kit provides an elegant solution to the daily challenges we face living with our hunter-gatherer genes in a completely modernized world. At a substantial savings to what you'd pay for these individually, the Primal Essentials Kit is comprised of 3 critical components to a healthy life: probiotics, vitamin D and fish oils."
Primal Blueprint Quick & Easy Meals
"With 300 brilliant, glossy, full-color photographs and dozens of Quick & Easy Tips throughout the book you'll see how delicious and simple to prepare Primal dishes can be."
The Primal Blueprint 21-Day Total Body Transformation
"Primal Blueprint author Mark Sisson presents a fun, easy-to-follow, practical guidebook to help you "get Primal" in only 21 days. First, you'll learn eight Key Concepts that represent the most important day-to-day elements living Primally, then tackle five Action Items that will enable you to literally reprogram your genes toward a long, healthy, and energetic life. The Action Items are presented in a fun and life-transforming 21-Day Challenge, featuring daily diet, exercise, and lifestyle endeavors with corresponding journal exercises."
"With the Primal Blueprint Meal Plan you get a new meal plan and shopping list delivered directly to your email inbox every week. Order today to begin your 30-day subscription."
Of course, Ultimate Paleo Guide also offer its own meal planning service, which you can find out more about here.
The Primal Blueprint 21-Day Transformation Program
"The Primal Blueprint 21-Day Transformation Program is a comprehensive kit of multimedia materials and one-on-one expert support to help you reduce excess body fat quickly, safely, and effortlessly using the principles of the Primal Blueprint."
"With nearly 40,000 items populating the average supermarket today, the Rich Food, Poor Food – Grocery Purchasing System (GPS), is a unique guide that steers the consumer through the grocery store aisles, directing them to health-enhancing Rich Food options while avoiding health-detracting Poor Food ones."
Blueprint Healthy Sauces, Dressings & Toppings
"Hollandaise Sauce, Coconut Cilantro Pesto, and Dairy-Free Green Goddess Dressing are among the 120 easy-to-prepare recipes in this cookbook that will take your healthy Primal/Paleo fare to the next level. Get ready to go Primal gourmet with flavorful, nutritious accompaniments inspired by traditional and contemporary cuisine from around the world."
"Included are over 100 mouth-watering recipes with easy-to-follow instructions and nearly 400 brilliant, glossy, full-color photographs to guide and inspire you to cooking and eating Primally."
"This cookbook contains 125 Primal/Paleo recipes, and also includes bonus features that detail the authors' thoughts of the tenets of a Primal/Paleo diet and the mentality of a flexible, healthy eating lifestyle to show you how vibrant health can be found without sacrificing great taste."
"The Paleo Primer is a great resource to help readers get quickly acquainted with the principles of Primal/paleo/evolutionary healthy living and eating. The first half of the book lays out the basics, with humorous and memorable cartoons to convey the key messages and lay the foundation for an effective daily routine. […] The recipes section contains over one hundred delicious, easy to prepare dishes that are organized into enticing categories like, "How to Pimp a Salad" and "Cheats of Champions". The Paleo Primer also offers preparations suitable for busy weekdays, and others for relaxing weekends."
Primal Blueprint even offers protein powder!
"Whether it's for breakfast, lunch, dinner, or as a snack or dessert, Primal Fuel is perfect for any occasion. Quick, easy, cost-effective and convenient, Primal Fuel provides balanced, healthy doses of high-quality fat, protein and carbs in a delicious and incredibly satisfying shake. There is no other product on the market that comes remotely close by comparison."
Primal Blueprint also offers a number of services, including a meal planning service and personlized paleo coaching.
—
You can see all of Mark Sisson's primal products by visiting the Primal Blueprint store.
Videos By Mark Sisson
Low Carb Paleo w/ Mark Sisson
Lose Weight With Primal Plan
Contact Mark Sisson
Website: Mark's Daily Apple
Contact: Contact page
Email: [email protected]
Twitter : @Mark_Sisson
Facebook: Facebook.com/MarksDailyApple
Additional Website: Primal Blueprint
Download Your FREE Paleo Starter Kit Today!
3-Day Paleo Diet Meal Plan
Comprehensive Paleo Diet Shopping List
5 of Our Favorite Paleo Diet Recipes