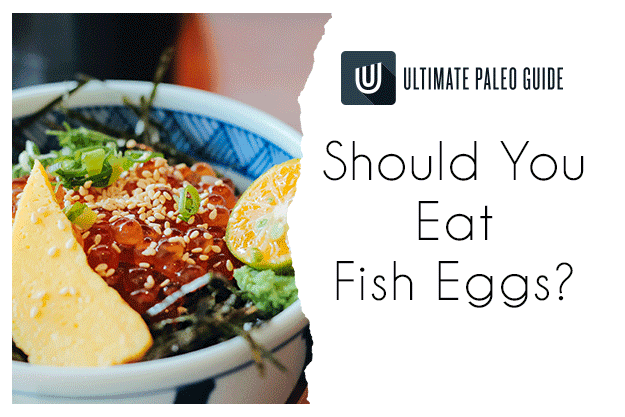 For many of us, fish eggs aren't a standard part of our diets. Depending on your preferences, you may either be cringing or salivating.
This article will answer the burning question: should you eat fish eggs?
We reveal what fish eggs are and different kinds. You'll discover whether it could benefit your health to develop a taste for this food and the nutritional information.
Finally, we share where to buy fish eggs and how to prepare them. Whether you've tried them before or you're keeping an open mind, let's dive in.
What Are Fish Eggs?
Up until now, you may have believed that chickens are the only animals that provide us with eggs we can eat.
That isn't true: fish eggs, or roe, are considered a specialty food across the globe. They usually have a distinctive, salty flavor that most consumers either love or hate.
If you didn't know that fish could produce eggs, you likely have a few questions. When we discuss fish eggs, what—exactly—are we eating?
Female fish can lay either fertilized or unfertilized eggs, or roe. With the latter variety, males need to inseminate the eggs for them to be viable.
The roe we eat consists of unfertilized eggs—the same as chicken eggs.
Before we go further, we want to clarify the caviar issue for you. Caviar is a type of roe—but not all roe is caviar. Despite that, the terms are often used interchangeably.
The Different Types of Fish Eggs
On that note, it's time to cover the distinctive types of fish eggs. Roe is classed by the species of fish that they're harvested from.
Before we begin, you should know the difference between hard and soft roe. The former is the unfertilized eggs that some species of female fish lay.
Soft roe is also known as milt—or the semen of male fish.
No, we're not joking. In Japan, milt is a popular dish known as Shirako. If you think about it, it's not too far a leap from eating the eggs themselves.
Don't worry, we'll stick to hard roe. There are many roe-producing species of fish.
We'll provide a brief overview of the ones you're most likely to encounter:
True Caviar
The so-called "true" caviar is classed as roe that is harvested exclusively from Sturgeons. Many species of wild sturgeon are categorized as critically endangered. This type of caviar is the costliest.
Imitation Caviar
As you may have guessed, imitation caviar is any non-Sturgeon roe. This type can also be manufactured from plants or algae.
Other Roe-Producing Species
Are you curious about what species we can eat roe from? Here's a list of common fish, many of which we eat as well:
Bowfin.
Capelin (Flying Fish).
Lumpfish.
Paddlefish.
Salmon.
Trout.
Tuna.
Whitefish.
Fish Eggs Nutritional Information 
One 16-gram tablespoon of caviar (red or black) contains 42 calories. Although fish eggs can be delightfully sweet, they are completely devoid of sugar.
That portion includes 2.9 grams of fat, only 0.7 grams of which are saturated. Protein makes up 3.9 grams of your single-spoon serving.
You'll get a whopping 94 milligrams of cholesterol and 240 milligrams of sodium. Needless to say, high levels of either of these substances aren't good for everyone.
Individuals who have kidney, heart, or bone troubles may want to avoid this sodium-rich snack. Dietary cholesterol isn't all bad, but it isn't ideal for people with cardiovascular diseases.
There's a small number of beneficial micronutrients to help you hit your daily targets, which include:
Vitamin A (3 percent).
Calcium (4 percent).
Iron (11 percent).
Health Benefits of Fish Eggs
The fat in roe isn't the same as what we struggle to avoid with junk foods. They're polyunsaturated omega-3 fatty acids, which have plenty of advantages.
These compounds have demonstrated or brain-boosting properties. Studies have shown they can help combat symptoms of grave conditions such as Alzheimer's.
Omega-3 fatty acids can also lower triglycerides. Blood results that show high triglycerides are bad news for your circulatory system, and risk of heart disease.
Fish eggs are one of the few dietary sources of vitamin D. The sunshine vitamin is vital for how we metabolize minerals, as well as bone health.
Roe consumption may work to preserve your youthful appearance. Antioxidants with anti-aging capabilities have been discovered in fish eggs. However, these effects are most pronounced with extracts.
How to Find Fish Eggs
Thanks to fish farms, caviar is no longer as inaccessible as it once was. These farms are a sustainable method of providing caviar. Endangered species (such as sturgeon) have a chance to repopulate after being overfished.
Most grocery stores will at least sell imitation caviar nowadays. If you're looking for something ritzier, you may have to look at gourmet stores or online.
Before you shell out for a pricy jar of caviar, always inspect the label. The cost should be warranted: you want to see where the roe came from.
Remember that flavors vary from species to species. Exorbitantly-priced Beluga caviar may not appeal to your taste buds as much as simple salmon roe.
How to Prepare and Eat Fish Eggs
There are dishes that make use of the entire egg sac. Shad Roe is a popular delicacy in certain Eastern states close to the Atlantic seaboard.
The sac of the Shad is harvested and sold for eating whole. Unfortunately, this only occurs during the spring when Shad breed.
Aside from this exception, fish eggs are generally sold after having been removed from the sac.
They're consumed as appetizers or snacks—you'd need a sizable budget to buy enough fish eggs for a full meal.
The good news is that roe isn't tricky to prepare. Here are our suggestions:
Eat Them Pure Fish Eggs on Their Own
Caviar aficionados recommend savoring roe as they are, without any extras. Try your fish roe this way by taking a small spoon and lingering over each bite.
Top Your Favorite Foods with Fish Eggs
There's a range of foods you can top with roe and caviar. Toast small slices of bread, butter them and garnish with the fish eggs.
Fans of Japanese cuisine can attempt to make Ikura sushi, topping rice and seaweed with salmon roe. You can also spoon caviar onto boiled eggs, or add onions and parsley.
Like this post? Check out these others:
Download Your FREE Paleo Starter Kit Today!
3-Day Paleo Diet Meal Plan
Comprehensive Paleo Diet Shopping List
5 of Our Favorite Paleo Diet Recipes