What is Pink Fruit/Dragon Fruit?
Hylocereus undatus (also known as pink fruit or dragon fruit) is a member of the Cactaceae family. This includes all species of climbing cacti.
The scientific Latin name of the fruit is derived from several words. Hyle means woody, ceurus is waxy, and undatus describes something wavy.
As a type of cactus, hylocereus undatus thrives in dry climates. These plants produce fruits in four to six cycles per year.
This plant is referred to by names referencing its large, white flowers which bloom only during the evening. These include: moonflower, Cinderella plant, and Lady of the Night.
The oval-shaped fruit is named for its unique, striking appearance. The skin of a dragon fruit can be bright pink or yellow with large scales.
Dragon fruit flesh can be black or white, peppered with black seeds. As with kiwis, the seeds of a dragon fruit are edible.
The exact origins of dragon fruit are not known. It is believed to be a native plant of Central America.
French colonists brought dragon fruit with them to Europe and from there onwards introduced it to their colonies, such as Vietnam.
Accounts vary as to where the French discovered dragon fruit. Some say Central America, others South America.
Today, it is cultivated in countries around the world. Vietnam is the world's top exporter of dragon fruit. (Source)
Health Benefits
Dragon fruit is recognized as a "superfood" for its numerous health advantages. The fruit contains key vitamins, minerals, and other beneficial compounds.
100 grams of dragon fruit contains 12 percent of your required daily value of fiber. This dietary component promotes digestion and keeps you feeling satisfied.
This fruit also has high water content – 87 grams consist of water! It is also in extremely low in fat (only 0.4 grams).
One serving of dragon fruit contains the following vitamins and minerals:
Vitamin C (34.2 percent daily value)
Iron (10.6 percent daily value)
Vitamin B1 (2.7 percent daily value)
Vitamin B2 (2.9 percent daily value)
Eating dragon fruit can be a natural method of relieving constipation. The edible seeds of the dragon fruit contain compounds with laxative effects (polyunsaturated fatty acids).
Dragon fruit has especially high vitamin C content. One portion of this fruit has three times more vitamin C than the same serving of carrots.  (Source)
Vitamin C has renowned antioxidant properties. It also helps to keep your immune system strong and healthy.
Also known as ascorbic acid, this vitamin promotes clear skin and wound healing. This vitamin also plays a role in the formation of connective tissues and bones. (Source)
Iron is a mineral that is required for the production of hemoglobin. This is a type of protein found in red blood cells that helps transport oxygen.
A lack of iron in your diet can have serious consequences. If you have low hemoglobin content, you can develop anemia.
Anemia can cause you to feel tired all the time. You may also experience dizziness, headaches and insomnia.
Occasionally, iron deficiency can be caused by poor absorption. If your body does not correctly absorb iron, it cannot benefit from it.
You don't have to worry about iron absorption with dragon fruit – vitamin C encourages your body to absorb this essential mineral! (Source)
One serving of dragon fruit also contains small amounts of vitamins B1 and B2. B vitamins in general encourage healthy brain function.
Vitamin B1 (thiamine) plays a role in how you metabolize food. Vitamin B2 (riboflavin) promotes energy metabolism and normal cell function. (Source)
Dragon fruit has shown potential as a preventative for diabetes. Regularly eating the fruit was shown to reduce blood sugar levels over time. (Source)
How to Use Pink Fruit/Dragon Fruit?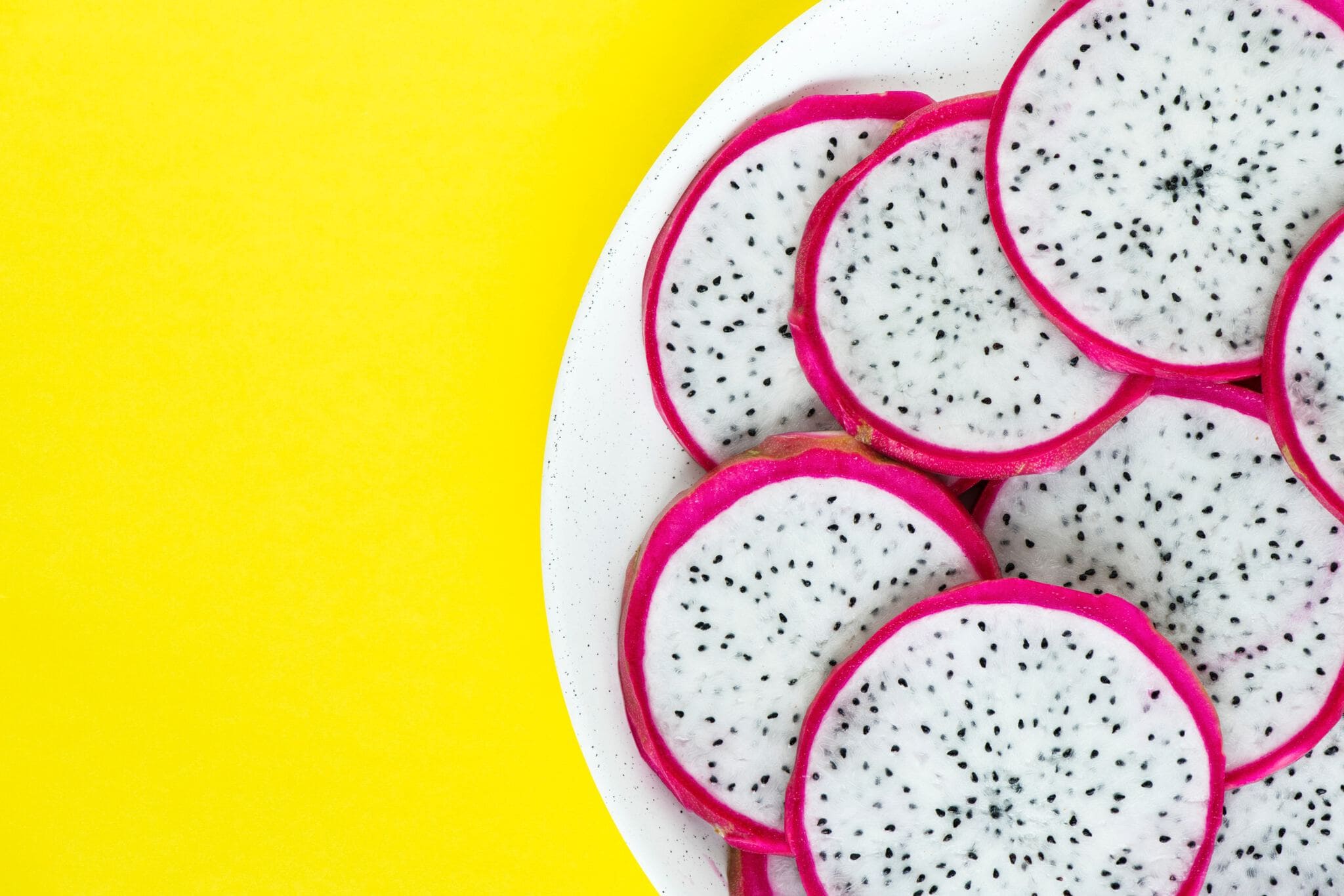 Despite its intimidating appearance, dragon fruit is quite simple to prepare. It can be eaten by itself or included in desserts, drinks, or salads.
This tropical fruit has a distinctive, sweet flavor. The taste of dragon fruit is often described as a mix between pears and kiwi.
A ripe dragon fruit should be firm with a little give. If the texture is too soft, the fruit may be overripe. If the flesh feels too firm, allow several days for it to ripen.
Whole dragon fruit can be stored at room temperature. However, if you cut the fruit open you will have to refrigerate it immediately.
Don't leave your dragon fruit exposed in the fridge. It can acquire the odors and tastes of other foods, so make sure you seal it in a container or wrap it in plastic.
A dragon fruit can be preserved for a maximum of several days in the fridge. If you notice the fruit's flesh is discolored or turning brown, it should be thrown away.
To serve dragon fruit, you will need is a knife and cutting board. Cut all the way through the middle of the fruit and separate the two sections.
Whether you want a quick snack or you will use the flesh as an ingredient, scoop it from the skin with a spoon.
It is important to make sure you remove all traces of the dragon fruit's skin from the flesh. This is because the skin is not edible, and unhealthy to ingest.
If you do want to eat your dragon fruit directly from the skin, avoid scraping at it too hard.
Once you have separated the flesh from the skin, you have numerous options. Slice up your dragon fruit into cubes to add to a fruit salad.
If you want to be creative, use a melon baller. You can serve round balls of dragon fruit in a bowl or even in the empty skin of the fruit itself.
Use a food processor to liquidize your dragon fruit into a sauce. You can also blend the dragon fruit flesh with other fruits to prepare a smoothie.
The sweetness of dragon fruit complements most other tropical fruits. You can serve it alongside pineapples, mangos, or papayas.
This versatile fruit can also be used as the base for sweet cocktails. Mix with the alcohol of your choice to prepare a flavorsome drink. (Source)
Check out our Paleo Guide to Alcohol 
Download Your FREE Paleo Starter Kit Today!
3-Day Paleo Diet Meal Plan
Comprehensive Paleo Diet Shopping List
5 of Our Favorite Paleo Diet Recipes